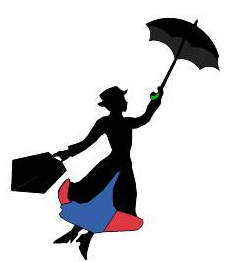 The ugly employment report of only 96K new jobs vs. 125K expected hit markets like a spoonful of sugar-Uncle Sugar. The numbers couldn't be worse, which is why ADP Data and Jobless Claims the previous day doesn't mean a thing. Ninety million are not in the labor force, 368K people have dropped out of the workforce, and the participation rate for men is the lowest since 1948 when most of current readers hadn't been born. Even the previous data was reduced from 163K to 141K, meaning next month's numbers should be taken with a grain of salt, and not sugar. Forget the slightly lower unemployment rate since with so many dropping off the rolls, the real rate is closer to 12% than 8.1%, and that's generous.
This puts the "bad news is good" back on the front burner and means Bernanke has no choice but to QE and inflate asset prices. He still has "some" weapons left, but he's running out of bullets. QE bulls could care less since it's time to party.
All this QE speculation trashed the dollar (NYSEARCA:UUP) and bolstered gold (NYSEARCA:GLD) and silver (NYSEARCA:SLV). After all, if it's balls to the wall once again, these assets are the insurance against currency debasement.
Individual investors are still either hiding in low yielding bonds, dividend sectors or are just on the sidelines. Those buying include corporations with buybacks, hedge funds, and overseas investors feeding on the weak dollar and to a lesser extent captive money in pension plans.
The fly on the soup today was a crummy report from Intel (NASDAQ:INTC), which issued a warning as PC demand is weak. This pulled semiconductor ETF (NASDAQ:SOXX) and the overall technology index (NYSEARCA:XLK) lower. There is concern that PC sales are stalling, given the pending launch next month of Windows 8 which is an entirely different approach from MSFT affecting IGV.
As stocks followed the rally from Thursday on QE hopes, bonds (NYSEARCA:IEF) took a breather but not by much given likely Fed money printing and buying.
The important thing to remember about QE activity is what's the grade? Thus far in the U.S. at any rate its money that goes first to the Primary Dealer network (mega-banks) and then may trickle down to you and me. Clearly, it's been supportive of stock prices but where is that in the Fed's twin mandate (protect the purchasing power of the dollar and full employment)? If the mega-banks just hold the money to bolster their balance sheets, then the grade is an "F". As most know, banks aren't lending money for mortgages or small businesses no matter how much liquidity the Fed dumps on them. I used to have a math teacher who wouldn't give a grade less than 40. If it was less than 40, he'd circle it. You wouldn't want a "circle 40," but this is how you'd score the Fed's twin mandate results.
Investment Tip: Don't fight the Fed central banks.
Premium members to the ETF Digest receive added signals when markets become extended such as DeMark triggers (as seen below) to exit overbought/oversold conditions.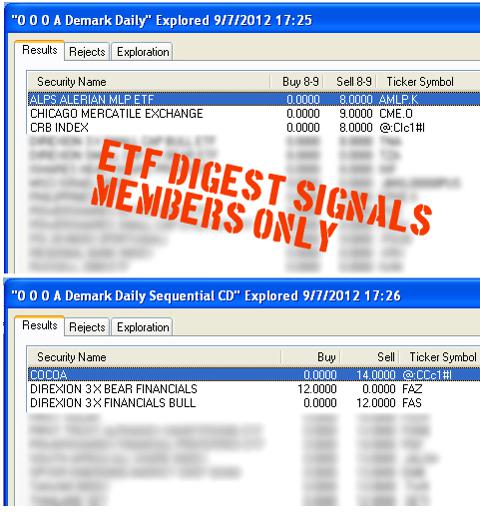 Volume on this QE addicted Friday was once again ultra-light cementing few investors in the game beyond those described above. Breadth per the WSJ was positive.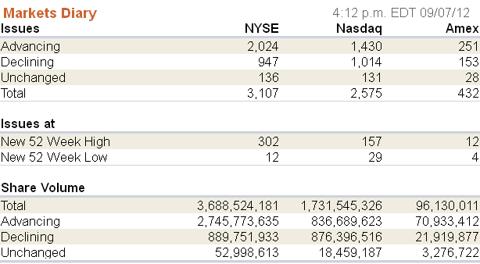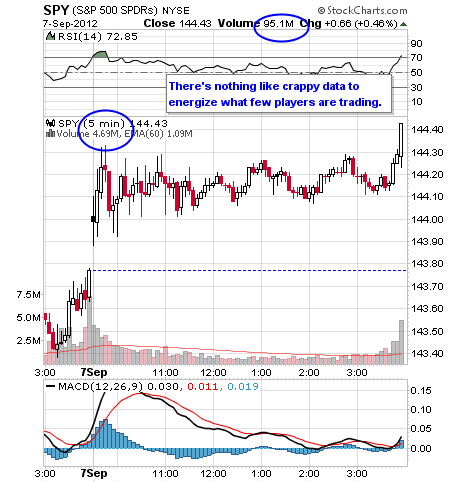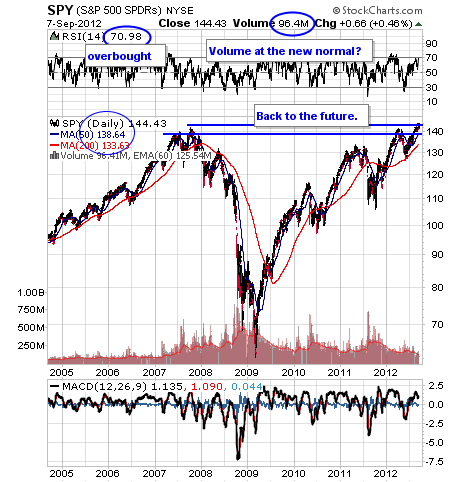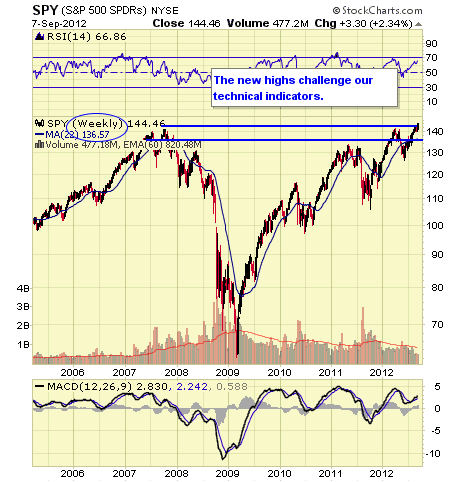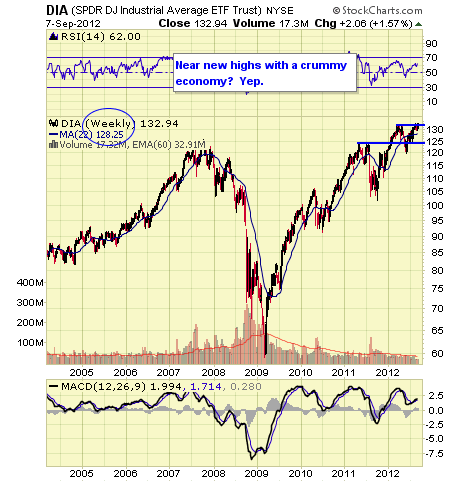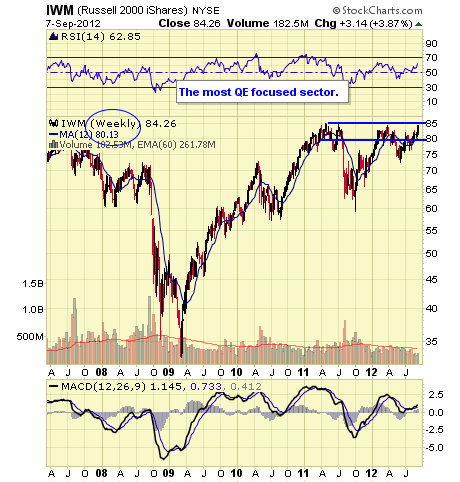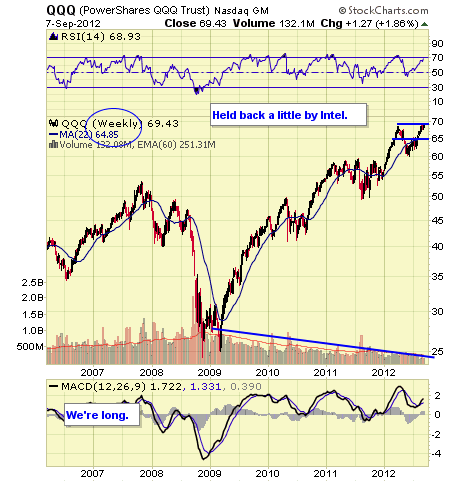 Continue to U.S. Sector, Stocks & Bond ETFs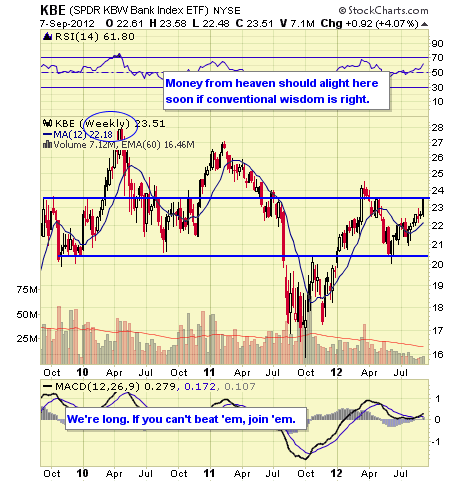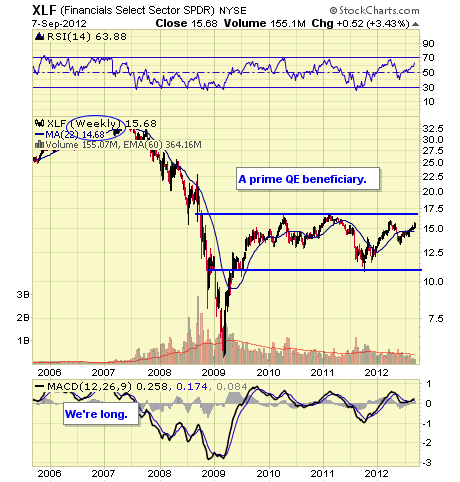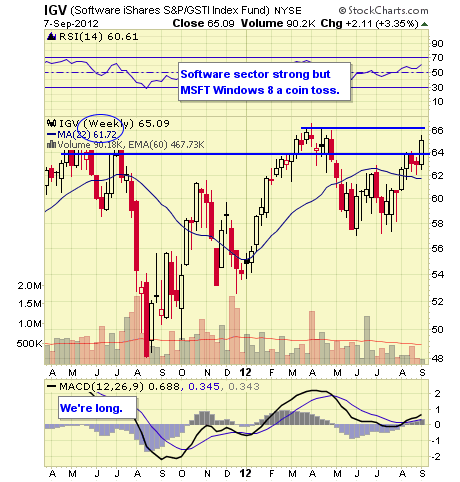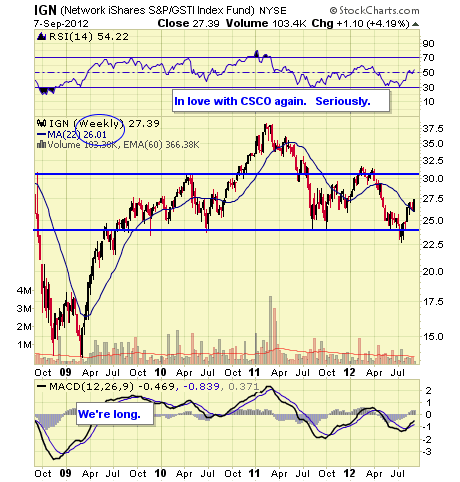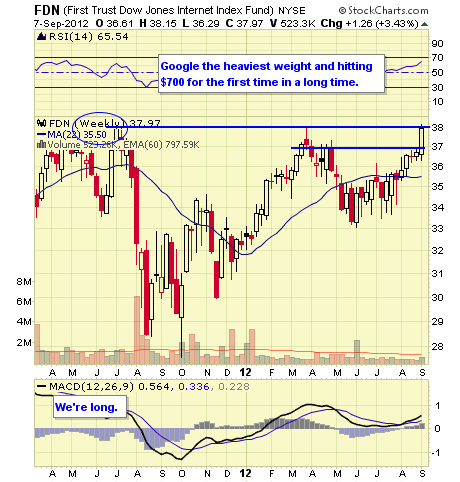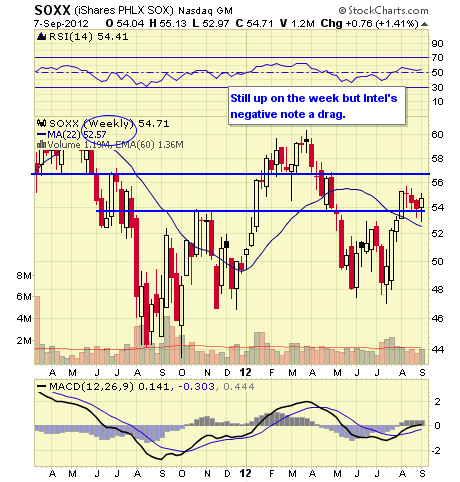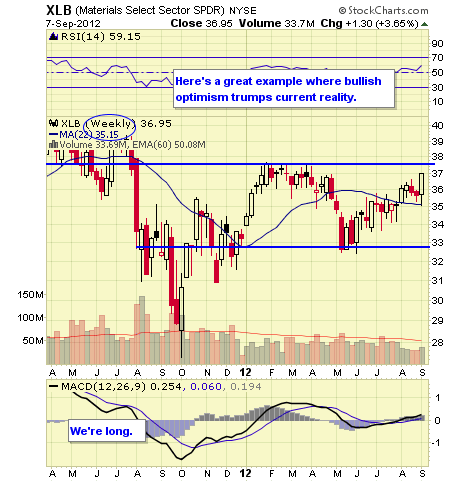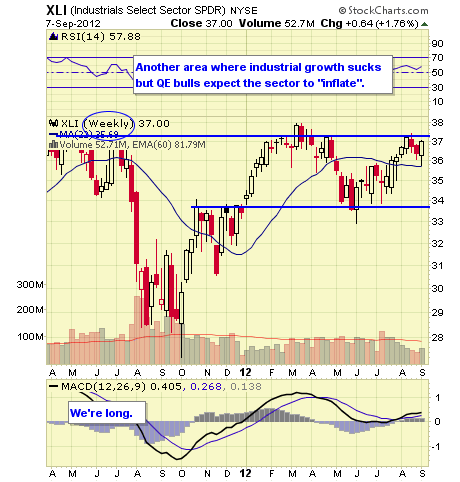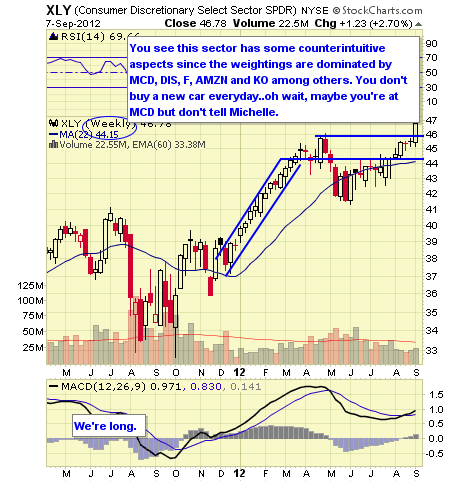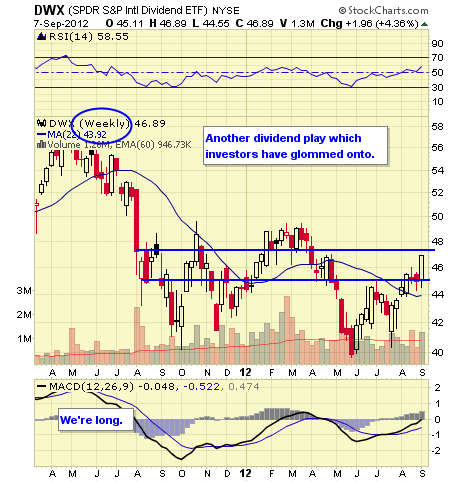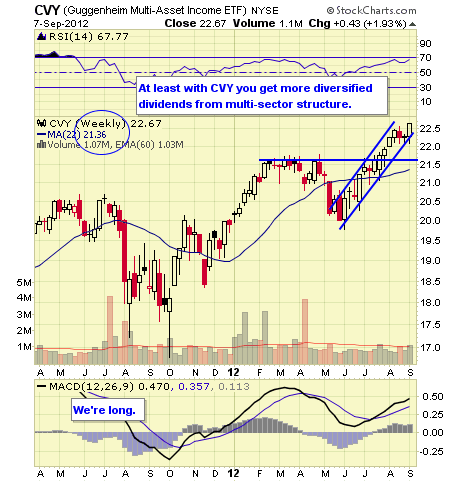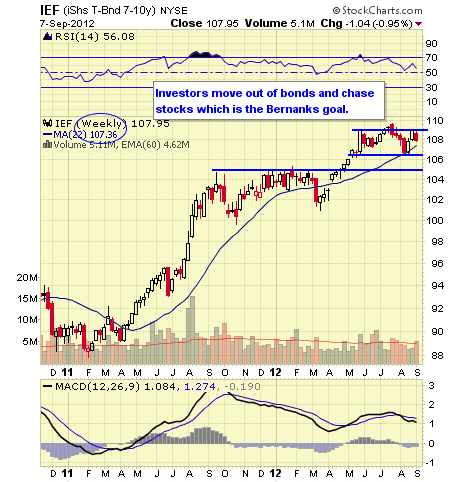 Continue to Currency & Commodity Market ETFs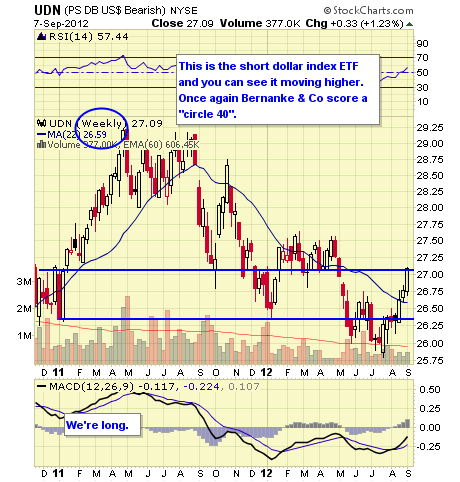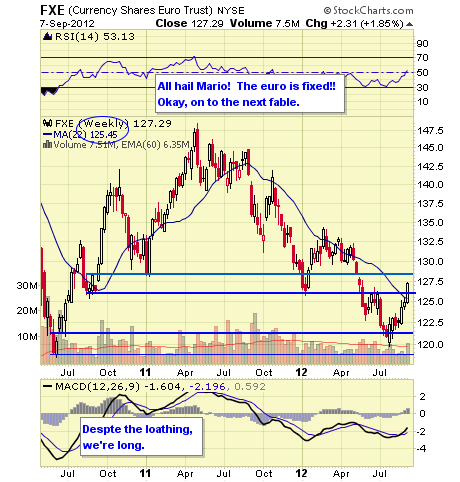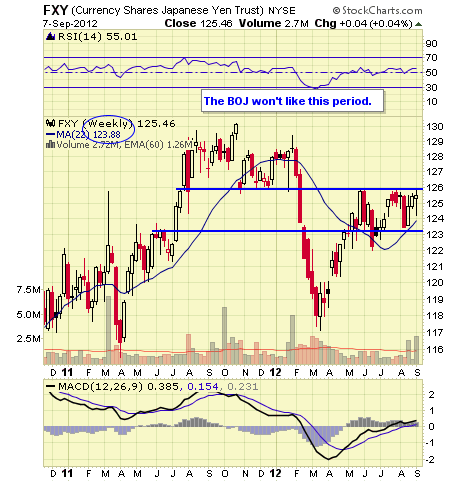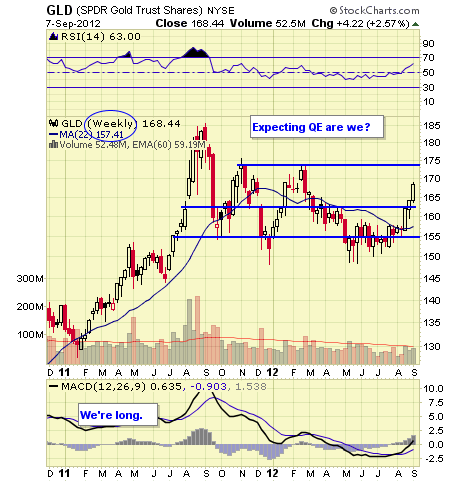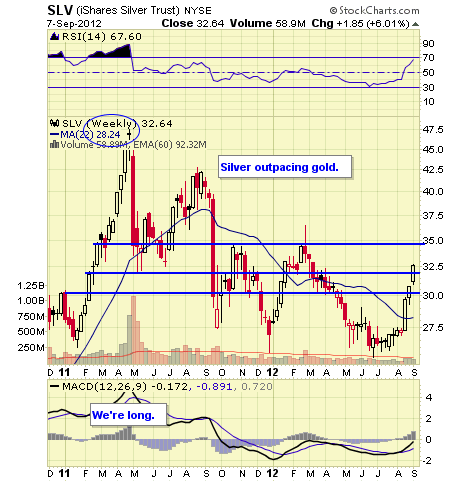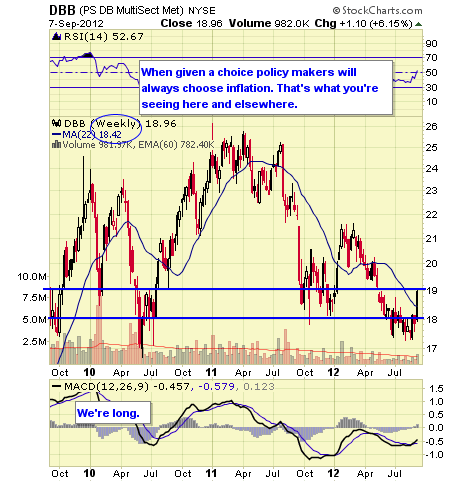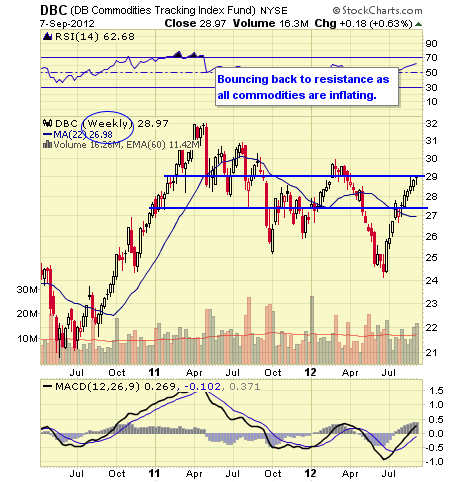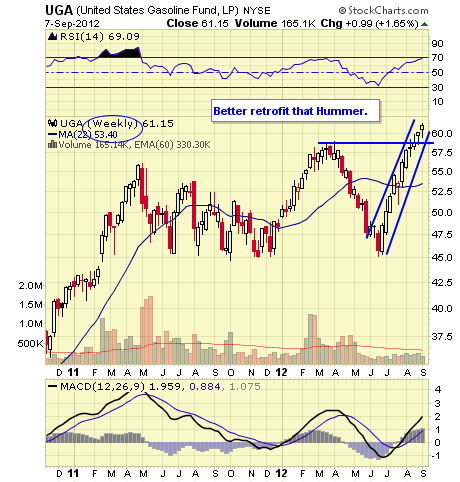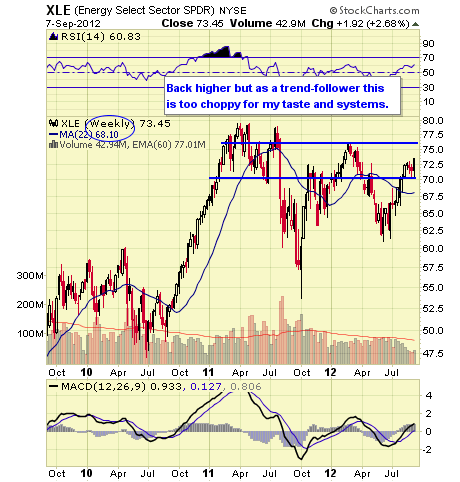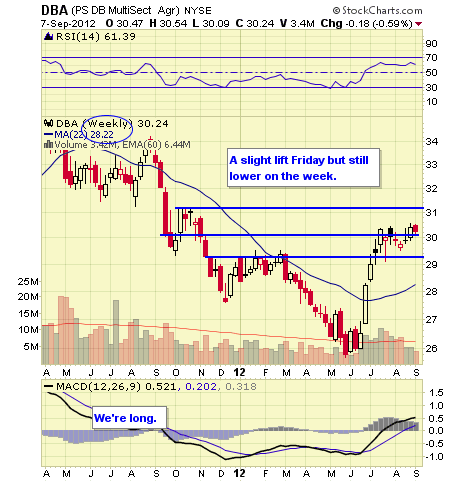 Continue to Overseas Sectors & ETFs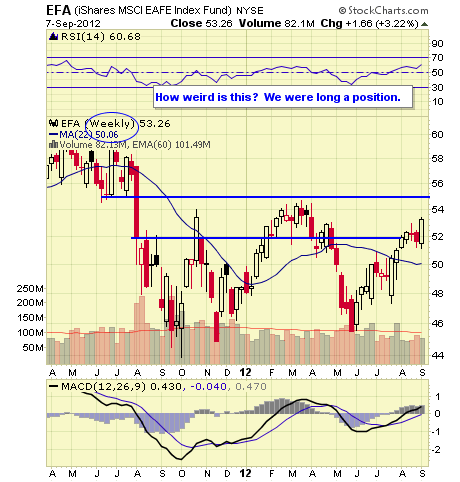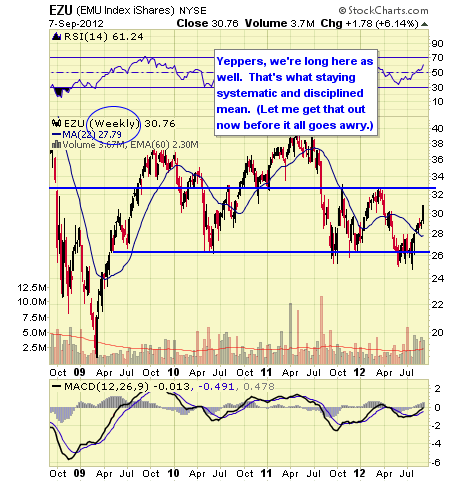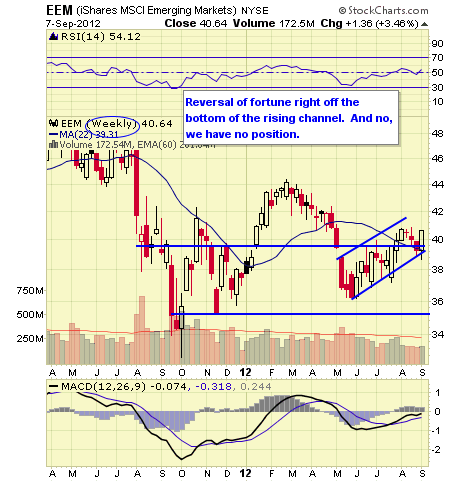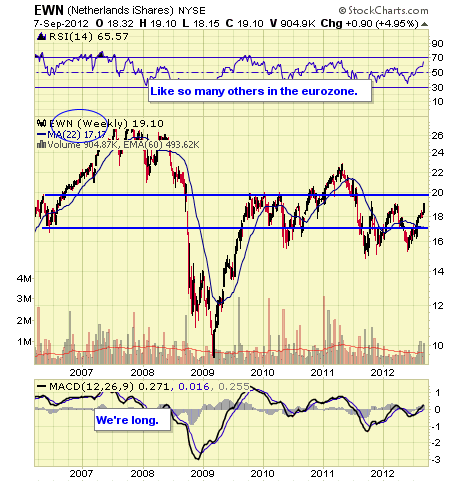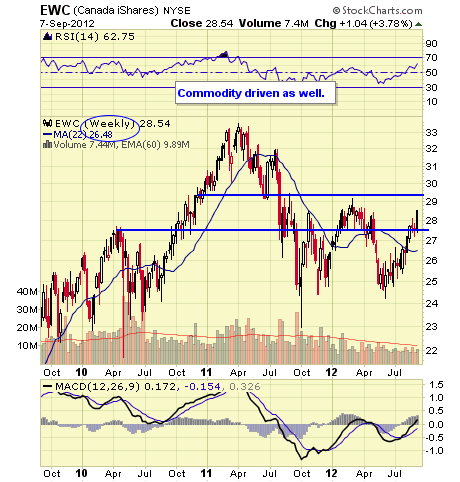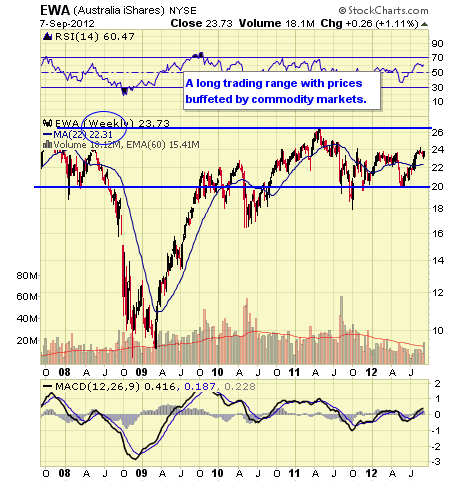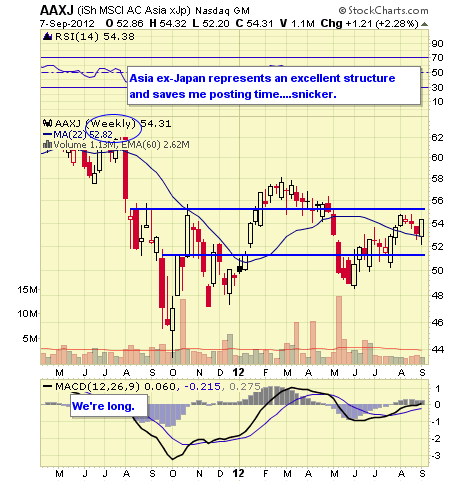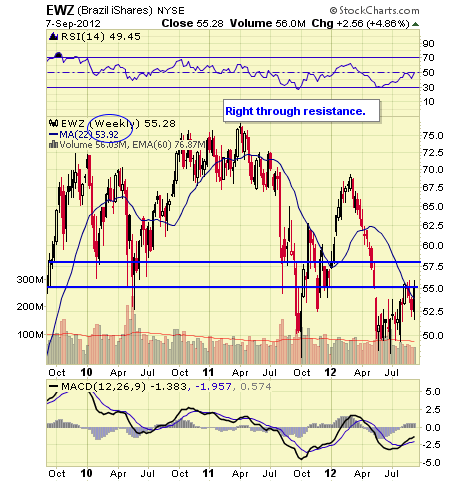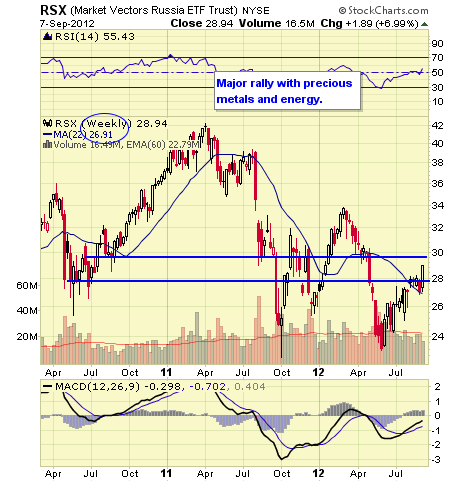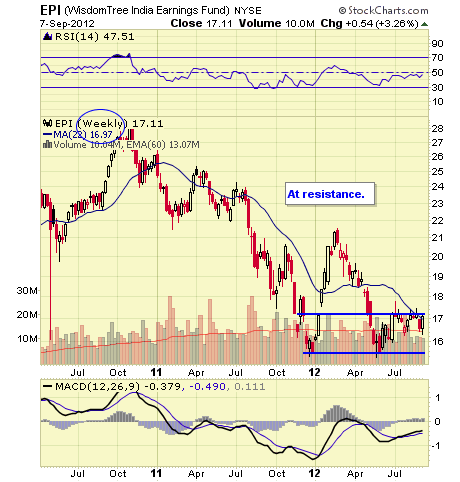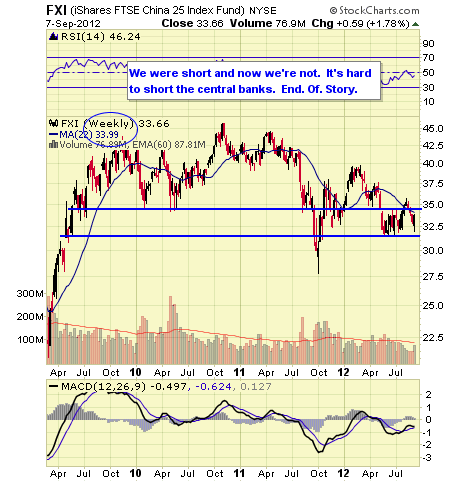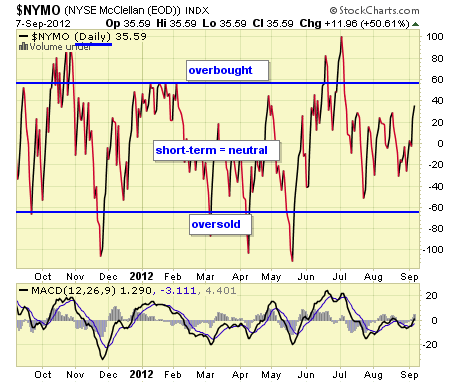 The NYMO is a market breadth indicator that is based on the difference between the number of advancing and declining issues on the NYSE. When readings are +60/-60 markets are extended short-term.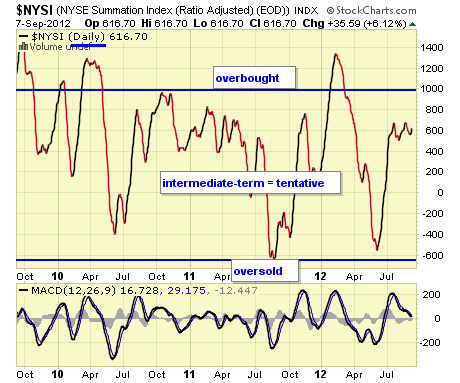 The McClellan Summation Index is a long-term version of the McClellan Oscillator. It is a market breadth indicator, and interpretation is similar to that of the McClellan Oscillator, except that it is more suited to major trends. I believe readings of +1000/-1000 reveal markets as much extended.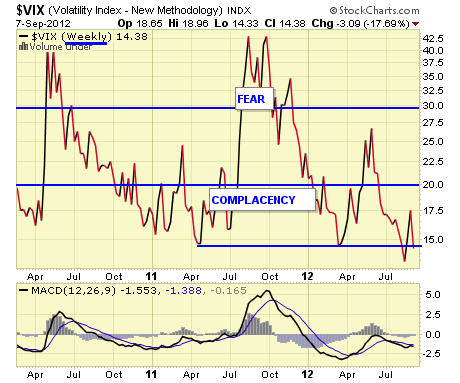 The VIX is a widely used measure of market risk and is often referred to as the "investor fear gauge". Our own interpretation is highlighted in the chart above. The VIX measures the level of put option activity over a 30-day period. Greater buying of put options (protection) causes the index to rise.
Okay, that was a nice display of "bad news is good". Now Mr. Bernanke must stand and deliver the QE bulls expect. If he doesn't expect a major hissy fit.
Disclaimer: The ETF Digest maintains active ETF trading portfolio and a wide selection of ETFs away from portfolios in an independent listing. Current "trading" positions in active portfolios if any are embedded within charts: Lazy & Hedged Lazy Portfolios maintain the follow positions: VT, MGV, BND, BSV, VGT, VWO, VNO, IAU, DJCI, DJP, VMBS, VIG, ILF, EWA, IEV, EWC, EWJ, EWG, & EWU.
The charts and comments are only the author's view of market activity and aren't recommendations to buy or sell any security. Market sectors and related ETFs are selected based on his opinion as to their importance in providing the viewer a comprehensive summary of market conditions for the featured period. Chart annotations aren't predictive of any future market action rather they only demonstrate the author's opinion as to a range of possibilities going forward.
Disclosure: I have no positions in any stocks mentioned, and no plans to initiate any positions within the next 72 hours. I wrote this article myself, and it expresses my own opinions. I am not receiving compensation for it. I have no business relationship with any company whose stock is mentioned in this article.