In my latest articles on Procter & Gamble Co. (NYSE:PG), I have analyzed the growth and costs savings opportunities of the company. Now the time has come to estimate the fair value of a share of P&G. My valuation approach revolves around calculating the intrinsic value of the company by estimating future free cash flows. But in order to come up with those estimations, there are three numbers I need to estimate beforehand:
EBITDA margin
Reinvestments as a percentage of revenue
Discount rate
EBITDA margin
Click to enlarge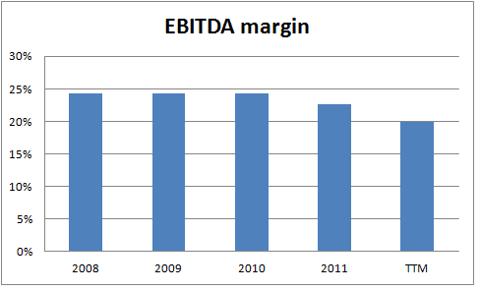 As you can see in the below table, I expect the EBITDA margin to from 20.65% in 2012 to 22% in 2016 (assuming no savings related to the cost savings plan). This improvement is explained by my expectations of lower future commodity prices that are partially offset by lower sales prices.
In my most recent article on P&G, I tried to estimate whether it would be able to reduce costs by $10 billion as management originally had planned. I made three revisions to the plan that reflected new data coming out since it was originally presented back in February 2012. Assuming the other estimations by management were realistic, I ended up concluding that P&G would be able to save around $8.6 billion.
If the cost-savings plan lives up to expectations and P&G manages to save $8.6 billion, then I estimate that EBITDA margin improves from 22.85% in 2012 to 27.61% in 2016. But I do not take those numbers for granted, as Bob McDonald does not have the best track record, and I do not trust management completely. Therefore, I have made an "adjusted EBITDA margin", that reflects my skepticism on the realism of costs savings plans. Given my skepticism, I expect EBITDA margin to improve from 22.85% in 2012 to 25.23% in 2016.

How much money will P&G spend on reinvestments?
Before I can calculate the free cash flow, I need to estimate how much P&G will use on reinvestments. To obtain growth in revenues, most companies has to increase its working capital and CAPEX, and I believe P&G to be no exception. Therefore, I have compared reinvestment's (defined as CAPEX + change in working capital) to revenues on a historical basis for P&G in the graph below.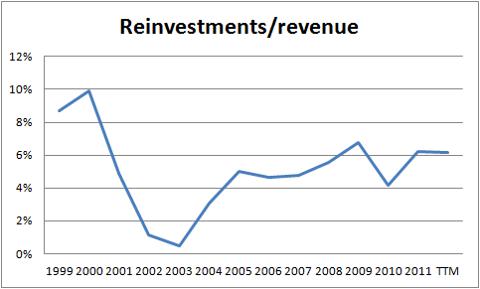 As a percentage of revenue, reinvestments have over the last couple of years been around 6 % of revenue, and I believe that P&G will continue to reinvestment on a similar level in the future.
Discount rate
To calculate the discount rate I use the WACC method. WACC is divided into two parts:
Cost of equity (the return shareholders demand)
Cost of debt (the return lenders demand).
To calculate the cost of equity, I have made the following assumptions:
Beta = 0.45
Risk free rate = 2.5%
Market return = 8%
The cost of equity can now be calculated as: Risk free rate + (market return - risk free rate) * Beta:
Cost of equity = 2.5% + (8%-2.5%)*0.45 = 5%.
I calculate the cost of debt by looking at what P&G actually pays in interest compared to its debt. Over the last twelve months, its net interest expense is $507 million. The net debt is $28.6 billion. This means that it pays an average of interest rate of 1.77%. Since it can subtract 28% of that amount in taxes, the after-tax interest rate is 1.3%.
Shareholders equity is worth 87% of the company, while lenders debt is worth the remaining 13%. This means that the WACC is equal too: 0.13 * 1.3% + 0.87 * 5% = 4.8%.
Valuation - Fair share price
In the table below, I have estimated the future free cash flow for P&G.

Given my free cash flow expectations, I estimate that the fair value (the below table) to be $78, and therefore I believe P&G to be undervalued, as the current share price is $68.5.

P&G is actually a company where I expect earnings to grow (through a higher EBITDA margin), and the company is a very safe investment, which means that the present value of the future free cash flow is very high. So while a P/E ratio of 22 may seem a bit high, its actually not very expensive for P&G, as the P/E ratio do not take into account future growth and the risk of the company.
Valuation - Expected return (scenario-analysis)
Another valuation approach is to compare the expected return in different scenarios. Below I have listed three scenarios that vary on the success of the cost cuts:
Optimistic scenario - The cost savings plan lives up to expectations, and it manages to save around $8.5 billion.
The expected scenario - This is the scenario I have used so far in my analysis.
The disappointing scenario - The cost-savings plan has no effect on the profitability of the company.
Given the optimistic scenario, I expect the share price (including dividends) to grow at an average annual rate of 6.2%
In the second scenario, I expect the share price (including dividends) to grow at an average annual rate of 5.7%
In the thirrd scenario, I expect the share price (including dividends) to grow at an average annual rate of 4.9%
Irrespective of the scenarios, the expected yield you obtain by investing in P&G is an improvement over what you get from treasuries. Compared to other large low-risk consumer companies like PepsiCo Inc. (NYSE:PEP), McDonald's (NYSE:MCD) and Coca-Cola (NYSE:KO), P&G seems like the cheapest company. However, compared to those companies, P&G probably has the worst growth opportunities, so don't expect to get rich by buying P&G. But invest in it if you want a stock with little volatility and safe dividends.
Disclosure: I have no positions in any stocks mentioned, and no plans to initiate any positions within the next 72 hours. I wrote this article myself, and it expresses my own opinions. I am not receiving compensation for it (other than from Seeking Alpha). I have no business relationship with any company whose stock is mentioned in this article.