We have shortlisted 5 stocks with insider buying. Insider buying alone can't justify a buy recommendation. However, when combined with cheap valuations, it can be a recipe for good entry points. These names have been short-listed either because of significant insider buying or small insider purchases coupled with cheap valuations (P/E, ROE, P/S). Other than J.C. Penney (NYSE:JCP), all selected stocks have strong business fundamentals along with a sustainable competitive advantage.
Forest Laboratories (NYSE:FRX), a prescription drug manufacturer, has strong fundamentals. Its stock is purchased by insiders due to the company's attractive valuations; it is trading at trailing twelve months P/E of 12x, at a discount when compared with GlaxoSmithKline's (NYSE:GSK) 14x and Pfizer's (NYSE:PFE) 18x. Currently, the stock is trading at $34.62, up by 14.41% YTD, and it has significant potential to go up in the coming period. The stock is trading above its 50-day and 200-day moving averages, which reflects its bullish trend. The figure given below shows that in August, the highest number for insider stock buying was witnessed in the last 48 months. Carl Icahn's purchase of 28,523,697 FRX shares worth $67.02 million reflects Forest Laboratories' positive future outlook. FRX has a substantial cash of $2.5 billion and has zero debt on its balance sheet. Its gross and operating margins of 78% and 22% are at par with its competitors, Eli Lilly & Co (NYSE:LLY) and GSK. The company's effective management is reflected in its return on equity of 14.08%, compared with the industry average of 5.54%. According to analyst estimates, the company has a high earnings growth rate of 124% over the next one year, illustrating FRX's good future performance.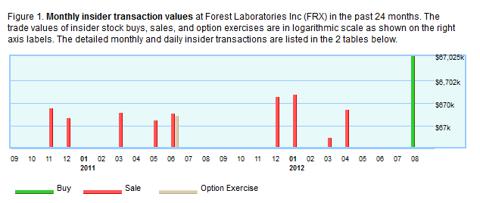 Source: Insider-monitors
Xylem Inc.
Xylem Inc. (NYSE:XYL) is a leading global water technology company that offers water and wastewater treatment solutions, industrial pumps, water technology solutions, and other related products. Xylem is committed to solving challenging water issues throughout the world. The company has experienced a trend of insider buying as of late, which it will benefit from. Ludwig Edward, the company's director, bought 1,000 more shares at a price of $25.6 to increase his XYL shares portfolio to 4,000 shares.
However, Senior Vice President Michael Kuchenbrod and Flow Control SVP Robert Wolpert sold 31,064 shares earlier this year, as depicted in the figure given below. Insider buying is minimal in the company, as only a third of the internal management bought the company's shares, as shown in Figure 2. The stock has a P/E ratio of 16.41x and a P/S ratio of 1.19x; the stock's dividend yield is 1.7%.
XYL is trading at a discount when compared to its peer, Pentair Inc. (NYSE:PNR). The company has a market cap of $4.57 billion, which is slightly more than PNR. Its gross and operating margins of 39% and 13% are slightly more than the industry average. Xylem's low PEG ratio of 0.93, net earnings growth of 71% over the last two quarters, and analyst estimates of the next year's earnings growth rate of 10.22% make the stock a good prospect to buy. On the flip side, the stock is currently trading at $24.63, down by 4.13% YTD. Xylem is exposed to foreign exchange risk, as 64% of its revenues come from outside the U.S. Therefore, any fluctuation in the foreign exchange rate will significantly affect the company's revenues. Moreover, the company's debt of $1.2 billion will limit its further borrowing needs, and limit its ability to declare future dividends.


Source: insider-monitor

Source: insider-monitor
J. C. Penney Company Inc.
J. C. Penney, one of the largest retailers in the Departmental Stores Industry, has been witnessing share purchases by insiders. The sudden surge in insider buying, after four years, has made the stock attractive for investors. After the purchase of 1,432 shares by Geraldine Laybourne, as depicted in Figure 2, the stock price went up by 11%. After the purchase, Laybourne and the company's CFO, Michael Kramer, bought 1,433 and 4,400 additional shares, either to restore investor trust in the company's future prospects or take advantage of the company's good valuations. The stock is trading at P/S of 0.34x, at a discount when compared with P/S of 0.65x and 0.59x for its peers Kohl's Corp (NYSE:KSS) and Macy's, Inc. (NYSE:M). However, its gross margin of 34% is below Kohl's and Macy's margins of 37% and 40%, respectively. The company's revenue has drastically declined by 79.5% over the last two quarters due to increasing competition, a stunted economy, and rising inflation in the country.
JCP is highly leveraged with a debt-to-equity of 1.09x. Moreover, its recent vertical integration in Alaska and Puerto Rico will help the company regain its competitive edge and generate positive earnings in the coming years.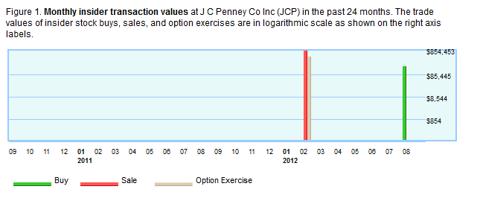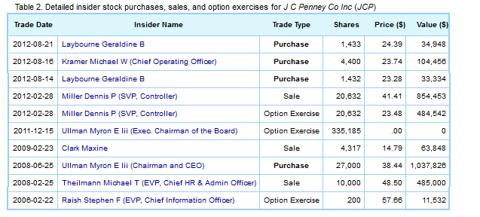 Deere & Company
Deere & Company (NYSE:DE) Director David Speer bought 750 shares for $56,737 on August 17 at an average price of $75.65. DE is a multi-faceted company catering to three different segments of the market; financial services, construction and forestry, and agriculture and turf. The stock is currently trading at $76.98, down by 8.57% YTD. As the figure below shows, DE trades 10% below the S&P 500. Over the last quarter, the company's revenue, along with its profit margins, declined from $9,938 million to $9,469 million, and 10.6% to 8.2%, respectively. In its 3Q conference call, Deere observed that in addition to the U.S., other regions like the Black Sea and India were also experiencing drought conditions, which could reduce the crop yield. The stock is trading at a relatively high valuation; its 12-month trailing P/E ratio is 10.25x, as compared to Caterpillar Inc.'s (NYSE:CAT) 9.77x, CNH Global NV's (NYSE:CNH) 9.1x, and Kubota Corporation's (KUB) 15.47x.

Huntington Bancshares Inc. (NASDAQ:HBAN)
Huntington Bancshares Inc. Principal Subsidiary Senior Executive VP Daniel Neumeyer purchased 1,000 shares of the company on August 16 at a price of $6.45/share. HBAN is a diversified bank-holding company. The bank has been witnessing a substantial increase in insider buying since early 2006, as reflected in the figure given below. Recently, the company's shares were bought by CFO & Senior Executive VP Donald Kimble and Director David Porteous.
Kimble bought 5,000 more shares on August 15 at a price of $6.41/share, and his HBAN shares portfolio now stands at 15,000. David bought shares worth $39,631 on August 14, and increased his HBAN holdings up to 110,113 shares. As Figure1 given below reflects, over the last two years, insiders bought shares on nine occasions, and sold them only once. This portrays the management's inclining interest in the company. Huntington Bancshares has registered higher than expected net income of $152.7 million, with an increment of 17% over the last quarter. Its cash flow yield of 25% is higher than the dividend yield of 2.5%, which depicts the bank's capability of paying dividends without relying on debt. The company has declared dividends of 4%/share in the last quarter, and its dividend payout ratio has increased from 9% to 15.9% over the last one year. The stock is trading at P/E of 10x, only at a slight premium as compared to Fifth Third Bancorp (NASDAQ:FITB), JPMorgan Chase & Co. (NYSE:JPM) and KeyCorp (NYSE:KEY).The bank's operating margin of 36% is higher than the 34% and 31% for JPMorgan Chase and KeyCorp, respectively. The bank decreased its non-performing loans by diversifying the exposure of credit risk, and improving its profitability. Diversification of credit risk further helps the bank generate high profits in the future.

Disclosure: I have no positions in any stocks mentioned, and no plans to initiate any positions within the next 72 hours.
Business relationship disclosure: The article has been written by Qineqt's Analyst. Qineqt is not receiving compensation for it (other than from Seeking Alpha). Qineqt has no business relationship with any company whose stock is mentioned in this article.