Many things happening now are boosting the outlook for solar stocks in the energy industry. High oil pricing due to strong demand worldwide also places solar as the front-runner among renewable energies. US presidential candidates Barack Obama and John Mccain's strongly support solar and wind energy, making this sector very attractive for investment no matter who wins.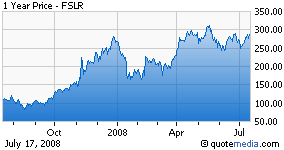 There are two companies in this sector investors should expect strong earnings from for this quarter: First Solar (FSLR) and Solarfun Power Holdings (SOLF). 
First Solar is the leader in this sector. The company reported 1st quarter 2008 earnings of $.57 per share on 4/30/08. This beat the consensus of $0.482 by $0.088 (there were 24 analysts covering this company). The consensus of the 28 analysts covering FSLR for the 2nd quarter 2008 is a per share value of $.58 (source: Etrade). Investors should expect the company to beat estimates by at least $0.10 on July 28. This will send its shares over $300 with little difficulty. Going forward into 2009, analysts predict continous growth of revenue. However investors should keep in mind FSLR is a relative expensive stock. 
Solarfun Power Holdings is one of the best solar plays out there with astonishing growth of both revenue and margin.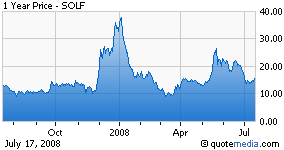 SOLF reported 1st quarter 2008 earnings of $2.21 per share on 5/21/08. This beat the consensus of $1.10 by $1.11 (there were 3 analysts covering this company). This is a nearly 101% surprise to the upside.
This coming quarter is no different. The company is expected to report earnings on August 15th, and the consensus of the 3 analysts covering SOLF for is for per share earnings of $1.55. Recently SOLF signed a 47MW deal with Schuco starting in 2009. Keep in mind this deal alone is twice as big as the SPWR deal with FPL power plant in Florida. Investors, though, seem to realize the significance gradually instead of pushing the stock price 20-30% higher in one day.
Disclosure: Long SOLF, FSLR and SPWR.