IPG Photonics Corporation (NASDAQ:IPGP) appears on track to produce excellent on target Q3 results, as the company generates a disproportionate amount of Q3 business in September. So it remains to be seen if the macro economic problems affecting the company's key geographies will impact results materially. Volume has been firm up until now.
Income will benefit from the full consolidation of the company's Russian subsidiary, with 25% being repurchased in the June quarter. A recent acquisition (JPSA Laser) will exert a slightly negative effect, with the deal expanded IPG's delivery technology to address several fine processing applications. The company plans to replace the laser portion with its fiber platform. It also hopes to boost sales by integrating the new line into its sweeping distribution network.
Competitive advantage
IPG Photonics has spent a decade creating its own industrial base. While competitors are frantically trying to create fiber lasers of their own, most of the new entrants are having difficulty getting their machines to operate, let alone match IPG's functionality, versatility, size, power, reliability, and cost.
The few competitors with high power fiber lasers on the market are still 30%-40% behind IPG Photonics on a price performance basis. And that excludes the special know-how that IPG Photonics can provide in addition to the basic horsepower.
The company is continuing to bend its own cost curve down by 3%-5% a year. New wave lengths and other technical features are extending the product line, both internally and via acquisition like the JPSA deal.
Cash flow remains abundant
IPG Photonics has expanded vertically to date rather than outsource, and that approach is likely to continue. So capital spending and R&D will remain elevated, as the company keeps gaining market share in the high potential laser industry.
The overall business tends to be volatile due to economic factors. And IPG Photonics isn't immune to that. But the company has been expanding 15%-20% faster than the industry overall for several years. The industry's long-term trend line is 5%-10%. Earnings could reach $5.00-$7.50 a share within two to three years.
Click to enlarge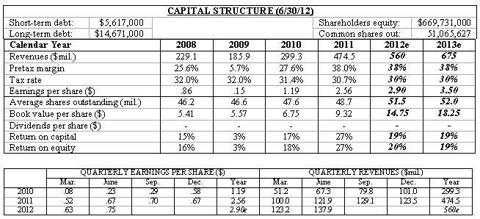 Disclosure: I am long IPGP. I wrote this article myself, and it expresses my own opinions. I am not receiving compensation for it. I have no business relationship with any company whose stock is mentioned in this article.