Advanced Micro Devices, Inc. (NASDAQ:AMD) has been struggling with regards to its financial performance due to a macroeconomic slowdown and intense competition. The stock is trading at forward P/E of 8x and P/S of 0.4x. Advanced Micro Devices is a high beta (2.72) stock. A lot of negative news is already priced in the stock, and we do not expect a price appreciation until there is a global economic improvement and Advanced Micro Devices comes up with exciting products to compete successfully.
If AMD comes up with products that can help the company compete with its peers, this can bring a turnaround for the company. Bulldozer architecture, which was released in late 2011, was not a success. AMD is expected to come up with Steamroller CPU architecture in 2013, which is expected to help strengthen the company's performance. If the company delivers a high performance with 'Steamroller', it will help AMD grow its top line and be more competitive. Going forward, AMD has to focus on smartphones and tablets chips.
Advanced Micro Devices Inc. designs, develops and sells microprocessor products around the world. The company has two segments; Computing Solutions and Graphics. Computing Solutions segment is the larger segment, contributing 74% to total revenues. This segment includes microprocessors. Graphics is the other segment of the company, and it contributes 26% to total revenues. This segment includes graphics, video and multimedia products. In the microprocessor market, AMD is facing competition from Intel Corporation (NASDAQ:INTC), while in the graphic market, it faces competition from Nvidia Corporation (NASDAQ:NVDA).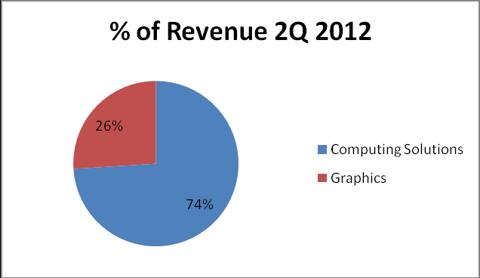 Source: ir.amd.com
Over the years, the company has been struggling to grow its revenues. The reported revenues for 2Q2012 were $1.41 billion, down 10% YoY and 11% QoQ. EPS for the quarter of $0.05 missed estimates of $0.08. The earnings miss was associated with lower gross profit margin for the quarter.
Margins for the company have declined significantly in the first half of 2012. In the current fiscal year, AMD has been lowering its prices to clear the current inventory holdings and survive in a competitive market. The company has to improve its future inventory management. The following chart shows the margins trend in the first half of 2012, as compared to 1H2011.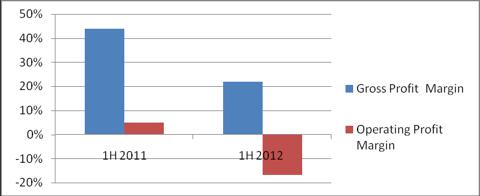 Source: ir.amd.com
The company has been controlling its expenditures to improve its bottom line. Research and Development dropped from 32% of sales in 2009 to 22% in 2011. Marketing, general and administrative expenses were 18.4% of sales in 2009 and improved to 15% in 2011.
The company lowered its 3Q2012 outlook due to lower sales and price cuts to clear inventory holdings. Gross profit margin is expected to be 44% and operating expenses are estimated to be around $560 million for the coming third quarter.
AMD ended 2Q2012 with $1.015 billion in cash and cash equivalents, as compared to $1.193 billion in 1Q2012. The company is burning cash, and if it keeps doing so, there might come a point where it has to borrow cash, which would not be easy looking at AMD's current financial performance. If the cash burn doesn't improve this can even lead to bankruptcy.
Geographical Revenue Distribution:
| | | | |
| --- | --- | --- | --- |
| | FY 2011 | FY 2010 | FY 2009 |
| U.S. | 6.9% | 11.5% | 13% |
| Europe | 11.9% | 15.2% | 17.3% |
| Greater China | 53.2% | 46.3% | 45.3% |
| Singapore | 16.1% | 13.5% | 12.8% |
| Japan | 6.8% | 8.6% | 5.7% |
| Other countries | 5.2% | 4.9% | 6% |
Source: ir.amd.com and Qineqt estimates
AMD's revenues are well diversified around the world with more revenue exposure in emerging markets. The current macroeconomic slowdown has been a barrier with regards to AMD increasing its top line. Lower-than-anticipated sales of desktops in China and Europe due to weak economic conditions are expected to prevail in the near future as well. AMD sales to Original Equipment Manufacturer (OEMs) are also on a decline due to weak consumer spending. A turn around for the stock could be expected as the spending patterns improve with strong economic activity around the world. Alongside, the company has to offer more competitive products, so that Intel does not take away the company's market share with its better quality products.
Valuations
| | | | | | |
| --- | --- | --- | --- | --- | --- |
| | AMD | INTC | NVDA | CSCO | Average |
| P/S (NYSE:TTM) | 0.4x | 2.3x | 2.1x | 2.3x | 2.2x |
Source: yahoofinance
Currently, AMD has being trading at depressed multiples due to its weak financial performance. AMD's P/S of 0.4x against its competitors' average P/S of 2.2x makes a strong case to buy AMD. Using competitors' average P/S, we get a price target of $19. However, the multiples are expected to stay depressed in the near future. High risk investors can consider buying the stock, as it offers an upside potential of more than 400%.
Disclosure: I have no positions in any stocks mentioned, and no plans to initiate any positions within the next 72 hours.
Business relationship disclosure: The article has been written by Qineqt's Technology Analyst. Qineqt is not receiving compensation for it (other than from Seeking Alpha). Qineqt has no business relationship with any company whose stock is mentioned in this article.