August was a good month for preferred stock investors, especially those buyers who took advantage of the wholesale prices frequently available when new shares are introduced.
By issuing new preferred stock shares at today's low rates and using the proceeds to redeem older, higher rate shares, companies are able to realize substantial dividend expense savings. This "deleveraging" process, underway for about a year now, has produced a continuous crop of new preferred stock issues as well as redemptions at a record pace.
With the large number of new preferred stock issues coming to market, those using the Over-The-Counter (OTC) stock exchange to buy the newly issued shares are continuing to see a number of buying opportunities each month for market prices below $25 per share [1].
August 2012
Here are the eleven [2] new preferred stocks introduced during August 2012.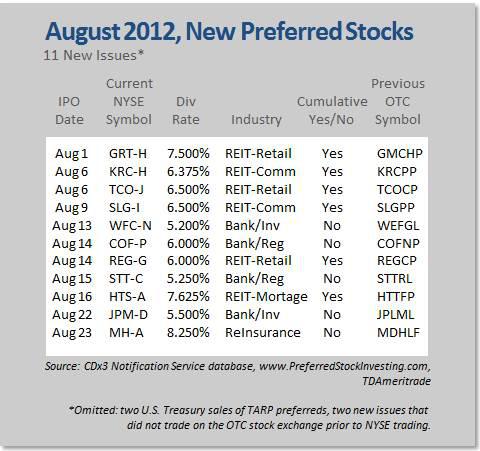 We saw four new bank-issued preferreds during August (all non-cumulative) - WFC-N from Wells Fargo (NYSE:WFC), COF-P from Capital One (NYSE:COF), STT-C from State Street (NYSE:STT), and JPM-D from JP Morgan (NYSE:JPM). Hatteras Financial (NYSE:HTS), organized as a mortgage REIT, is new to the preferred stock marketplace with its August 16 offering of HTS-A.
The process used for distributing new preferred stock shares to the marketplace has been the subject of a couple of previous articles - "Preferred Stock Buyers Beat High Prices By Paying Wholesale" and "New Preferred Stocks: How To Buy Shares For A Discount Below Par" so those details will not be repeated here.
But to summarize, a group of underwriters pools their cash and purchases the new shares from the issuing company for a price of about $24.25 per share (see JPM-D's prospectus for an example). The underwriters, in turn, sell the new shares for about $24.50 to dealer/brokers, pocketing a very quick $0.25 per share profit. This wholesale distribution of new shares takes place on the OTC stock exchange using a temporary trading symbol for the new shares (see above table). Armed with an online trading account and a web browser, individual investors are able to place buy orders for the new shares during the process, usually for prices below the security's $25 par value [3].
Once the NYSE approves the trading application and assigns a new, permanent symbol the increased visibility usually (but not always) leads to a higher market price. In today's preferred stock market, market prices of newly issued preferred stocks have generally been quick to jump well above $25 per share once they begin trading on the NYSE.
Market Price Analysis: August 2012
Here is the market price behavior of the new preferred stocks issued during August (the Seeking Alpha article titled "Preferred Stock Buyers Beat High Prices By Paying Wholesale" offers a similar analysis for July 2012). The opening OTC market price for each new August preferred stock is shown by the yellow diamond while the current (closing September 7, 2012) NYSE market price is shown by the gray diamond.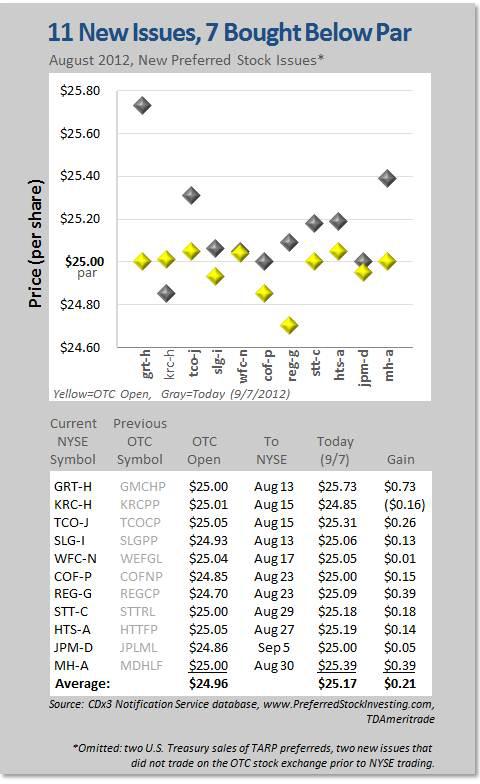 Notice how the yellow diamonds (OTC opening price) are lower than the gray diamonds (NYSE current price) with only one exception - KRC-H from Kilroy Realty (NYSE:KRC).
Preferred stock buyers using the OTC wholesale exchange during August were able to purchase newly issued preferred stock shares for an average price of $24.96 per share, just below these security's $25 par value.
Conversely, preferred stock buyers who waited to make their purchases until these new August issues were trading on the NYSE retail stock exchange paid an average of $0.21 per share more than those who purchased the same shares a few days earlier during OTC trading.
Will Prices Go Even Higher?
While it is not possible to predict future prices, the average market price of all similar preferred stocks trading on the NYSE is currently $26.38 per share [4]. With an average price of $25.17, it would not be surprising to see the market prices of these new August issues continue to increase in the months ahead.
Having said that, as described in the Seeking Alpha article titled "Preferred Stock Prices: Temporary Spike Or A New Normal?," U.S. preferred stock prices are currently very sensitive to events, one way or the other, related to eurozone financial stability. European investors who have fled holdings there for less risky assets here will reverse that process very quickly given the slightest indication that the time has come to do so. Such an exodus would erode the $26.38 average share price that U.S. preferred stocks are currently commanding making it that much more important for preferred stock investors to secure discounted prices when buying new shares.
Footnotes:
[1] In the event that the issuing company redeems ("calls") your shares in the future, shareholders will receive the par value ($25) per share in cash. Those who avoid buying shares for more than $25 per share add a layer of protection to their principal plus set themselves up for a capital gain in the event of a downstream call.
[2] Note that this list does not include the two M&T Bank (NYSE:MTB) TARP securities offered during August. Also excluded are two preferred stocks that did not trade on the OTC stock exchange prior to NYSE trading (GAB-G from Gabelli Equity Trust and IRET-B from Investors Real Estate Trust).
[3] How easily you are able to participate in OTC trading depends on the breadth of your broker's contracts with "market makers," of which there are about a dozen. While the process is invisible to you, market makers manually coordinate trades since the OTC exchange is less automated than other trading venues. Most online brokerage systems (e.g. TDAmeritrade, E*Trade and most others) allow you to place trades for new preferred stock shares using the OTC trading symbol just like any other stock trade.
[4] For comparability to new August 2012 issues, the $26.38 average value uses closing market prices from September 7, 2012 for call protected traditional preferred stocks (no trust or 3rd-party trust preferreds) trading on the NYSE with $25 par values, non-suspended dividends and non-zero trading volume.

Disclosure: I have no positions in any stocks mentioned, and no plans to initiate any positions within the next 72 hours. I wrote this article myself, and it expresses my own opinions. I am not receiving compensation for it (other than from Seeking Alpha). I have no business relationship with any company whose stock is mentioned in this article.
Additional disclosure: Preferred stocks identified within this article are for illustration purposes only and are not to be taken as recommendations.