You would not have to search very hard these days to read that the DJIA and S&P 500 have gone nowhere since the market peaked in 2000. During that period we saw the 9/11 terrorist attacks on American soil, the housing industry collapse, two official recessions and the worst long-term pace of recovery of our lifetimes.
The charts of the DJIA and S&P 500 clearly confirm that the indices did not make any real progress.
The past 12 years were clearly not 'the best of times'. It was easy for investors to get whipsawed by extremely volatile market action. That was especially true with all the real-time media frenzy that accompanied each rise and fall.
Chart Source: Value Line
Many previous true believers in equity investing have completely thrown in the towel. This is evidenced by the net mutual fund flows dating back to April of 2004. That represents the redemption of real money rather than simply reflecting survey results like those of the AAIA (American Association of Individual Investors) or money managers' asset allocation models.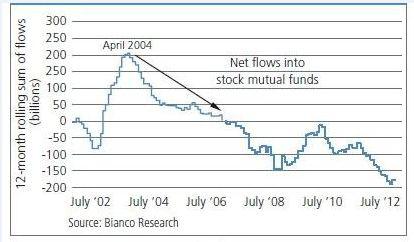 Seeing the chart above makes it hard to believe that the recent rally is 'the top'. If there were present day investor over-enthusiasm we could not have seen more than eight years and billions of dollars of net outflows from equities. This appears more like the multi-year classic movement of shares from 'weak hands to strong ones'.
There are big negatives out there. The debt crisis is real. Its ultimate resolution is unpredictable in both timing and effect. Ill-advised QE (quantitative easing) programs are likely to continue simply to satisfy political needs. Fiat currencies will almost certainly get diluted continuously. The international 'race to the bottom' regarding currency devaluation, ostensibly to support exports, is a cruel joke on all citizens.
Despite all that is currently bad, and all that's been wrong with the world, you could still have made a lot of money in the past dozen years. How? By simply owning shares of world-class companies that provide essential products and services.
The list below shows (alphabetically) some of the many fine firms that possessed those qualities. All data is split-adjusted. Per-share numbers exclude both dividends and non-recurring items.
Four of the twelve (NYSE:CAT), (NYSE:CMI), (NYSE:DE) and (NYSE:PH) are cyclicals. Two (NYSE:HP) and (NYSE:XOM) are energy related. Express Scripts (NASDAQ:ESRX) and Lab Corp (NYSE:LH) are healthcare providers. Sigma-Aldrich (NASDAQ:SIAL) and Thermo Fisher (NYSE:TMO) serve the scientific research industry. Potash (POT) and Deere are agricultural industry players. International Flavors and Fragrances (NYSE:IFF) is in the food group.
I have few doubts that all these companies will be with us, healthy and profitable for decades to come.
Even the worst of the companies listed performed very well in terms of earnings and share price appreciation. The average 12-year profit increase was 782.8% (excluding CMI's which I tossed as an outlier due to its tiny base EPS). The average share price gain was 590.4% (including CMI).
There was no need to trade frequently, or even at all. You only had to chose wisely, turn off the news and simply hold long term. There was no reason you had to play technology shares to do very well in an era that seemed dominated by Apple (NASDAQ:AAPL).
I owned all of the stocks mentioned at some point during those dozen years. Currently I'm holding CAT, CMI, DE, ESRX, XOM, HP, LH, POT, SIAL and TMO in accounts I own personally or control.
I invite readers to nominate their own favorites for long term investment success in the comments section.
Disclosure: I am long CAT, CMI, DE, ESRX, XOM, HP, LH, POT, SIAL, TMO. I wrote this article myself, and it expresses my own opinions. I am not receiving compensation for it (other than from Seeking Alpha). I have no business relationship with any company whose stock is mentioned in this article.