"Give whatever you are doing and whoever you are with the gift of your attention. - Jim Rohn
Followers of my media appearances on CNBC and Bloomberg, as well as my various writings here on SeekingAlpha and the other sites I write on know that I have been highly bullish all year with the exception of the "mini-correction" I called for in April prior to the May decline in risk assets. Many have pushed back hard on my thinking, failing to realize that all I am doing is interpreting price just as I did in calling for the Summer Crash of 2011. Price has been continuously bullish as the psychology all along has been on looking at 2008 as the roadmap for understanding the European crisis. My contention with that all along has been that paranoia from both the investment community, as well as SuperBen and the League of Extraordinary Bankers, would either make reflation happen organically or it would be forced upon us.
The European Central Bank has effectively promised that it would be the insurance policy against a 2008 repeat in sovereign markets by enacting its own unlimited bond buying program. Prevent the perception of the event, and rally on. I did a quick segment on CNBC last week and specifically argued that the fear of a 2008 repeat is now morphing into the fear of central bank over-stimulus. Various intermarket trends suggest this new fear is still only just starting to get felt through relative price movement, suggesting that the conditions continue to favor equities.
One example of this is the behavior of European Financials. Take a look below at the price ratio of the iShares MSCI Europe Financial Sector ETF (NASDAQ:EUFN) relative to the Vanguard European VIPERS ETF (NYSEARCA:VGK). As a reminder, a rising price ratio means the numerator/EUFN is outperforming (up more/down less) the denominator/VGK.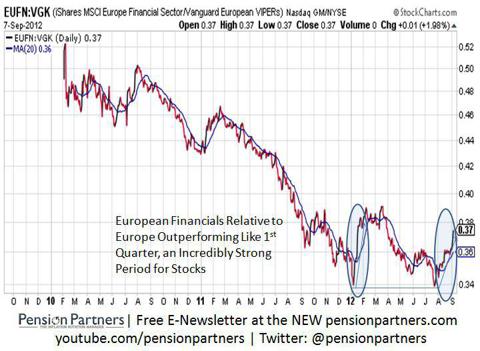 Studies show that when the Financials sector outperforms in a meaningful way, it tends to lead markets higher. This should make sense given the role of banks in the economy. Notice the areas I have highlighted here. The ratio bottomed almost perfectly in late July hitting the January low, and is now showing strength highly reminiscent of January this year as one of the best 1st quarters for stocks was under way. The warning for bears or anyone who thinks that the rally is due for a pullback is clear - the Summer Surprise of higher highs is likely to continue, as the end to the end of the world trade takes place and reflation persists, just as I wrote about on June 23.
Welcome to the Great Realization.
Disclosure: I have no positions in any stocks mentioned, and no plans to initiate any positions within the next 72 hours. I wrote this article myself, and it expresses my own opinions. I am not receiving compensation for it (other than from Seeking Alpha). I have no business relationship with any company whose stock is mentioned in this article.
Additional disclosure: This writing is for informational purposes only and does not constitute an offer to sell, a solicitation to buy, or a recommendation regarding any securities transaction, or as an offer to provide advisory or other services by Pension Partners, LLC in any jurisdiction in which such offer, solicitation, purchase or sale would be unlawful under the securities laws of such jurisdiction. The information contained in this writing should not be construed as financial or investment advice on any subject matter. Pension Partners, LLC expressly disclaims all liability in respect to actions taken based on any or all of the information on this writing.