This past week I wrote an article comparing AT&T (NYSE:T) and Verizon (NYSE:VZ) as candidates for a covered call strategy in a retirement portfolio. Continuing with this topic, I would like to test another of my favorite retirement holdings, Exxon Mobil (NYSE:XOM). Exxon is one of the most widely held retirement stocks, so it seems like an appropriate candidate.
From the 20 year period between 1992 and 2012, Exxon's share price has climbed from $15.31 to $89.92, which is over a 9.7% annualized gain in share price, which is great for any retirement holding. So, not only will you draw income off of this stock, but over a 20-year period, including two major recessions, Exxon gained almost 10% of the share price on average. This should definitely help retirees keep up with inflation, which is a major concern about retirement portfolios as retirees live longer and longer. If you retire at 65, it is more likely than ever that you will live into your 90s, and you can be certain that US dollars will not have the same purchasing power 20-30 years later. However, judging by historic trends, a 9.7% gain in value will beat whatever inflation rate the US economy throws our way.
images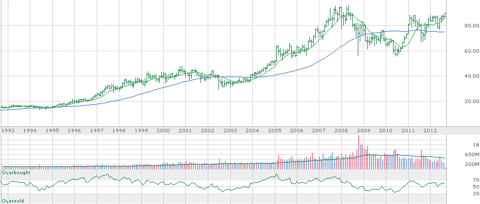 The combination of share price gains with adequate yield is the goal of most retirement portfolios, so let's examine Exxon's performance in terms of dividends. Now, admittedly, Exxon is not a "high-yielder" when compared to the two other retirement stocks I have done this analysis on, Verizon and AT&T. I believe that its lack of high yields is more than made up for with the stock's historic gains in shareholder value.
More important for retirement accounts than yields themselves is a good track record of increasing dividends, so how does Exxon fare in that regard?
This is a plot of Exxon's quarterly dividend over the past 20 years: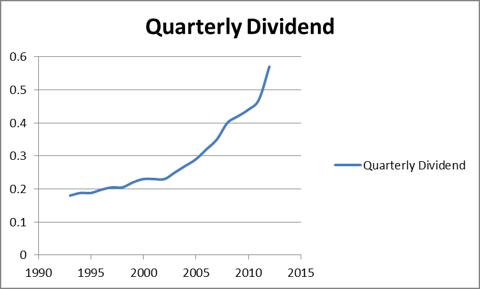 The dividend has been increased consistently throughout the entire period, every single year. Verizon and ATT&T's dividend increase was more linear, with Exxon's chart looking almost exponential. The company has maintained an excellent track record of boosting dividends every year, and this chart shows they have accelerated their dividend increases in the last decade. During the recent financial crisis were some of the largest increases yet. Over the 4-year period from 2009-2012, Exxon raised its dividend each year, by 5%, 4.8%, 6.8%, and most recently, an enormous 21.3% increase in its dividend this year. So, even though Exxon has historically only paid out 2-3%, it gives very nice "raises" to reward shareholders.
I believe this trend will continue for Exxon as well as the other major players in this sector, such as Conoco Phillips (NYSE:COP) and BP (NYSE:BP), among others. As demand for energy increases, particularly in the emerging world, the price of crude oil and gasoline will continue their climb. We are closer than everyone thinks to $10 gasoline in America! As prices rise, so will profits, and the value of these companies.
Now let's see how Exxon performs in a 10-year backtest of my favorite strategy, selling out of the money covered calls against retirement holdings. I tested this strategy during the (almost) 10-year period from January 2003-July 2012. I assumed that we started with a 1000 share investment, and that we sold calls that were 3 months from expiration. To lower the risk of being called out of the stock, we only sold calls that were 10% out of the money. The following chart is a comparison between simply buying and holding, and employing my covered call writing strategy to maximize returns. For the sake of this chart, I am assuming that all dividends are reinvested and used to purchase new shares (everyone should be doing this anyway, but that's a subject for a future article).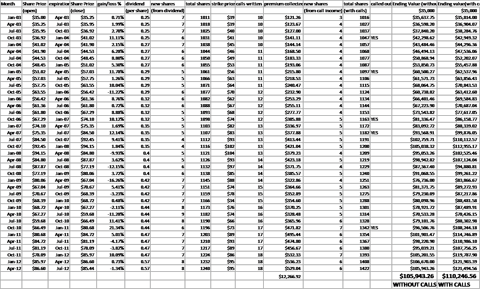 Employing the covered call strategy was effective on Exxon. Even though the investor would have been called out of the stock five times over the 10 year period, it would still have been more profitable to use the strategy. The investor would have missed out on $11,248 of potential upside because of getting called out. Over the 10 year period, $12,266 of options premium would have been collected, in addition to the profits resulting from additional shares purchased with the income from selling the calls. In the end, an investor who purchased 1000 shares in 2003 for $35,000 and simply held the stock and reinvested dividends would have a value of $105,943, while an investor using the covered call strategy would have a portfolio value of $110,246 today, a $4,303 difference.
I think that Exxon is a great investment for anyone's retirement funds, and that the growth trend previously mentioned will continue for years to come. Investors should consider employing a covered call strategy similar to what I have described, as Exxon is an ideal candidate for such a strategy.
Disclosure: I am long XOM. I wrote this article myself, and it expresses my own opinions. I am not receiving compensation for it (other than from Seeking Alpha). I have no business relationship with any company whose stock is mentioned in this article.