On Friday, after the latest poor jobs release, Goldman Sachs released a base case that any easing will be formulated as an open-ended asset purchase program of around $50 billion per month. This would probably have to be unsterilized debt monetization as there is really nothing left in current Fed holdings (see chart) to twist to or from. The 0-3 years range is almost gone. The Fed has some 3-4 year paper they could twist, however they don't have much more left to buy in the longer maturities. The average maturity held by the Fed is now 116 months. The Fed owns all but $650 billion in 10-30 year Treasuries still left in private hands, so $50 billion a month would quickly absorb all of that. The Fed could go back into the near zero return 0-5 year market where they aren't as dominant a factor. UBS doesn't think the MBS market offers enough liquidity or depth to absorb the Fed's serious presence.
From UBS (see here):
The Fed owns all but $650 billion of 10-30 year nominal Treasuries.

[...]

Taking out, say, $300 billion in long-end Treasuries almost certainly would put tremendous pressure on liquidity in that market….Ploughing ahead with a large, fixed QE program could cause liquidity to tank.

[...]

The alternative of tilting purchases toward MBS implies that the QE program would need to be quite protracted. Monthly supply of conventional 15yr, 30yr and 30yr GNMA has averaged about $85-90 billion over the past year and the Fed is already buying about $25 billion. The Fed might be able to buy another $40 billion without disrupting the market. Assuming that the Fed does a $600 billion program with 75% in MBS, it would need to buy $450 billion in mortgages, so in our estimation the program would need to last nearly a year.

UBS conclusion: We doubt the market would respond well to that prescription from Dr. Bernanke.
So given the impracticality of Twist, that leaves funding the ongoing enormous deficits directly. $50 billion a month would cover about half of next year's deficit. Who handles the rollover of maturing debt at these interest rates is another story, as the Fed has almost no maturing rollover. Little wonder that the Fed is pressured to monetize.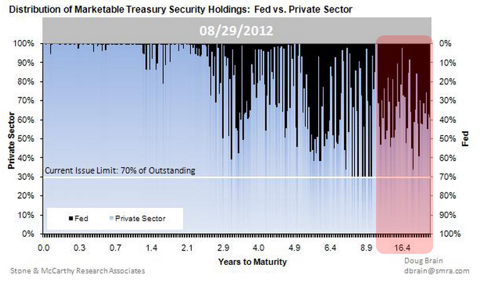 Source: UBS
It will be a big week coming up. Goldman Sachs says the odds of a Fed QE is now 50% although it is not clear if it will be on September 12-13. I see the odds as very small, less than 20% for the simple reason that inflation expectations are rising and that it is too politically fraught (see Fed Under GOP Political Attack).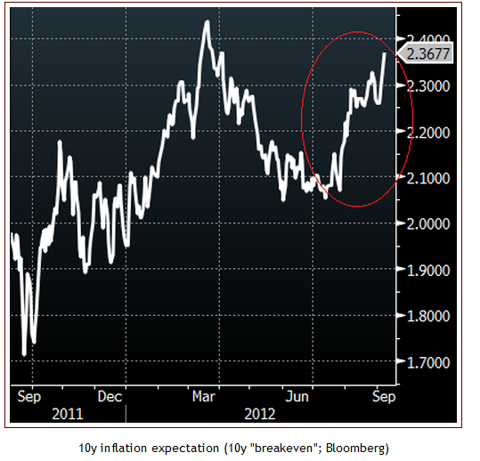 The big commercial short in the eurodollar just doesn't look like it anticipates a Fed easing at all. In reality the Fed needs to be much more hawkish at this inflation inflection point.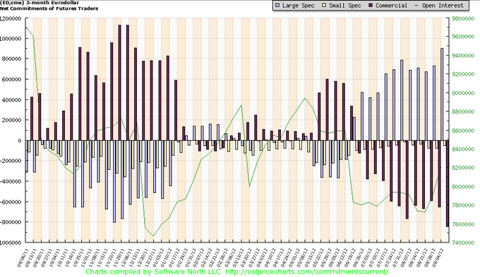 Morgan Stanley put the odds as high 40% that the German court will kill the bailout fund on September 12. September 15 is a new moon, the night cover window for operations in the Middle East. JP Morgan puts the odds at 10-15% of an Israeli operation against Iran, although not necessarily next week. Finally, if the kleptocrats are going to flip the switch to influence the elections and bring in the "next phase": privatizations and neo-liberalism/shock doctrine, then the timing is approaching for a September economic, financial crisis. It is not at all clear how much upside is left in these thin, algo riddled markets should the Fed move and all the other scenarios be dodged. But the downside of a jailbreak is very large if it doesn't go according to script. I have a much larger index put position than normal now and am short December eurodollar futures.
Disclosure: I have no positions in any stocks mentioned, and no plans to initiate any positions within the next 72 hours. I wrote this article myself, and it expresses my own opinions. I am not receiving compensation for it. I have no business relationship with any company whose stock is mentioned in this article.