Chevron Corp. (NYSE:CVX) is a major integrated Oil & Gas E & P company. It also does refining, some mining, insurance operations, real estate, energy services, transportation, alternative fuels, etc. It is a big, robust company with its fingers in many pies. It produces 2.763 million boe/d (2010E). As of Dec. 31, 2010 it had 10.545B boe in proved reserves. It pays a 3.16% dividend. It trades at a P/E of 8.49 and an FP/E of 9.20. The average analyst recommendation on this stock is 2.0 -- a buy. The CAPS rating on this stock is five stars. It has a beta of 1.06. This company may go down with the market, but it never seems to get killed, and it always seems to bounce back quickly compared to many of the other stocks in the Dow Jones Industrial Average and S&P 500. In sum it is one of the great, steady, reliable stocks in the market today. Unfortunately it still goes up and down quite a bit. For example, on June 5 it stood at $96.49; but at the close Friday September 7, 2012 it stood at $114.00. That's an 18%+ rise in a couple of months. CVX falls just as quickly.
To safeguard yourself in a tough market you can use an options strategy in conjunction with your buy of CVX. By looking at the two year chart, you can see that CVX is more likely to be near the top of its trading range. It is above the recent range. It may go higher, but the odds are that it will fall in the near future.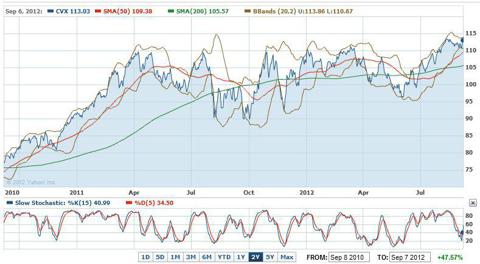 If you buy 200 shares of CVX at approximately $114, you can sell two CVX $115 October Call options for approximately $1.97 each ($197.00 each option for 100 shares = $394.00). You can then buy three CVX $110 October options for approximately $1.18 ($118.00 each option for 100 shares = $354.00). You now are protected to the downside. Plus you are in a position to profit hugely if there is substantial downside below $110 by the October options' expiration date (October 19, 2012).
The best case scenario is that your CVX stock will get called away before options expiration. Subsequently CVX will descend below $110 substantially. This will mean you will have no obligation for your call options. You will have no stock any longer, so you will not lose as CVX goes down in price; and you will profit hugely from your put options. In fact if CVX gets called away at any point you will at least have a minor profit from the greater amount you received for selling the call options compared to the lesser amount you spent on the put options. At that point you may either sell the put options immediately for the profit they generate, or you can wait for them to perhaps become more valuable due to a subsequent down move.
The overall market is beyond the top of its recent range. It may either break out further, or it may fall back. Some think it will continue upward slightly. The actions of the ECB, although not implemented yet, and the expectations of QE3 soon from the US Federal Reserve are inflationary. Usually this means commodity prices, such as oil prices, will go up in the near term. If this happens, big oil producer CVX is very likely to go up. Further Tropical Storm Leslie is approaching the Caribbean Sea - Gulf of Mexico. It may or may not do damage to the oil infrastructure there or to the East Coast infrastructure if it turns northward. The mere threat of this may push oil prices up. Hurricane Michael is right behind Tropical Storm Leslie, although the exact destination is unknown so far. Another tropical depression is behind that.
If you are convinced that all of this will definitely push CVX up, you may wish to wait to implement the above strategy. If you think the market is close to a near term top (and CVX along with it), you may wish to implement this strategy immediately (Monday Sept. 10, 2012). The only way you will lose money on this strategy is if CVX stays between $110 and $115, and you won't lose that much in that case. If CVX just goes quickly down, you will keep your stock, but it will be mostly covered by puts. The extra put will help you regain any losses between $114 and $110. You can also continue to keep your CVX stock for its dividend. If CVX stock moves below $107 by the options expiration date, you should see substantial profits. At the very least you can protect a part of your portfolio from a big downside move in the overall market. Nomura Securities has predicted a 25% fall in the overall market before the Presidential election. Goldman Sachs' David Kostin has a year end 2012 target of 1250 on the S&P 500 (currently at 1437.92). Kostin recently reiterated this call on CNBC. You should be worried about your portfolio. With this strategy you can protect a part of it at virtually no cost.
The above is really a bet that CVX will cycle downward by October 19, 2012. However, it is also a way of acquiring probable good profits with little or no risk. It is a way of de-risking your portfolio. People with IRAs should seriously consider this strategy with the fiscal cliff and tax-maggedon approaching in the US. Plus it is not necessarily a one time strategy. If CVX goes up and stays up, you can implement the same strategy again after options expiration in October at a higher price. This would likely have even higher probability of good profits. If this strategy behaves as expected, it also allows you to retain your CVX dividend without experiencing significant losses. Plus the extra put should give you appreciable gains if CVX moves downward to $100 or $95.
A few other similar stocks that you may be able to do the same thing with are: Exxon Mobil Corp. (NYSE:XOM), Hess Corp. (NYSE:HES), Total SA (NYSE:TOT), and EOG Resources Inc. (NYSE:EOG), although EOG and HES do not pay appreciable dividends.
Note: Some of the fundamental financial data above is from Yahoo Finance.
Good Luck Trading.
Disclosure: I have no positions in any stocks mentioned, but may initiate a long position in CVX over the next 72 hours. I wrote this article myself, and it expresses my own opinions. I am not receiving compensation for it (other than from Seeking Alpha). I have no business relationship with any company whose stock is mentioned in this article.