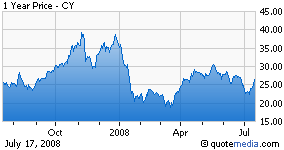 Cypress Semiconductor (NASDAQ:CY) Thursday said that it plans to proceed with a proposed spinoff to holders of its stake in SunPower (NASDAQ:SPWR). The company said in April that it had received an IRS ruling which clears the way for a tax-free spin-off.
Cypress said that in connection with the proposal, it may tender for its 1% convertible notes due September 2009. It also said the company may sell a portion of its shares prior to completing the spin-off.
Meanwhile, Cypress Thursday posted Q2 revenue of $592.3 million, well above the Street consensus of $539.97 million. Non-GAAP EPS of 28 cents nicely beat the Street view at 21 cents. CEO T.J. Rodgers said the company's results exceeded expectation in both its core semi business and at SunPower.
"While we remain cautious about the macro economic environment for the second half of 2008, we anticipate strong sequential growth in our semiconductor business," Rodgers said.

SunPower posted Q2 revenue of $382.8 million and pro forma profits of 61 cents a share, blowing past the Street consensus of $343.1 million and 51 cents.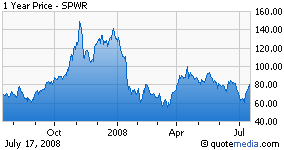 For Q3, SPWR sees revenue of $340 million to $355 million and non-GAAP EPS of 53-57 cents; the Street has been expecting $346.9 million and 57 cents. For Q4, the company sees $395 million to $425 million and 73-80 cents.
For all of 2008, the company sees revenue of $1.39 billion to $1.44 billion, with EPS of $2.26 to $2.36, ahead of the Street at $1.36 billion and $2.17. For 2009, SPWR expects revenue of $2 billion to $2.1 billion, and non-GAAP profits of at least $3.50 a share. The Street has modelled $1.94 billion and $3.41.
SPWR says it is on track to reach its financial model of 30% gross margin, 10% operating expenses and 20% operating margins on a non-GAAP basis by Q1 2009. The company also says it continues on track to reducing systems costs by 50% from 2006 to 2012.
SPWR Thursday morning is down $3.99, or 5%, to $76.16. CY is down 32 cents, or 1.2%, to $26.15.