A vaccine is a biological preparation that improves immunity to a particular disease. A vaccine typically contains an agent that resembles a disease-causing microorganism, and is often made from weakened or killed forms of the microbe. The agent stimulates the body's immune system to recognize the agent as foreign, destroy it, and "remember" it, so that the immune system can more easily recognize and destroy any of these microorganisms that it later encounters.
Vaccines can be prophylactic (e.g. to prevent or ameliorate the effects of a future infection by any natural or "wild" pathogen), or therapeutic (e.g. vaccines against cancer). I wrote an article titled "3 Vaccine Companies With Near Term Catalysts" on September 4. In this article I will feature three additional vaccine companies with upcoming catalysts.
1. Sinovac Biotech (NASDAQ:SVA) is a China-based biopharmaceutical company that focuses on the research, development, manufacturing and commercialization of vaccines that protect against human infectious diseases including hepatitis A and B, seasonal influenza, H5N1 pandemic influenza (avian flu) and H1N1 influenza (swine flu), as well as animal rabies vaccine for canines.
In 2009, Sinovac was the first company worldwide to receive approval for its H1N1 influenza vaccine, Panflu, and has manufactured it for the Chinese Central Government, pursuant to the government-stockpiling program. The company is also the only supplier of the H5N1 pandemic influenza vaccine to the government-stockpiling program. Sinovac is developing a number of new pipeline vaccines including vaccines for enterovirus 71 (against hand, foot and mouth disease), pneumococcal conjugate, pneumococcal polysaccharides, mumps and rubella. Sinovac sells its vaccines mainly in China and exports selected vaccines to Mongolia, Nepal, and the Philippines.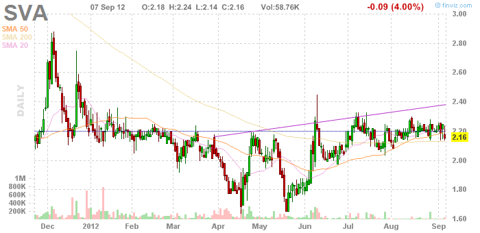 Upcoming catalysts
The company commenced an enterovirus 71 Phase III trial in January 2012, which is anticipated to be completed in the first half of 2013.
Enterovirus 71 causes hand, foot, and mouth disease [HFMD] among children. HFMD is a common and usually mild childhood disease, however, it is associated with neurological disease in a small percentage of cases.
Financials
The company reported the second-quarter financial results on August 15 with the following highlights:
| | |
| --- | --- |
| Revenue | $9.4 million |
| Net loss | $0.9 million |
| Cash | $89.4 million |
| Shares outstanding | 54.8 million |
| Cash per share | $1.63 |
My analysis
The stock reached a high of $12 in 2009 after the swine flu pandemic. The stock found support from $1.6 level, in May 2012, which coincides with the cash per share value. I believe the next upcoming catalyst for the stock will be the enterovirus 71 Phase III trial results in 2013. If the trial results are positive, I believe the stock could reach $3. If we get negative results we could retest the May 2012 lows.
2. Dynavax Technologies Corporation (NASDAQ:DVAX), a clinical-stage biopharmaceutical company, discovers and develops novel products to prevent and treat infectious and inflammatory diseases. The company's lead product candidate is Heplisav, a Phase 3 investigational adult hepatitis B vaccine designed to provide rapid and earlier protection with fewer doses than currently licensed vaccines.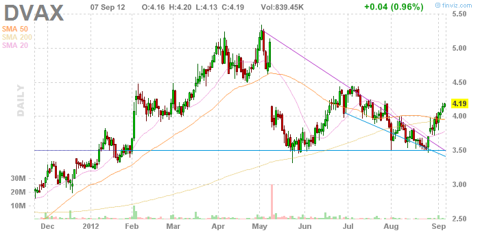 Upcoming milestones
Dynavax announced on August 28 that the U.S. Food and Drug Administration [FDA] has informed the company that its Vaccines and Related Biological Products Advisory Committee is scheduled to discuss Heplisav at its meeting on November 14-15, 2012. Dynavax's Biologic License Application [BLA] for HEPLISAV, pursuing an indication for immunization against infection caused by all known subtypes of hepatitis B virus in adults 18 through 70 years of age, is currently under review by the FDA. The Prescription Drug User Fee Act [PDUFA] date for the FDA to complete its review is February 24, 2013.
European Medicines Agency [EMA] accepted the filing of the Marketing Authorization Application [MAA] for Heplisav on August 22. In Phase 3 trials, Heplisav demonstrated higher and earlier protection with fewer doses than currently licensed vaccines. Dynavax has worldwide commercial rights to Heplisav. Heplisav combines hepatitis B surface antigen with a proprietary Toll-like Receptor 9 agonist to enhance the immune response.
Financials
The company reported the second-quarter financial results on August 1 with the following highlights:
| | |
| --- | --- |
| Revenue | $2.7 million |
| Net loss | $15.1 million |
| Cash | $160.2 million |
Analyst opinion
Four different analyst firms (William Blair, MLV & Co, Jefferies, Cowen) updated their Dynavax analyst reports on August 27-28. William Blair has a $9 price target, MLV & Co has a $10 price target, Jefferies has a $6 price target and Cowen has an outperform rating on Dynavax.
My analysis
The stock has a $11.75 price target from the Point and Figure chart. There has not been any insider buying nor selling this year. The latest insider buy transaction was in November 2011 and the latest insider sell transaction was in September 2011. If Heplisav gets a positive vote on November 14, I believe the stock could trade as high as $8. With a negative vote the stock would likely fall below $3.
3. Vical (NASDAQ:VICL) researches and develops biopharmaceutical products based on its patented DNA delivery technologies for the prevention and treatment of serious or life-threatening diseases. Potential applications of the company's DNA delivery technology include DNA vaccines for infectious diseases or cancer, in which the expressed protein is an immunogen; cancer immunotherapeutics, in which the expressed protein is an immune system stimulant; and cardiovascular therapies, in which the expressed protein is an angiogenic growth factor.
The company is developing certain infectious disease vaccines and cancer therapeutics internally. In addition, the company collaborates with major pharmaceutical companies and biotechnology companies that give it access to complementary technologies or greater resources. These strategic partnerships provide the company with mutually beneficial opportunities to expand its product pipeline and address significant unmet medical needs.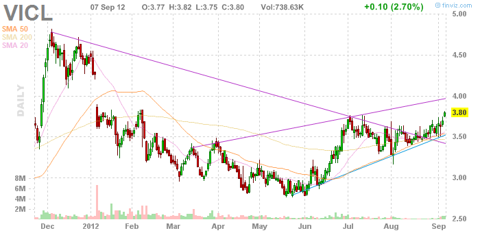 Upcoming Phase III milestones
In the company's Phase III registration trial of Allovectin in patients with metastatic melanoma, data collection for the primary endpoint (response rate at 24 weeks or more after randomization) is completed and independent adjudication is ongoing. The company expects to reach the target number of death events for the secondary endpoint (overall survival) in late 2012, and to release top-line data for both endpoints as soon as practical after that.
Financials
The company reported the second-quarter financial results on August 1 with the following highlights:
| | |
| --- | --- |
| Revenue | $1.6 million |
| Net loss | $7.9 million |
| Cash | $97 million |
Outlook
CFO, Jill Broadfoot, commented during the second-quarter earnings call:
We remain on track with our full-year 2012 cash burn forecast of $17 million to $22 million and believe we have sufficient capital for our planned activities through at least the end of 2013.
News
Abbott (NYSE:ABT) announced on September 6 that it has signed an agreement to collaborate with Astellas Pharma (OTCPK:ALPMF) in a Phase 3 clinical trial for ASP0113 (TransVax), an investigational vaccine licensed from Vical for preventing cytomegalovirus [CMV] reactivation in transplant patients.
Under the agreement, Abbott's RealTime CMV assay, which is performed on the Abbott m2000 System and intended for investigational use only, will be used to monitor patients for CMV viral load in order to assess the vaccine's efficacy. Viral load is a measure of the severity of a viral infection or the amount of active virus in the blood.
A herpes virus, CMV infects half of all adults by age 40 and is the most common viral infection in transplant recipients. After primary infection, CMV establishes lifelong latency without causing symptoms. The virus is often dormant in those who are healthy but can cause illness in immunocompromised people, such as those undergoing stem cell or organ transplants. Hematopoietic cell transplant patients and other individuals with depressed immune systems are vulnerable to severe complications from CMV infection, including CMV disease and death.
My analysis
The latest insider buys in the stock were in January 2012 and the latest insider sells were in July 2009. I believe the stock is a good run-up candidate for the late 2012 Allovectin Phase III data release. If the data is positive we could see the stock in the $5-$6 range. With negative data we would likely dip below $2.5.
Disclosure: I am long DVAX, SVA, VICL. I wrote this article myself, and it expresses my own opinions. I am not receiving compensation for it (other than from Seeking Alpha). I have no business relationship with any company whose stock is mentioned in this article.