As a young investor, I am always researching and tweaking my portfolio to find the right combination of investments. Gold has been a major missing link to it. I have been following the precious metal for a long time but just haven't ever bought any. I decided to do some more due diligence and see if it was the right time to add some gold to my portfolio. Sure, it may seem to be a simple investment/hedge/protection for any portfolio, but I have always found it to be an interesting investment so I wanted to go more in depth.
History
According to the National Mining Association's history of gold, the first recorded discovery of gold in the United States was in 1799 in North Carolina. Looking at the timeline, I learned some interesting new things about gold; its ownership was banned in the US for a period (before my time), it was legalized as a form of money in China all the way back in 1091 B.C., Isaac Newton once set the price for the metal in Great Britain that lasted over 200 years, and many more things you will learn if you take the time to look at the link.
What originally sparked my interest in gold was a story I heard from my dad. He knew a man that made a fortune off of a real estate deal. Instead of putting his money in the bank or spreading it around multiple investments, he bought loads of gold. His gamble paid off in multiples as gold prices have gone up and up. So at the time I got to thinking about why one would have so much belief in a metal that they would put most of their wealth into it. When thinking of scarcity (the basis of macroeconomics), it would seem as gold prices will continue its climb in the years to come. There is only so much we can mine, right? Yes, but there is no telling how much more there is in the Earth so this timeline might be somewhat out of my sights.
So why is gold such a great investment? It can hedge your portfolio against rough times, it gives you a sense of security so that you sleep better at night, and it has been providing these for many, many years. Take a look at what is has done over the last 40 years: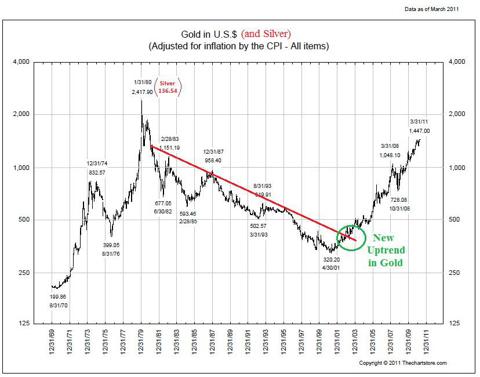 How to Invest
If you have the money and the storage security, buy the bullion. But for my purposes, I am looking for a cheaper, more liquid way to invest. So I turn to the ETFs. The SPDR Gold Shares Trust (NYSEARCA:GLD) is revered as the best way to track the price of the actual metal. You could also invest in gold miners with the individual companies or the Market Vectors Gold Miners Index ETF (NYSEARCA:GDX). Personally, I prefer the GLD. Gold miners are speculative. If your purpose for investing in gold is protection and hedging, then it doesn't make much sense to speculate in a miner. However, if you do want to invest in a mining company, you better do your research. These companies can face a multitude of problems when mining; whether it be legal problems, equipment problems, bankruptcy, or just not finding enough gold. One can make the argument that during prosperous times, these miners can outperform the spot price of gold. But making the right pick out of the pool of companies is tough as they all have the same goal and could face the same problems. So I say speculate in other industries, and use GLD as your gold security.
Looking at the performance of the two, GLD has outperformed GDX over the years and proves to be the better investment:
Growth of $10,000 Since May, 2006 GDX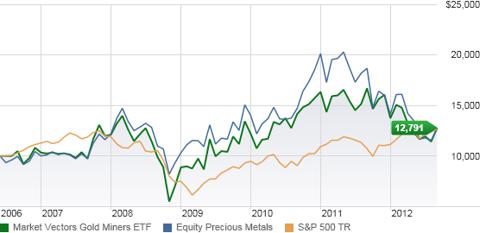 Growth of $10,000 Since November, 2004 GLD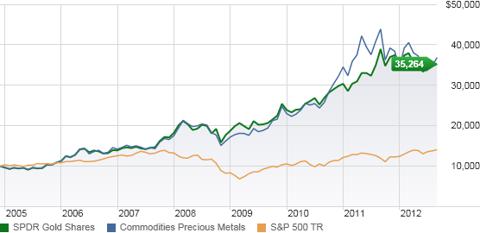 GLD - Technically
Gold has been on a nice run recently. My investments are longer-term, but I look at technicals for optimal entry and exit points to try and maximize return.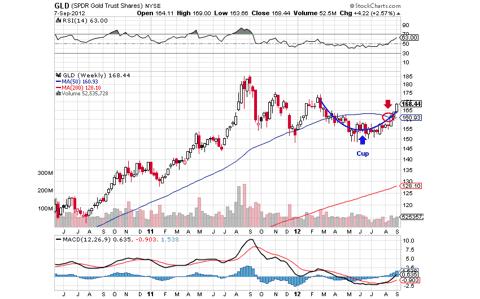 As I labeled on the chart, GLD has formed the cup portion of a cup and handle formation (one of my favorite if it forms well). It also crossed over the 50 day moving average. I'm looking for a slight pullback to form the handle of the pattern and bounce off of the MA. If it pulls back a little and then heads back up to form a good looking pattern, I will definitely be a buyer.
Conclusion
Gold deserves to hold a spot in everyone's portfolio. I hope to add some soon to my own. The technicals appear to be looking good for GLD, but that's not the only catalyst. With the whole fiscal cliff fiasco and the markets hanging on Ben Bernanke's every word, gold has great potential. With dismal GDP growth in the US and lacking jobs, I don't see how Bernanke can't initiate QE3. I don't necessarily like quantitative easing, but with how much he has been dragging the market along on hopes of it, he has to bring it out eventually. This will most likely give gold prices a nice pop. So whether you're a swing trader, technical trader, or long-term investor, GLD seems to be a good investment in my eyes. But as always, do your own due diligence before purchasing.
Disclosure: I have no positions in any stocks mentioned, and no plans to initiate any positions within the next 72 hours. I wrote this article myself, and it expresses my own opinions. I am not receiving compensation for it (other than from Seeking Alpha). I have no business relationship with any company whose stock is mentioned in this article.