Despite Russia's past and the questionable re-election of Vladimir Putin, Russia may be one of the best emerging market investments out there. Corporate earnings continue to be strong, but valuations are cheap. Additionally, Russia was recently admitted to the World Trade Organization (WTO). This alone will give investors more confidence in the country, as they are now held accountable for trading practices as enforced by the WTO.
Before we get deeper into Russia, lets compare the country to other popular emerging markets such as China, India and Brazil. If we compare the countries using forward earnings as our criteria, China trades at about 9 times, India at 15 times and Brazil is at 15 times. Russia's forward earnings come in at 4 times. That's cheap!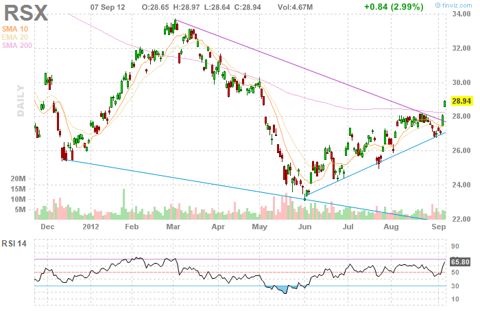 Naturally, it was not long before Wall Street took notice. According to Russ Koesterich, Global Chief Investment Strategist at BlackRock iShares, "Those types of valuations are indicative of markets like Pakistan. Actually it's cheaper." That's right, Russian shares are trading cheaper than Pakistani shares. Koesterich later highlights Russia's admittance into the WTO as a case for Russian shares over the long term. It is important to note that famed investor Jim Rogers has also said that he is interested in possibly starting an investment in Russia.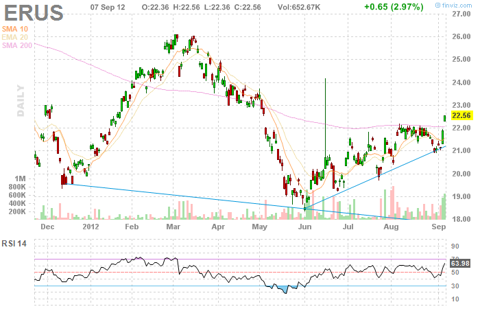 Moving back to valuations, the average return on equity of the main Russian stock index comes in at 21%. That is pretty remarkable when you consider that shares continue to trade at such deep discounts to future earnings. While Indian shares are up 15.5% for the year, Russia still outperforms Brazil's 3.8% and China's -4% with a return of 6.7%.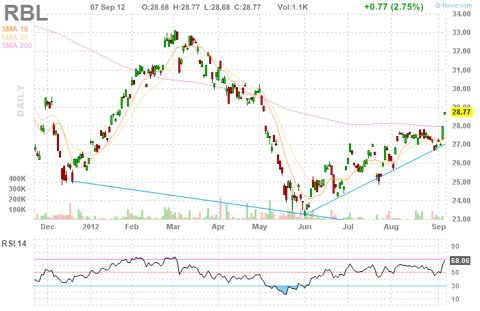 Investors looking to invest in Russia have a couple of different options. The top three ways to play Russia are: Market Vectors Russia ETF (NYSEARCA:RSX), iShares MSCI Russia Capped Index Fund (NYSEARCA:ERUS) and SPDR S&P Russia ETF (NYSEARCA:RBL). Research each ETF's prospectus to determine which is right for your investment goals.
To be sure, there still are risks involved with Russia. Despite President Putin's pledge to be more open and friendly to foreign investors, there is still some political risk here. The election is highly disputed and many believe that the election was, in fact, rigged. Whether or not the accusations are true, it is still a cause for concern. Next, Russia's economy is highly correlated to the price of oil and natural gas. Russia, the world's 9th largest economy, also happens to have one of the world's largest oil and natural gas reserves, so it is best to determine the outlook on these commodities to detect any rising risks to your investment.
The bottom line here is that Russia is coming around and beginning to open itself to outside investment as well as uniformed trade with other nations. Before investing, it is recommended that you determine whether or not the risks are right for your portfolio. Remember, the price of oil tends to be a big factor with the health of Russia's economy. Over the next few years, Russia has the potential to give investors a nice return on their investment.
Disclosure: I have no positions in any stocks mentioned, and no plans to initiate any positions within the next 72 hours. I wrote this article myself, and it expresses my own opinions. I am not receiving compensation for it (other than from Seeking Alpha). I have no business relationship with any company whose stock is mentioned in this article.