There is no such thing as zero risk and there's just no way to avoid it completely. Even simple preservation of capital carries its own risk - inflation can impact the real value of even seemingly low-risk investments such as investment grade bonds.
REIT investors haven't suffered as much with portfolio risks due to the stability and predictability of REITs' rental revenues, occupancy rates, and real estate operating costs. Long-term leases enjoyed by most commercial real estate owners provide earnings stability and make the asset class more "bondlike."
These reduced risks are especially true when investing in the higher-quality "blue-chip" REITs, the long-term risk is far lower than that of most other common stocks. Most conservative investors will favor blue-chip REITs that have demonstrated solid property performance, good capital allocation discipline, and excellent balance sheets over many years (and preferably over entire real estate cycles) - all elements for the margin-of-safety concept.
The Well-Managed REITs
Unlike other assets, real estate is more complicated. It comes with the obligation to manage it, whether providing simple upkeep or making large economic decisions. Real estate is more personal. People don't look at it like anything like stocks and bonds. They look at how it's going to be managed in the future.
Accordingly, while most REIT investors are focused on returns, they should also be focusing on where the risk is coming from and what is creating it. A critical part of real estate ownership is management and like any other business or commercial endeavor, is subject to all sorts of risks.
One of the best risk defenses for REIT investors is to hold the stocks whose track records during past downturns set them apart. Managers of these companies know full well the potential for such downtimes and they reduce debt leverage and take other precautions whenever they spy risks on the horizon.
One obvious method to divert risk is to consider the track records of the skilled blue-chip REIT managers and their inherent ability to maintain control of the business through discipline, and by not taking undue risks with shareholder capital. As explained in Ralph Block's book, Investing in REITs:
The blue-chip REITs take you safely through the ups and downs in the sector's cycles and deliver consistent, rising, long-term growth in FFO (funds from operations) and dividends. Because they are financially strong and widely respected, they will always have access to the additional equity and debt capital that fuels the engine.

Blue-chip REITs will not always provide the highest dividend yields or even, in many years, the best total returns, nor can you buy them at bargain prices - but they should provide years of double-digit returns with a high degree of safety. These are the REITs least likely to shock investors with major earnings disappointments, and will provide very satisfying returns.
The Blue-Chip All-Stars
In sports, it is always true that a good offense is a great defense. That is especially true for income investors. Because REITs payout (by law) at least 90 percent of their taxable income to shareholders annually in the form of dividends, investors are becoming increasingly attracted to the offensive component we call dividend investing.
Alternative to a good offense, most REITs' cash flows are protected by long-term leases, and this makes the defensive nature of the income equally as attractive. Unlike most other fixed-income alternatives, REITs perform a valuable task by turning the sources of rental income into powerfully consistent and reliable dividends.
This combination of owning shares in a good offensive team and great defense team is the mark of an intelligent REIT investor - and the essence of a blue-chip REIT.
Kimco Realty (NYSE:KIM), Realty Income (NYSE:O), Tanger Factory Outlets (NYSE:SKT), Essex Property Trust (NYSE:ESS), National Retail Properties (NYSE:NNN), Federal Realty (NYSE:FRT), Taubman Centers (NYSE:TCO), and W.P. Carey (NYSE:WPC) are all REITs with superiorly managed portfolios. These skillfully managed REITs are all distinguished by sound risk-control fundamentals that make them more defensively sound alternatives.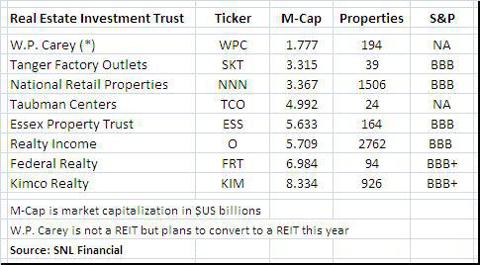 In addition to these highly defensive platforms, these eight REITs have also been able to provide sustainable income. These few brilliant all-star REITs have been able to produce superior long-term results with the most minimal risk. Depth of management is critical for any company and these eight REITs have provided a sound roster of experience in both property acquisitions, dispositions, finance, leasing, and portfolio management.
Conversely, I believe that one of the best attributes for these select REITs is the fact that they are well coached. A terrific CEO is a huge asset for any enterprise ... and the key to building a sustainable business model and its leadership team is built around effective communication.
Communication is the real key of leadership. Skilled communicators have an appreciation for positioning in the business world. Warren Buffet is experienced at positioning himself at the right place at the right time. He has the understanding of the people he is trying to reach and what he can and cannot hear from the people. Knowledge of audiences' needs and wants gives the orator the ability to listen. Warren Buffett is an excellent listener with the ability to convey his understanding.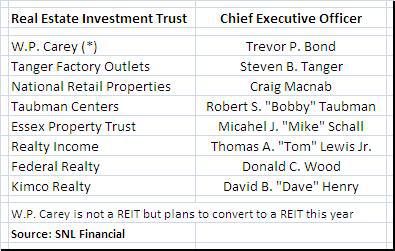 To Win The Dividend Game, Play By The Rules
When the game is all over, the winner declares victory by protecting principal and provides a meaningful return on investment. By owning shares in defensive REITs, an investor is able to benefit from the disciplined income components that REITs provide - especially since they payout (by law) at least 90 percent of their taxable income.
The essence of dividend investing is repeatability and not just in collecting rent checks but by managing the income (offense) and expenses (defense) that determines the overall stability of the fixed-income model. By building a well-balanced portfolio of blue-chip REITs, an intelligent REIT investor is able to maintain offense and defense while also diversifying a dividend anchored strategy aimed to outperform the total returns of many leading blue chip stocks.
Finally, the game of investing is won with a good offense, a great defense, and a skilled coach. However, an intelligent investor must remember that there are two critically important rules to follow and they are both simple and, in fact, they are used vigorously be the famed coach and communicator, Warren Buffett:
Rule number one: Preserve the principal.
Rule number two: When in doubt see Rule one.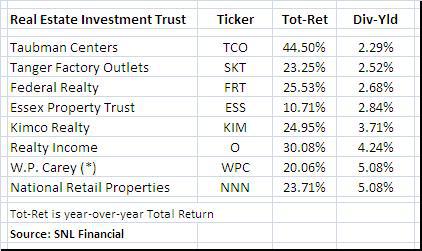 Disclosure: I have no positions in any stocks mentioned, and no plans to initiate any positions within the next 72 hours. I wrote this article myself, and it expresses my own opinions. I am not receiving compensation for it (other than from Seeking Alpha). I have no business relationship with any company whose stock is mentioned in this article.