Investors who have been around Wall Street long enough have learned one lesson about market timing: when financial experts sing in the chorus "buy, buy," it is time to sell.
Chinese stocks are a case in point. In 2009-2010, as the iShares FTSE China 25 Index Fund (NYSEARCA:FXI) traded near $50, Wall Street analysts raved about China's double-digit growth rates and immense market potential. At the same time, they saw gloom and doom for the US economy and US stocks. The rest is history told by the following chart.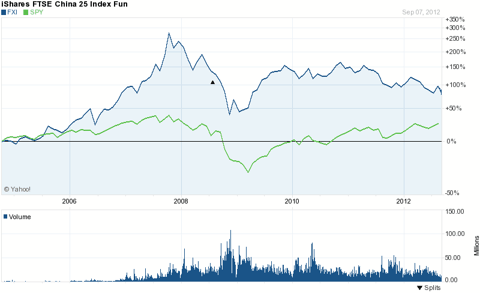 Now, the same analysts are prompting their followers to sell or stay away from Chinese stocks, it is time to buy. True, China's economy has faced several domestic and international headwinds lately. GDP growth has slow down from 12 percent in 2010 to around 8 percent this year. But there indications that the worst may be over for the Chinese economy. First, the retail sector is stabilizing. August retail sales rose 13.2 percent, in line with analysts' estimates. Second, land developers and State Owned Enterprises (SOEs) have received several boosts by monetary authorities that cut reserves on their lenders. Third, the Chinese government is on a new spending binge that began with a $150 billion public construction package announced last Friday. But how can investors ride a rebound in the Chinese economy?
Conservative investors may want to buy shares of the FXI and the large established companies with an oligopoly position like China Mobile (NYSE:CHL), CNOOC (NYSE:CEO), and China Petroleum (NYSE:SNP). Aggressive investors may want to buy into "fallen angels" like Baidu and Sohu that are trading at reasonable valuations.
| | | | |
| --- | --- | --- | --- |
| Company* | Business | Forward PE (December 2013) | Operating Margin (%) |
| Baidu, Inc. (NASDAQ:BIDU) | Internet search engine | 17.42 | 57.25 |
| Sina Corp (NASDAQ:SINA) | Media and mobile value-added services | 57.31 | -0.57 |
| E-Commerce China Dangdang Inc. (NYSE:DANG) | Business -to-Consumer e-Commerce | - | -10.48 |
| Renren Inc (NYSE:RENN) | Social Networking | - | -33.77 |
| Youku (NYSE:YOKU) | Internet TV | 297.33 | -27.05 |
| Sohu.com Inc. (NASDAQ:SOHU) | Brand advertising, on-line gaming | 13.80 | 27.47 |
Source: Yahoo.finance.com
* These statistics should be interpreted with caution, as Chinese accounting standards are different than those of the U.S. So they aren't comparable with those of their U.S. counterparts like Amazon.com (AMZN) and Google (GOOG).
Disclosure: I am short AMZN. I wrote this article myself, and it expresses my own opinions. I am not receiving compensation for it (other than from Seeking Alpha). I have no business relationship with any company whose stock is mentioned in this article.