Netflix (NASDAQ:NFLX) has been on quite a rollercoaster ride over the past decade. Since 2002 revenue has increased 20-fold as the company went from being a DVD mail-rental company to a content streaming company. During that time the stock took part in a meteoric rise, reaching nearly $300 per share in the middle of 2011. At that share price the company was valued at around $16 billion. Any reasonable person at the time, after having looked at the fundamentals, would have concluded that the stock had become absurdly overpriced, and indeed the stock soon tumbled.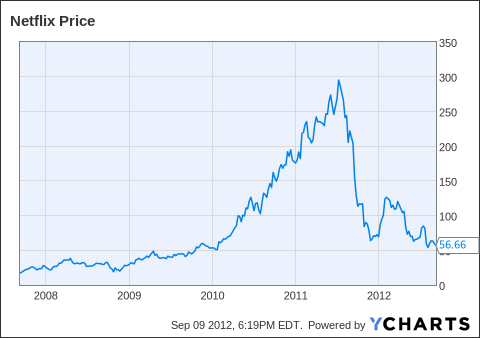 Netflix faces a series of challenges today, from rising content costs to competitors such as Amazon (NASDAQ:AMZN). Much of this is probably a bit overblown. As of July Netflix has 23.3 million subscribers in the US and 3.6 million internationally. In the second quarter of this year Netflix added over 1 million total subscribers to its streaming services. Amazon, on the other hand, has only around 5 million Amazon Prime subscribers, a service which includes streaming of TV and movies. In addition, Netflix is creating its own content, such as a new season of Arrested Development and original series House of Cards. This strategy allows Netflix to have content which no other service has, differentiating itself from competitors. Although Amazon is a serious competitor, the company's ever-shrinking margins are not a good sign.
Although it's difficult to put a value on Netflix, it's currently possible to make a 20% annualized return by selling puts on Netflix with a $45 strike price. This would allow an investor who believes in the long-term prospects of Netflix to open a position at a significant discount to today's price.
Selling Puts
Below is a set of put options with a $45 strike price
| Expiration Date | Premium | Annualized Return |
| --- | --- | --- |
| Oct 2012 (40 days) | $0.53 | 10.74% |
| Dec 2012 (103 days) | $2.60 | 20.47% |
| Jan 2013 (131 days) | $3.00 | 18.58% |
| Jan 2014 (495 days) | $9.40 | 15.40% |
By selling the Dec 2012 $45 put you receive a premium of $260 dollars (options are in blocks of 100 shares) and $4,500 is tied up for 103 days. Two possible outcomes could occur.
The stock price never falls below $45 and the option expires worthless. You are not required to buy any shares and are free to write another put.
The stock price falls below $45 and the option is exercised. You are forced to buy 100 shares of Netflix at $45 per share, which will be higher than the current market price. The premium which you receive effectively lowers your purchase price to $42.40 per share.
The premium received represents a 20.47% annualized return (5.78% over 103 days).
Conclusion
If you believe that Netflix is a strong long-term investment then this strategy allows you to have the chance to buy shares of Netflix at $45 per share, more than 20% lower than the current market price. In addition, you receive a premium which, annualized, gives a return of 20.47% on your $4,500 investment. For those bullish on Netflix's long-term prospects, this put-writing strategy is a win-win.
Disclosure: I have no positions in any stocks mentioned, and no plans to initiate any positions within the next 72 hours. I wrote this article myself, and it expresses my own opinions. I am not receiving compensation for it (other than from Seeking Alpha). I have no business relationship with any company whose stock is mentioned in this article.