Halliburton Co (NYSE:HAL) has taken a beating of late. The company has been saddled with several investment overhangs, management has been criticized roundly, and the share price action has been horrible. The stock has lost about 18 percent over the past year.
Halliburton Co -- One-Year Price and Volume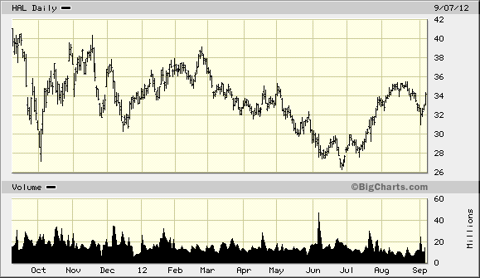 Rarely have the shares traded this cheaply.
An Investment Thesis
Halliburton stock has been oversold big-time. By reasonable and historic measures, the shares are undervalued.
The balance sheet remains strong. Three overhangs have further hampered the company: the BP/Macondo incident, the spike in guar gum prices, and the redeployment of North American land-based rigs from dry gas to liquids drill sites. However, these issues are playing themselves out reasonably. They are not long-term problems.
Strong Balance Sheet
HAL possesses a solid balance sheet. Debt-to-equity is 33 percent, a sound figure indicating relatively low levels of debt. Competitors Schlumberger (SLB) and Baker-Hughes (BHI) tout similar ratios. Weatherford International (WFT) carries significantly more debt.
Liquidity, as measured by the current ratio, is likewise strong. Halliburton's CR mark of 2.8 is similarly matched by its competitors. A current ratio above 1.0 is generally adequate.
I also like to check a company's Equity / Assets ratio. Ben Graham, the father of value investing, looked for this benchmark to be greater than 0.5 when screening for strong businesses. Halliburton clocks in with a 0.57 mark. This figure has remained unchanged since early 2011. Total long-term debt has been stable for the past year.
Trailing twelve month return-on-equity and return-on-assets are 23 and 13 percent, respectively. Annualized returns using the most recent quarter are slightly lower. However, all the aforementioned returns are superior to major competitors SLB, BHI and WFT.
Indeed, despite recent earnings / margins disappointment, the balance sheet has shown no deterioration. Halliburton continues to offer fundamental ratios as good or better than their competitors.
Margins, Earnings and Cash
HAL management focuses upon operating margin (EBIT / Revenue) as their primary financial metric. Margins have deteriorated in 2012. See the table below for perspective:
| | | | | |
| --- | --- | --- | --- | --- |
| HAL - Worldwide | 2011 (full year) | 4Q 2011 | 1Q 2012 | 2Q 2012 |
| Operating Margins | 19.1% | 20.2% | 14.9% | 16.6% |
Furthermore, operating margins in North America have dropped considerably. North America represents more than half of Halliburton's total revenues.
| | | | |
| --- | --- | --- | --- |
| HAL - N. America | FY 2011 | 1Q 2012 | 2Q 2012 |
| Operating Margins | 28.9% | 25.5% | 20.7% |
Compounding the near-term problems, last week HAL management announced that they expected North America margins to compress an additional 2.5 to 3 percent in the third quarter.
Meanwhile, earnings are projected to be about flat in 2012. A recent consensus estimate comes in about $3.21 for the year. This compares with $3.37 for full-year 2011 results. Despite the drop, it should be noted that the company has not missed analyst earnings estimates for the last fourteen quarters. Glossing that record is the fact that management has beat the consensus EPS in eight of those quarters.
Operating cash flows have been dragged down along with margins. The company's FCF (free cash flow) has gone negative for the first two quarters of the year. Nevertheless, this does not cause me great alarm given the Halliburton's strong balance sheet, good liquidity, and short-term nature of the problems causing these effects.
For the record, the shares include a modest dividend that currently yields about one percent.
The "Overhangs"
Now let's talk about the corporate overhangs behind the share weakness. As noted earlier, I see three issues weighing down the company in the near-term.
Slowdown in North American drilling activity and related redeployment of rigs
The number of natural gas rigs operating in North America hit a twelve-year low recently. This is not surprising, nor is it a long-term phenomenon. The price of natural gas has cratered in 2012. Indeed, the U.S. storage capacity for such gas is stretched. Consequently, drilling companies are reacting in two ways: they are reducing the number of new wells, and they are moving existing equipment from dry gas sites to liquid-rich hydrocarbon plays. HAL management has stated their intent to defend their North America onshore oil service leadership position even if it means taking a short-term hit. The immediate result has been a loss of revenue as rigs are shut down and transported to new locations.
Instead of walking away from the activity, Halliburton has chosen to stick with the drillers, wait, and continue to service their rigs once redeployed. While this had captured market share and built solid business relationships, it is a near-term loser.
I believe HAL is wise for taking a long view. Management has decided that building customer loyalty during transition times is worthwhile for two reasons. First, the oil service business is local and relationship driven; what goes around comes around. Second, I suggest that the long-term prognosis for North America drilling activity has taken a rest, not a dive. The quest and need for energy here in the U.S. will trump politics and current oversupply / pricing weakness.
Guar gum is a key ingredient for oil well fracturing operations. It has a significant bearing on gross margins for this oil service work. Guar is an agricultural material, most of which is grown overseas. Early this year, the price of guar spiked upon fears upon fears of a 2012 shortage. Halliburton CEO David Lesar made the decision to load up on guar gum at the top of the market. His rationale was that he wanted to ensure that Halliburton had an adequate supply throughout the year to serve all customers. It was another verse from the "We must defend the North American market" songbook. Subsequently, the material price came back down: partly due to market conditions and partly due to synthetic substitutes gaining some traction in the field.
Mr. Lesar came back and acknowledged the error to analysts and shareholders. He took responsibility for the judgment, and admitted the decision was a mistake. It will take most of the second half of 2012 to work off the excess.
While the decision was unfortunate, the underlying issue is not long-term. The executive made a choice: serve the customer first. It was consistent with the earlier decision to build customer confidence in the wake of rig re-deployment and associated inefficiencies. So be it.
The BP - Macondo litigation
Lastly, the potential for government fines and legal liability for the BP Deepwater Horizon rig tragedy has hampered the company since the accident and explosion. Sharp rhetoric has been tossed around by all parties subject to litigation. Halliburton management has consistently denied liability based upon their actions and the associated contracts.
It appears they were largely correct. Private litigation has tilted towards the HAL position. On September 5, a news release further distanced Halliburton from the incident. BP was cited by the U.S. Government for gross negligence and willful misconduct; Transocean was likewise named in the litigation. However,
".....David Pursell, a managing director at Tudor, Pickering, noted the absence of Halliburton Corp. in the government filings, and took that as further indication that the energy-services firm was unlikely to face civil penalties for its role as the cement contractor on the well. 'From a markets standpoint it's important because there had been this overhang for Halliburton,' Mr. Pursell said. Halliburton shares were trading up 1% at $32.47......"
Earlier, HAL took a charge of $300 million for legal costs and liabilities associated with the incident. An explanation of the incident and rationale for the liability account is found in the recent Halliburton 10-Q filings.
Let's Talk about Valuation
Going forward, are the shares undervalued, at fair value, or overvalued?
I view the shares as undervalued.
Here's why:
The problems are near-term and will work themselves out. However, the market has punished HAL share as if these issues are intractable and sure to get worse. Typically, a company's share price follows its earnings. If the proper P/E multiple is placed upon those earnings, a reasonable target valuation can be determined. In addition, most securities "revert to the mean." Stated differently, over time the market gets it right. Shares reflect the fair value correlation between earnings and price.
In the case of Halliburton, over the past 11 years, the historical multiple that market has placed upon the shares has been approximately 17X. Indeed, it's sometimes higher and sometimes lower, but the mean has been about 17 times operating earnings.
This can be justified by the operating EPS growth rate over the same period: about 15.7 percent. This offers a backward PEG ratio of about one. Once again, this is reasonable. The market has fairly compensated Halliburton shareholders over the years for the growth of the company.
Going forward, the analysts' consensus suggest that the five-year growth rate will be about the same 16 percent. These figures can be found via S&P IQ, Zacks, MSN money or other sources.
Therefore, if we compare the current P/E with the historic multiple, and we can make a decent estimate as to the future earnings, investors can determine a reasonable valuation for the shares.
The following 11-year graph puts all of the foregoing in context.
(courtesy of fastgraphs.com)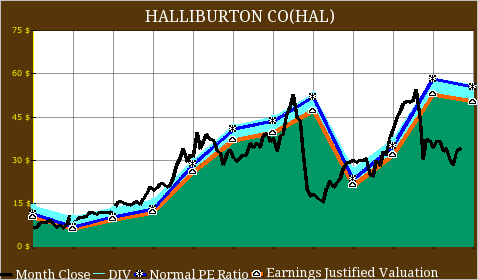 Price: $34.24 on 09/07/2012 (black line)
Current P/E: 10.5
Normal 11-Year PE Ratio 17.3X (blue line)
Operating Earnings 11-Year Growth Rate = 15.7%
PEG x 15.7 (orange line)
| | | | | |
| --- | --- | --- | --- | --- |
| | 2011 (Act.) | 2012 (Est) | 2013 (Est) | 2014 (Est) |
| Operating EPS | $3.37 | $3.21 | $3.60 | $4.34 |
HAL shares have suffered from significant P/E compression versus historic norms. The shares are currently undervalued. The current price (black line) is significantly beneath either the historical P/E multiple or an assigned P/E multiple based upon long-term observable earnings growth.
The reader may note, that over time, the shares always come back to "fair value" by crossing the P/E historical or earnings-justified lines.
Notably, the consensus operating earnings for 2013 and 2014 are $3.60 and $4.34.
Bottom Line
Halliburton has had a rough stretch. Recent management direction and lingering overhangs have resulted in investors losing confidence in the company and its shares. However, the issues associated with the poor stock price have been addressed or are being worked through. In the meantime, the shares have become oversold based upon historical standards. This provides a potential opportunity for investors.
A Final Note
Back in April 2011, I wrote a Seeking Alpha article advocating Halliburton. At the time, the share price was over $45. A link to that article is found here.
In hindsight, the stock price action clearly missed the mark. However, the underlying company performance did not fall apart. Therefore, over the past year, I continued to buy into the subsequent price weakness since the fundamentals and long-term thesis remained acceptable.
I had projected 2012 earnings to be $3.51 with a P/E multiple of 17X for a $60 price target. The current consensus EPS estimate is $3.21, or an 8.5 percent miss. The P/E multiple has been crushed down to 10.5X. This has resulted in excessive undervaluation.
Since I generally measure investments in terms of years, not days or weeks, the price action has been a chance to acquire more shares at a firesale price.
Disclosure: I am long HAL. I wrote this article myself, and it expresses my own opinions. I am not receiving compensation for it (other than from Seeking Alpha). I have no business relationship with any company whose stock is mentioned in this article.