Ancestry.com Inc. (NASDAQ:ACOM) is a potential candidate for leverage buyout firms due to its cheap valuations and low debt. The company has high growth prospects, given the growing internet usage in North America, which is at an all-time high. The changing trend of users inquiring about their ancestors and engaging in social networking reflects the growth prospects of the company. Moreover, the stock is currently trading at a forward P/E of 16x, at a significant discount as compared to its industry average of 22x. Its three-year expected PEG ratio is 0.78. The company is generating 96% more free cash flows to equity as compared to its peers in the Internet industry. Furthermore, the company's subscribers have increased by 20%, while its churn rate has declined from 4.6% to 3.4% from 2Q2011 to 2Q2012.
A recent survey, shown in the chart below, reveals that 78.6% of the population in North America is using the internet, a factor that the company can capitalize on. The company's total subscribers have risen from 1,672,319 to 2,005,409 over the last one year. Its churn rate has substantially decreased from 4.6% to 3.4% from 2Q2011 to 2Q2012, depicting the increasing popularity of the website.
Click to enlarge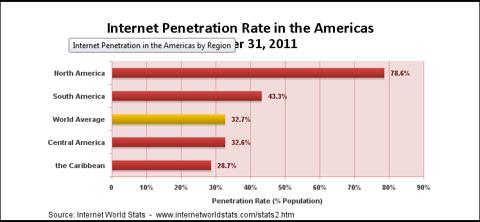 Source: Internet world stats
Ancestry.com is a genealogy-based website that helps users chalk their family trees and discover unknown relatives. It helps subscribers compare 700,000 genomes with other people in the database, and discover their distant biological relatives. The very nature of the business is extremely appealing and exciting, as human nature is bereft with curiosity, especially when it comes to families and ancestors. For its users, the company provides data that dates back to the1600s, including military records, census, voters' lists, and immigration and travel records. This inclination of getting to know your family history is attracting scores of people, and is reaching new heights of popularity.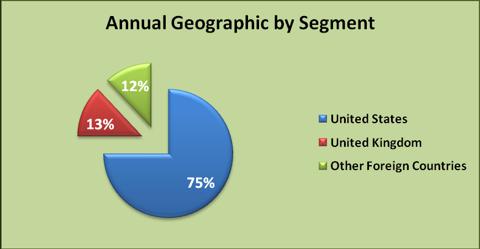 The company posted an increase of 18% in last quarter revenues, which was above analyst expectations. Its net income significantly increased from $16.6 million to $20 million from 2011 to 2012, reflecting the increasing popularity of the website. Moreover, the company is exposed to foreign exchange risks, as 22% of revenues and 11% of expenses are in other currencies. The chart above shows that a major chunk of revenues, about 75%, are derived from the United States, whereas the remaining 25% comes from the United Kingdom and other countries.
Finding a correct buyout price is a challenging task for this deal, as the management is not willing to sell on low valuations. According to Bloomberg, Ancestry's past 12-month free cash flow yield is 11%, higher than 23 similarly-sized internet companies. The company has a higher cash flow yield than Netflix Inc. (NASDAQ:NFLX) and Facebook (NASDAQ:FB), and it additionally has low debt and growing subscribers.
Initially, the stock was trading as high of $45 last year, but a sudden decline was witnessed in May, when NBC decided not to renew its program Who Do You Think You Are?
The company was effectively marketing through this program, and so its cancellation showed negative investor sentiment in the stock market. We believe the company has other good mediums to promote its product, as it did by increasing 20% of its subscribers in the last quarter. The promotion, by television advertisement, helped the company sustain its revenue growth and produce revenues of $119.08 million in 2Q2012.
| | | | | |
| --- | --- | --- | --- | --- |
| Direct Competitor Comparison | Ancestry.com | Facebook | Bankrate | eBay Inc |
| | | | (NYSE:RATE) | (NASDAQ:EBAY) |
| Market Cap | 1.33B | 40.62B | 1.85B | 63.03B |
| Qtrly Rev Growth (yoy) | 18% | 32% | 24% | 23% |
| Gross Margin (TTM) | 83% | 74% | 69% | 70% |
| Operating Margin | 24% | 14% | 20% | 20% |
Source: yahoo finance
Ancestry.com has been witnessing healthy revenue growth and increasing profit margins since 2007. The company is enjoying high gross and operating profit margins of 83% and 24%, as compared to its peers in the industry. Moreover, the company, with its increasing marketing spending, creates awareness amongst internet users. The company is operating in a unique kind of business, where the challenge is to attract and retain subscribers.

Source: Google finance
It is one of the top-ranked stocks in the Internet Industry, trading at $30.8, with an upside of 23% in the last three months. The stock's 50-days' and 200-days' moving average are $31 and $26. 32% of the company's shares are held by insiders, due to its attractive growth prospects. The stock is already trading near its 52-week high, and has considerable potential to move up further. As the graph given above shows, the stock is traded at 23% above its past 3-month price. The increasing popularity of the website is reflected in the bullish investor sentiment.
| | | | | |
| --- | --- | --- | --- | --- |
| Direct Competitor Comparison | Ancestry.com | Facebook | Bankrate | eBay Inc |
| | | | | |
| P/E | 20.18x | 65.61x | 39.26x | 17.2x |
| P/S | 3.05x | 9.39x | 3.9x | 4.84x |
| PEG (3 yr expected) | 0.78 | 1.2 | 0.97 | 1.3 |
| Forward P/E (Dec 2013) | 16.1x | 30.1x | 17.9x | 18x |
Valuation
The stock is trading at forward P/E of 16x, at a discount when compared to Facebook 's 30.1x, Bankrate 's 17.9x and eBay 's 18x. ACOM's P/S ratio is 3x, which shows that it is trading at a significant discount as compared to its industry average of 6x. The stock is trading at cheap valuation as reflected in its PEG ratio of 0.78.
Conclusion
The company has registered revenue CAGR of 20% over the last three years, and has a significant potential to post greater revenues in the coming period. It is a feasible choice for equity firms to buyout Ancestry.com after considering its good valuations and low debt. Looking forward, this unique business has significant potential to grab maximum internet user attention. We estimate that the company's earnings growth rate will surge to 12% by the end of next year, because of the website's increasing popularity. Moreover, acquisitions like archieves.com will add more value to the business, and help the company generate higher revenues in the coming years. Considering its attractive valuations, negligible debt and high growth prospects, the stock is a good prospect for a buyout.
Disclosure: I have no positions in any stocks mentioned, and no plans to initiate any positions within the next 72 hours.
Business relationship disclosure: The article has been written by Qineqt's Technology Analyst. Qineqt is not receiving compensation for it (other than from Seeking Alpha). Qineqt has no business relationship with any company whose stock is mentioned in this article.