Lethargic Market Wakes Up - Weekly Market Outlook
Last week started out as lethargically - and bearish - as the previous week ended. That changed abruptly on Thursday when the ECB's President Mario Draghi said the central bank would be willing to buy as much EU bad debt as necessary to recapitalize the Union's struggling banks. Stocks (NYSEARCA:DIA) (NASDAQ:QQQ) (NYSEARCA:IWM) soared on the news Thursday, and continued to inch higher on Friday.
Will it be enough to keep the market going? Maybe, but know that stocks are still going to have to deal with their short-term pressure before realizing their long-term, fundamental value now that Europe may be on the mend.
We'll poke and prod those short-term pressures below, right after dissecting the key economic numbers.
Economic Calendar
There's little doubt as to last week's economic focal point... employment (or lack thereof).
It was supposed to be encouraging news, at least initially. ADP said the country was on pace to add 143,000 new jobs in August, but then reported a whopping 201,000 new payrolls. Challenger also said on Tuesday that planned job cuts were on pace to fall 36.9% last month. On Friday, however, the government's official employment numbers came in at alarmingly low levels. Only 96,000 nonfarm payrolls were added last month (103,000 private payrolls), versus an expected increase of 130,000 (144,000 private payrolls). The unemployment rate dropped from 8.3% to 8.1%, which is mathematically better, but still feels like a hollow victory.
The only other data nuggets of real interest last week were auto sales. The U.S. saw 1.3 million vehicles sold in August... 19.9% higher than the total sold in August of 2011. That's an annual rate of 14.5 million, which is the strongest rate we've seen since before the recession started (except for 2009's 'Cash for Clunkers' surge).
Everything else is on the grid below.
Economic Calendar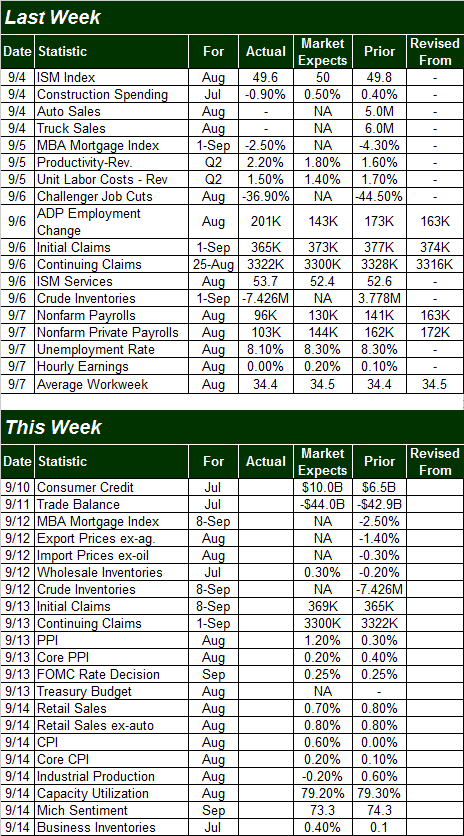 The coming week is going to be even busier, though it doesn't get busy economic-wise until Thursday, and then even more so on Friday. Also, there are more liquidity/QE3 Fed & ECB events due on Wednesday and Thursday that may also move stocks.
Thursday's going to give us the usual weekly unemployment claims - two numbers that have become annoyingly stagnant. This coming Thursday, however, we're also going to start getting a sense of where we are on the inflation front. Thursday's dose will give us August's producer price inflation. The annualized PPI rate was 0.5% as of the end of July.
On Friday, you may want to buckle up.
We'll continue to paint the inflation picture on Friday, hearing August's consumer inflation number. The current inflation rate now stands at 1.41%, though August's numbers are expected to show fairly significant growth of 0.6% (+0.2% on a core basis).
We'll also get last month's retail sales figures; they should be solid again. The pros are looking for a 0.7% increase overall, but a 0.8% increase when taking autos out of the equation. Despite what feels like an economic lull, consumers are still shopping.
Last - and perhaps most important - on Friday we'll get August's industrial production and capacity utilization figures. For the first time in a long time, economists are looking for lower numbers. As we've mentioned before, the long-term market tends to point in the same direction as these two data sets. With both apt to start pointing lower (at least for August), we may be seeing an omen of trouble ahead.
Stock Market
The week may have started out lethargically, bit it certainly didn't end that way. The bulls were running rampant on Thursday on the heels of at least something of a fix for Europe's woes, and we saw a little follow-through on Friday. All told, the S&P 500 (SPX) (NYSEARCA:SPY) gained 31.34 points last week... a 2.2% advance. Volume was about as good as we've seen in weeks.
Of course, the burning question everyone has on their mind is, did last week's strength reignite the bigger uptrend? Or, are the bears going to dig in again as they had the previous two weeks? After all, the market is overbought (again), and we still haven't seen what one could consider a healthy, normal, capitulatory pullback that would set up a big move for the fourth quarter. And, if there was ever a month that we should be expecting bearishness, it's September.
Although we're generally momentum traders (and have been trading bullishly with the trend by and large in our premium trade alert services), we're going to maintain our modestly bearish view on things and say we have more downside to go before 'the' bottom has been made. That leads to the next question.... where will that bottom be?
For reference, the average bull-market corrective move is on the order of 8% to 9% from the peak. Our current peak is Friday's multi-year high of 1437.92. Assuming an 8.5% slide from that high is just what the trading doctor ordered, that would push the index back to about 1315.7.
That sounds - and looks - like a drastic pullback given the mild dips we've seen since June. But, it's not all that dramatic in the grand scheme of things. The April/May dip was a 10% slide, and it didn't start a new bear market. Besides, the 200-day moving average line is near there, at 1342, and the lower 50-day Bollinger band is around there too, at 1328. Both have a tendency to act as a floor. So, we're going to draw the ultimate line in the sand around that midpoint of 1335 (though that floor rises each day). That would still mean more than a 7% pullback, which is more than enough to hit the proverbial 'reset' button for a bigger bull trend. Take a look.
S&P 500 & VIX - Daily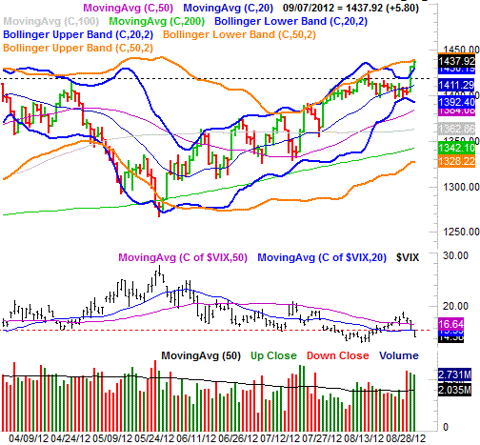 One other factor working against the S&P 500 right now - the upper 50-day Bollinger band has stepped in again as a ceiling.
Does anything change when you take a few steps back and look at the longer-term weekly chart? Not really.
On this weekly chart, we can see there's still room for the longer-term trend to keep rolling before hitting a major ceiling. That's probably going to be somewhere around 1475, where the six-month and 52-week Bollinger bands will likely be converged by the time either can be tested. That broad uptrend doesn't mean there's not room for a decent pullback in the meantime though. And once again, the CBOE Volatility Index (VIX) (NYSEARCA:VXX) is back to oddly-low levels. The market con continue to drift higher even with the VIX this low, but it's going to be tough to muster a really strong, prolonged rally with the VIX at these low levels.
S&P 500 - Weekly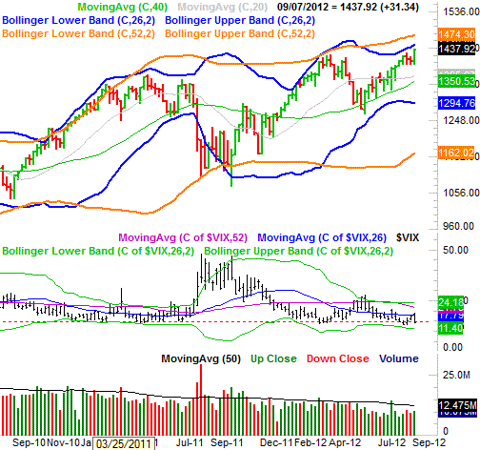 Disclosure: I have no positions in any stocks mentioned, and no plans to initiate any positions within the next 72 hours. I wrote this article myself, and it expresses my own opinions. I am not receiving compensation for it. I have no business relationship with any company whose stock is mentioned in this article.
Additional disclosure: BigTrends Rapid Options Income clients are in an SPY Iron Condor option position.