A major coal deal was struck in the United States this week, as Cleveland Cliffs Inc. (NYSE:CLF) agreed to buy Alpha Natural Resources Inc. (ANR) for almost $10-billion.
That got Desjardins Securities analysts John Hughes thinking: What would a takeout of Fording Canadian Coal Trust be worth?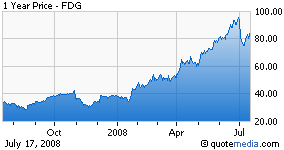 By factoring in a number of financial and physical metrics based on the Cleveland-Alpha deal, he calculated a "theoretical" takeout value for Fording of C$98.96 a unit, a premium of about 20% on the current price.
In a note to clients, Mr. Hughes wrote:
We understand that this exercise is largely a game in numbers; however, the values are based on a 'real' deal currently in the marketplace.
He also pointed out that Fording produces only metallurgical coal, while Alpha Natural produces a combination of metallurgical coal and lower-priced thermal coal.
Mr. Hughes maintained his "buy" rating and price target of C$85 a unit on Fording. He calculated that the company should pay out C$12.50 a unit in distributions this year based on its coal contract price of $275 a tonne. He also points out that even higher prices are possible in the next coal contract year beginning in April of 2009.
He wrote:
We note several other 'players' in the seaborne metallurgical coal market continue to negotiate for the current contract year, including recent market rumours indicating a target level of $370/tonne for contracts with Japanese steel producers. Any announcement regarding a settlement of contract prices at or near this level would be an extremely positive indication of potential contract prices for Fording for the upcoming contract year.