Cisco Systems (NASDAQ:CSCO) finished fiscal 2012 (ending 7/31/2012) strongly, but gave muted guidance. The stock rallied nicely on earnings, and has held onto its gains, trading around the $19 area since. I wrote the company up favorably in December last year, advancing the hypothesis that it can compensate for slow or lack of growth in its primary product groups (switches and routers) with strong growth in its newer lines.
This article reviews the hypothesis, valuation, and strategy/tactics for the investment. The company is executing well, and transitioning toward a mature, dividend growth profile. The debt crisis in Europe, and slowdown in China, present challenges, and may keep a lid on the stock until visibility improves.
Product Groups
From the 4Q 2012 earnings presentation: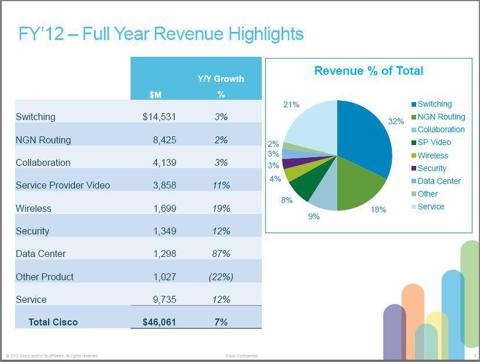 Cisco met the high end of 5% to 7% revenue guidance, showing strong performance in Data Center, Service, Wireless, Security and Service Provider Video.
Rewarding Shareholders
The presentation included a specific statement on future FCF deployment. The company increased its dividend by 75% to $0.14 quarterly, yielding a respectable 2.86% on Friday's closing price of $19.56.
Cisco intends to deploy 50% of FCF to reward shareholders, either by dividends or buybacks. For Fiscal 2012, the company spent $4.36 billion to buy back approximately 4.6% of its shares, at an average price of $16.64 per share. That's comfortably below the current market price, and below my estimate of fair value.
As of fiscal year end, the company had $5.9 billion of authorized funds available for repurchases.
Valuation
Using 4 years GAAP earnings, plus an estimate of $1.60 for 2013, projected 5 year average EPS works out to $1.32. Applying a historical midpoint multiple of 18.35 on this metric, a target price of $25 emerges, by the end of next year.
Enterprise Value/EBITDA checks in at 5.47. Aswath Damodaran in January this year found an average of 8.46 for the Telecom Equipment industry, where CSCO is classified. After reviewing other possible classifications, a multiple of 8 appears appropriate, suggesting a target of $29.
Reservations
While book to bill was comfortably above 1 for the 4th quarter, orders for the EMEA geographic region were down 6% Y/Y. The Public Sector customer segment grew only 1%, predictable in an environment of austerity. Guidance for Q1 2013 was for revenue growth of 2% to 4%.
Cisco's position in switches and routers is under constant attack. Dana Blankenhorn details how VMWare is going after Cisco's market. As the company's traditional strongholds become commoditized or obsolete, margins will come under compression.
On competitors, from the 10-K:
Our competitors include Alcatel-Lucent; Arista Networks, Inc.; ARRIS Group, Inc.; Aruba Networks, Inc.; Avaya Inc.; Brocade Communications Systems, Inc.; Check Point Software Technologies Ltd.; Citrix Systems, Inc.; Dell Inc.; D-Link Corporation; LM Ericsson Telephone Company; Extreme Networks, Inc.; F5 Networks, Inc.; Fortinet, Inc.; Hewlett-Packard Company; Huawei Technologies Co., Ltd.; International Business Machines Corporation; Juniper Networks, Inc.; LogMeIn, Inc.; Meru Networks, Inc.; Microsoft Corporation; Motorola Mobility Holdings, Inc.; Motorola Solutions, Inc.; NETGEAR, Inc.; Polycom, Inc.; Riverbed Technology, Inc.; and Symantec Corporation; among others.
These are capable competitors. Cisco just completed a year of 7% revenue growth, while restructuring to become leaner and more efficient. The company must be doing something right, or this group would have put them out of business long ago.
Strategy and Tactics
Buying at today's prices, an investor has a realistic expectation of receiving a steady flow of dividend income and eventual share price appreciation. Cisco may morph into a dividend growth stock.
The S&P 500 has hit new 4 year highs. Based on past history, it's likely that investors will receive better entry points at some future date. The market is unlikely to motor past 4 year highs and never look back.
Accumulate and monitor continues to make sense here. Quarterly revenue growth by product group, geographic region and customer segment should be reviewed as the information becomes available.
Options
My original article mentioned a strategy of using LEAPS as a substitute for share ownership, and selling covered calls against the position. At the time, I was long January 2013 12.5 calls and short an equal number of July 2012 21.0 calls. That trade as adjusted and enlarged now finds me long the January 2013 12.5/19.0 vertical call spread. If shares are above $19 at expiration, the position will have an IRR of 29.3%.
The situation is developing favorably, and I plan to extend the trade out into 2013.
Disclosure: I am long CSCO. I wrote this article myself, and it expresses my own opinions. I am not receiving compensation for it (other than from Seeking Alpha). I have no business relationship with any company whose stock is mentioned in this article.