Recently, I wrote an article about CYS Investments, Inc. (NYSE:CYS), a REIT that pays a hefty dividend and one that makes for a good long-term investment based on fundamentals. While I believe the most profitable way of investing in CYS is to go long, some investors prefer to use options for risk management, especially for smaller-cap companies.
CYS pays a 13% dividend, all valuations point to a relatively large upside, and the technicals point upwards. There's no reason to believe that CYS is slowing down. The price has been consistently moving higher, as has average volume. There have been no clear sell signals based on the charts for the past two years.
Click to enlarge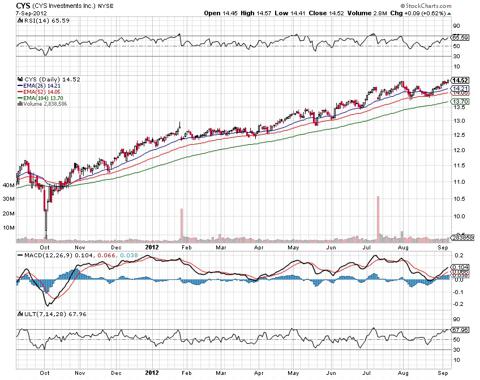 Options provide a great way to customize an investment to your liking to maximize profit or to minimize risk. I want to outline two strategies investors can use with an expiration of March of 2013. I've based both strategies on the price trend channel, the Fibonacci levels, and the fundamentals.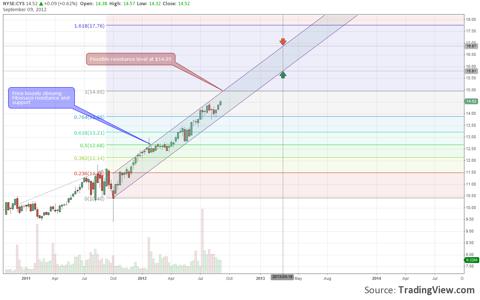 The trend channel shows that the price should be between $15.80 and $16.90 at expiry of the option contracts. The only caveat is the resistance level at $14.95. Based on past price action, it seems as though the trend will temporarily slow down at the resistance, at which point it will continue its overall trend. My conservative target price is $15.80, but I'm bullish, so I've left both options with unlimited upside potential.
My first options play is for conservative investors. I'm using a March 16, 2013, expiry for all options contracts. The spread contains two legs, a long call option and a short put option. For the call option, I'm using a strike price of $15 and I'm going long 3 contracts. For the other leg, I'm using a short put option at a strike price of $13.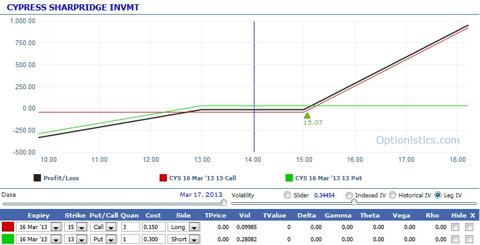 The breakeven point for this strategy is $15.07. Between $13.00 and $15.07, losses are capped at $45 - which is the price of the spread. Below $13.00, losses are capped at $0, which essentially means the company folds. Upside potential is unlimited for this strategy. For this strategy, the profit between our target prices is between $30 and $500 per spread. Here's the breakdown:
| | | | | | |
| --- | --- | --- | --- | --- | --- |
| Expiry | Strike | Put/Call | Quantity | Cost/Premium (per contract) | Long/Short |
| March 2013 | $15.00 | Call | 3 | $15.00 | Long |
| March 2013 | $13.00 | Put | 1 | ($30.00) | Short |
My second strategy is for investors who may be more open to risk. The breakeven point is $15.77 which is very close to the bottom of the trend channel. Should the resistance hold for an extended period of time, it will be more difficult for the price to hit $15.80 before expiry (though still likely, in my opinion). Losses are capped at a maximum of $1100.00 if the price dips below $10.00. The upside is unlimited.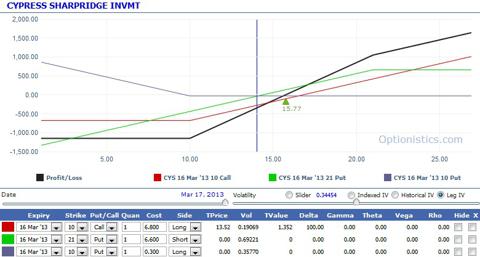 The profit between our target prices is between $10 and $500. Here's the breakdown:
| | | | | | |
| --- | --- | --- | --- | --- | --- |
| Expiry | Strike | Put/Call | Quantity | Cost/Premium (per contract) | Long/Short |
| March 2013 | $10.00 | Call | 1 | $680.00 | Long |
| March 2013 | $21.00 | Put | 1 | ($660.00) | Short |
| March 2013 | $10.00 | Put | 1 | $30.00 | Long |
Both strategies are based on a bull perspective of CYS. I haven't taken into account any large movements in the market as a whole, but this is always a risk factor. Before investing in options, you should be sure that you can afford to lose whatever you maximum downside is. Both strategies I've outline have limited losses, but losses are possible. Profits for both are unlimited; however, the likely profit is about $400 per spread for both strategies.
Disclosure: I have no positions in any stocks mentioned, but may initiate a long position in CYS over the next 72 hours. I wrote this article myself, and it expresses my own opinions. I am not receiving compensation for it (other than from Seeking Alpha). I have no business relationship with any company whose stock is mentioned in this article.