How hot is coal?
Goldsource Mines Inc. (OTC:GXSFF) was searching for diamonds in Saskatchewan last May when they stumbled on a high quality coal seam and their stock soared 9,100% in 3 months.
The irony of a diamond exploration company striking it rich by discovering coal can hardly be overstated.
Supply shortages create opportunities for investors.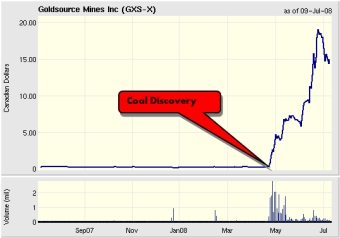 In the last three months, China has closed 58 power-generation plants due to coal shortages.
Stock piles at some plants have fallen to three days consumption. China currently generates 80% of its electricity from coal.
 The Chinese State Electricity Regulatory Commission has issued a "Red Alert".
In recent months, any stock with coal dust on it has been heading north.
Patriot Coal (NYSE: PCX) is up 300% in the last 4 months. Alpha Natural Resources (NYSE: ANR) is up 500% in the last year.  Peabody Energy Corp (NYSE: BTU) is up 166% in the last 10 weeks.  Van Eck Market Vectors Coal ETF (NYSE: KOL) is up 43% in the last 3 months.
My own memory of coal dates back to the 1960s, growing up in Cambridge, England.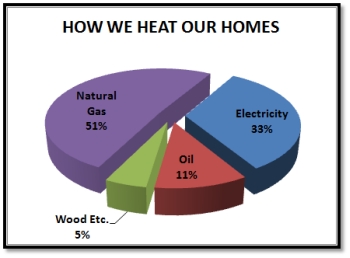 I remember "The Coal Man" coming in the autumn and filling our bin with big chunks of shining black rock which we would burn in a furnace to keep warm in the winter. 
Back then, I doubt my parents had ever heard the term "global warming".   A "carbon footprint" meant identical shoe size.
Nowadays coal has a reputation for being dirty, inefficient, and dangerous.
How dirty?
Coal creates 1.7 times more carbon per unit of energy than natural gas and 1.25 times more than oil.
How inefficient?
You have to burn 900 lbs of coal to create enough energy to power a single desktop computer for one year. 
How dangerous?
On July 7, 2008 an explosion in a coal mine in Shanxi Province in China killed 21 miners.  That's only twice the daily average.  The Chinese annual coal mining death toll decreased 20% in 2007 to 3,800.
50% of the electricity currently generated in North America comes from burning coal.  So, although it is invisible on the above chart, 17% of our home heating still comes from coal.
There is enough coal left on the planet to last another 230 years.
Unless you are living "off the grid" – you are already a consumer, so let's look at coal as an investment.
Since 2000, the price of coal has risen from $30 per tonne to around $120 per tonne. The Chinese are paying twice as much for coal now than they did a year ago.
When resource stocks go vertical, they tend to bounce back hard, and indeed a correction is already underway.
Avoid the Overheated Coal Stocks

The last couple of weeks, Patriot Coal lost 18%, Alpha declined 10%, Peabody is down 12% and the Van Eck Coal ETF fell more than 10%. Industry analysts believe that coal supply deficits will continue until 2011.
I expect that coal with slowly give way to cleaner, cheaper energy.  Geothermal, wind, hydro and solar are on the rise.  Nuclear power is also likely to eclipse it.
That said, there is money to be made in coal in the short term.
The thing you must do is avoid stocks that are overbought in the recent speculative rush.
Here is a picks and shovels company with a lot of upside.
Make Money in Picks and Shovels

Bucyrus International Inc. (Nasdaq: BUCY) is a $4.6 billion company that manufactures equipment for the coal mining industry, and other mining sectors.
They have surpassed analyst earnings estimates for the last four quarters by an average of about 18%. Q108 orders increased 58%.  They currently have a backlog of $2.07 billion worth of mining equipment on order.
Their biggest competitors, Joy Global In (Nasdaq: JOYG) and CNH Global NV (NYSE: CNH)  have quarterly revenue growth of 34% an and 25% - compared with Bucyrus's quarterly growth of 171%.
Bucyrus share price has doubled over the last 12 months.  This is not a volatile stock.  The gains are steady, attracting risk-averse value investors.  A resource boom will create winners out of companies that sell picks and shovels.
Worldwide, we consume about $1.5 trillion worth of coal per year.  Coal is mined in 100 different countries.  Environmentally it's a bad marriage, but until we divorce – as investors – we may as well treat it with respect.
Disclosure: None