Sleeping at the top, nightmares of the bottom. -- Lil Wayne
I look for pennies on the global floor -- meaning, every day I scour the markets for short- to medium-term opportunities (my holding period is a couple of days to three months) and establish both a target price and a stop-loss level. My technique may be known to some as momentum trading. On the other hand, a dear colleague of mine who I work with searches for dollar bills priced at 50 cents. This is known to most as value investing.
We are both on our way to mastering these sometimes contrasting philosophies. He holds The Intelligent Investor close to his chest, while I hold Technical Analysis: The Complete Resource For Financial Market Technicians close to mine. We respect each other's views, but there was this one morning meeting where our philosophies diverged, emotions ran high and we became contentious. This was a result of our differing views on gold. One of our portfolios has a position in the metal and our department head, during the meeting, requested an outlook for the security. My colleague quickly replied, enthralling our team with his vision of global inflation and monetary policy in the upcoming months. He concluded with his expectations of gold hitting $1,800 before the end of the year.
I retorted by calling him a gold bug and stating that based on the historical price movement of gold, it was due for a pullback and it is expected to see $1,575, a 7.63% decline, before the metal's price even glances at $1,800 again. My friend labeled my analysis "witchcraft," and the debate ensued. After the dust settled, the team outlined a strategy seen below and we identified a substitute for the security. Our tip for the portfolio was the Treasury Inflated Protected ETF (NYSEARCA:TIP), which may end the year up 4% and currently has an annual distribution yield of over 2%.
Fundamentally Speaking
My colleague, in his monologue, listed several macroeconomic and market factors to elucidate his narrative of an ever-increasing price of the metal. Those were the global accommodative monetary policies and the institutional demand for the metal and the lack of fear in the market.
Click to enlarge images.
Source: National Central Banks; HAVER Analytics.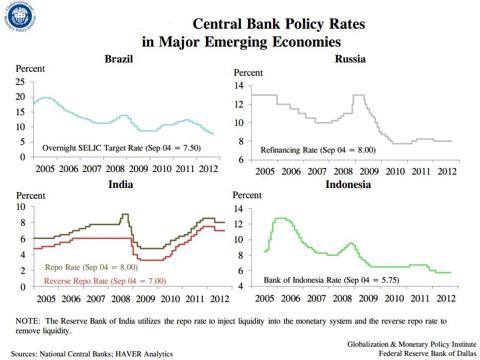 Source: National Central Banks; HAVER Analytics.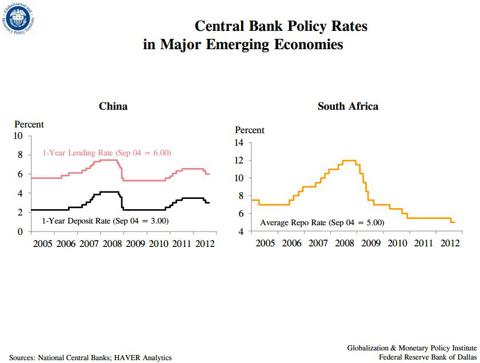 Source: National Central Banks; HAVER Analytics.
Over the past 12 months, central banks across the globe have lowered their policy rates to stimulate demand by decreasing borrowing costs. One such country is the China. Along with decreasing the reserve requirement ratio, China dropped its borrowing costs for the first time since 2008. Brazil lowered its Selic rate for the eighth time, to 8%, to also stimulate its economy. The ECB lowered its refinancing rate to a historic low of 0.75% to not simply encourage demand, but also aid in quelling a sovereign debt crisis in the EU. The accommodative policies are not only expected to increase faltering global demand, but also to drive inflation. As gold is most notably known as an inflation hedge, investors will seek refuge in the metal, maintaining it at bid.
The increase of the money supply has also led investors to purchasing gold in orderto protect them from the dilution of their currency holdings. When we look to the U.S. and the announcement of QE in November 2008, the Dollar Index fell approximately 15% a year after the announcement, while gold increased approximately 50%. For QE2, which was first mentioned at the Jackson Hole Speech in 2010, the Dollar Index fell almost 10% a year later from the day and gold rose almost 50%. Now as investors await the announcement of QE3 by the Fed (as some noted it was hinted at this year's Jackson Hole speech), investors are expected to flock to gold. Thus far, from this year's Jackson Hole speech, the Dollar Index fell 1% while gold rose 2%.
Along with accommodative monetary policies, my friend identified the simple law of supply and demand as propelling the precious metal's price upward. The demand from sovereign states as kept gold at bid. According to the World Gold Council, Russia has more than doubled its gold reserves in the past five years. Also, it was reported in several articles online that financial gurus George Soros and John Paulson increased their bullion exposure. However, after fact-checking my colleague's synopsis, it should be noted that there has been a year-over-year decline in gold demand. Gold's second-quarter 2012 demand declined 7%. The World Gold Council attributed the drop to the exceptional demand in 2011 and a challenging economic climate. Note that any prolonged contraction in gold demand will have a deleterious impact on its price.
Technically Speaking
Gold is a penny that I have had my eyes on for quite some time. Recently the security has rallied above the $1,700 price level, closing above my medium-term resistance zone. Because of this, I have revised my medium-term outlook for gold to neutral. The chart below shows gold (NYSEARCA:GLD) on a weekly chart.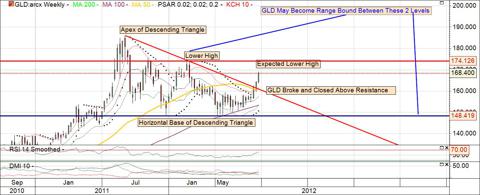 Although my medium-term view is neutral, I am bearish on gold in the short term. Gold has rallied too high too fast, and I have become skeptical and cynical on any further upside potential in the next couple of days to up to three months. Expectations are for the security to pull back to the $1,575 price level before it tests the $1,800 price level. Below is the daily chart of gold.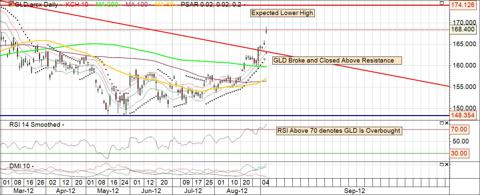 Compromise Strategy
The head of my department, in his wisdom, acknowledged the both my view and that of my colleague. His solution was:
Crystallize some gains on GLD, as the rally seemed overdone.
Enter a stop-loss order on the remaining amount at the average acquisition cost.
Take a position in a security that will also benefit from any increase inflation, similar to gold.
The ETF TIP was acquired using the gains from the disposal of the GLD. TIP has TIPS, which pays a coupon derived from U.S. CPI. As the Fed is expected to remain accommodative until 2014, the policy should inject some level of inflation above the Fed's target of 2%. The coupon (or distribution) from TIP over the next 12 months should provide some much needed income on the fixed-income side of anyone's portfolio. As gold appears to be sleeping at a top, nightmares of a bottom appear to be imminent, and I do appreciate the compromise strategy identified by our boss.
Disclosure: I have no positions in any stocks mentioned, and no plans to initiate any positions within the next 72 hours. I wrote this article myself, and it expresses my own opinions. I am not receiving compensation for it (other than from Seeking Alpha). I have no business relationship with any company whose stock is mentioned in this article.
Disclaimer: The characters in this article are merely anecdotal and do not represent any person, people or company that I am affiliated with. The views expressed in this article are my own and are not necessarily the views of any companies or organizations I am affiliated with. I expressly disclaim all liability in respect to actions taken based on any or all of the information in this writing.