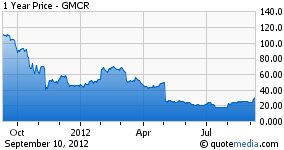 In our earlier article, we advised against a long position in Green Mountain Coffee Roasters (NASDAQ:GMCR), citing a drop in gross profits due to low K-cup demand, underutilized production space and high inventory (102 days compared to 72 days last year). The 13% surge in prices on Friday and another 4% today is due to GMCR's introduction of a new line of wellness drinks (containing vitamins and antioxidants) for its brewer machines, as well as Lazard Capital's initiation of GMCR with a "Buy" rating. We recommend investors to remain on the sidelines till the coming quarters show how well GMCR is able to tackle competition, especially in the single cup packs market.
One of the main problems for GMCR is competition. It derives more than two-thirds of its revenues from single serve packs (K-cups), and the rest from brewing machines and accessories. Starbucks (NASDAQ:SBUX) and Kraft (KFT) are introducing their own machines, although SBUX said it is targeting a different audience from GMCR. Green Mountain had introduced its new Keurig Vue brewers earlier this year in February. Starbucks, which uses Starbucks-branded cups in Keurig machines, will benefit from its own brewer, Verismo, when it is launched during the holiday season. Consumers can also get the complete "Starbucks experience" by using the Verismo at home. Starbucks is looking to capitalize on the single serve market, which is growing quickly at present.
The more worrying thing is the patent expiration for K-cups, which would mean a lot of other players like Safeway (NYSE:SWY), Supervalu (NYSE:SVU) and Kroger (NYSE:KR) will enter the market and offer lower prices to get a market share. In June, when Kroger announced the launch of its coffee pods, which can be used on GMCR's Keurig brewers, the latter's stock fell by 8%. According to Reuters, Supervalu supermarket chain also announced its own single serve coffee cups in six flavors this month, under the name "Java Delight Single Serve UnCup."
GMCR, on the other hand, says that the entry of other players has been factored into the next year's forecasted results. The company had issued guidance for FY2013 EPS of $2.55-$2.65. This was below analyst expectations of $2.82/share at the time of issuing the guidance. Analysts now expect EPS of $2.51. Consensus analyst estimates for FY2013 revenues were $4.55 billion when the last quarter's earnings and future guidance were released. The figure has now dropped to $4.38 billion. This shows that analysts are bearish about the company's prospects in the near future.
We think that inventory buildup is unlikely to go down as much as expected, given the competition. The company does have deals with SBUX and Dunkin Brands (NASDAQ:DNKN) for K-cups for some years, but on their expiration, GMCR could fare worse.
The stock is down 38% YTD. Insignificant insider buying in the price range of $21.57-$24.72 took place in the month of August. The company does not generate free cash flows and has recently cut its CAPEX. The share repurchase program of $500 million will only be good for investors when the company has free cash flows. The patent expiration seems to be priced in the stock, as it fell each time another company announced a competing product. The short ratio has improved slightly from 5.2 days, when we last wrote an article on August 2, to 4.7 days at present.
At forward P/E of 11x and consensus EPS estimates, the valuations come out to be:

The figure for the 2014 EPS given above was calculated by applying the next five years consensus growth rate of 23% on FY2013 EPS. The company had only guided to a mid-teen increase in EPS for the long run. In the past five years, the growth rate was 95%.
The forward P/E of Peet's Coffee & Tea (NASDAQ:PEET) is 32x, and for SBUX the figure is 24x.
The company had also been unable to forecast its sales accurately, an area that led to huge declines in the stock price over the last year. Though the management said it has improved its ability to forecast sales, it will only be known for sure in the following quarters.
The wellness drinks, which might appeal to more health conscious customers, still have to prove that they can bring in significant sales by convincing consumers to see the benefits of the added value. They are exclusively available online at a price of $17.49 per 24 count box.
We recommend waiting a couple of quarters to see how the competition affects GMCR. We will be bullish once we see that Green Mountain can maintain its market share and margins in this competitive environment.
Disclosure: I have no positions in any stocks mentioned, and no plans to initiate any positions within the next 72 hours.
Business relationship disclosure: The article has been written by Qineqt's Retail Analyst. Qineqt is not receiving compensation for it (other than from Seeking Alpha). Qineqt has no business relationship with any company whose stock is mentioned in this article.