On Friday, shares of Canadian athletic apparel maker lululemon (NASDAQ:LULU) soared more than 12% after a great earnings report. Shares are just $4 from a new high, which could be broken this week. There are some non-believers out there, including one fellow writer on this site who continues to recommend that you short LULU. He presents his short case for the company in his latest article, but a number of his concerns don't provide the entire picture. So today, I will tell you why lululemon again proved its greatness.
I encourage you to read my latest article on lululemon, which previewed their earnings two weeks ago. I reminded readers that LULU generally provided conservative guidance, so I expected them to beat. Also, I stated that the company could fall after-earnings if guidance was below analyst expectations. Since that was not the case, the stock soared. I argued that LULU did trade at a high valuation, but that if they continued to execute, they would justify that valuation. Well, they did, and that's why this stock remains a top tier investment.
First, let me start with the overall results. The company announced second quarter revenues of $282.63 million. This number was slightly below the $282.76 million analysts were expecting, but well ahead of the $273 million to $278 million the company guided to for the quarter. I think that slight miss is accounted for in the company's Q3 guidance. More on this later. In terms of earnings, the company posted 39 cents per share, but noted that a tax impact provided a 5 cent benefit. Even after excluding that nickel, the 34 cent number was ahead of the 31 cent expectation Wall Street had, and well ahead of the $0.28 to $0.30 range the company guided for.
Before I get into some more of my own numbers as to why lululemon is great, let me address the points made in the other article:
The author was concerned that same-store sales only grew 15% compared to 20% in the prior year period. Yes, that is a slowdown. However, overall revenues only grew 33% is the current year period compared to 39% in the prior year period. As a company like lululemon matures, growth will slow down. In the comments section of his article, he makes a reference to Apple (NASDAQ:AAPL) when it comes to growth and valuation. Apple only posted 22.6% revenue growth in its latest quarter compared to 82% in the prior year period. Every company slows down at some point, and in fact, lululemon might have more potential growth ahead than Apple does.
The author states a huge red flag: "inventories rose 30% in the past year, and that inventories are rising at twice the rate of same store sales (over the past year)." It is a fact that inventories rose from $88.89 million at the end of last year's quarter to $125.38 million at the end of this year's period, a rise of 41%, greater than the author's 30% noted. But it's the part about same store sales that is misleading. Inventories rose 41%, but overall company sales rose 33%. To me, that is not a red flag. Also, the author failed to mention that over the past year, lululemon has increased its store count from 147 to 189, a rise of 28.6%. When you increase your store count by almost 30%, you need more inventory! You can't compare rising inventories on a total company basis to same store sales, which don't factor in new stores. That's not an accurate comparison. More on the inventory issue later.
The author states that LULU shares are trading at 42 times forward earnings. However, for that valuation, the author uses the high end of the earnings range for the current fiscal year. Thus, two of the quarters he is using in his valuation have already been reported. That's not forward, it's partially backward. I'll show a more accurate forward P/E later in this article.
The author appears to criticize lululemon for "sandbagging its guidance", and earnings per share that beat "its own lowered guidance". This is terribly wrong. Lululemon did not lower guidance for Q2, it just issued guidance that was below analyst expectations at that time. There is a big difference here, and anyone that truly knows lululemon knows this happens quite often.
So why is lululemon still one of the greatest retailers out there? Let's examine the true greatness of this company.
First, I'll start with guidance. Lululemon did not lower Q2 guidance, it just issued it. Anyone that has followed LULU for any extended period of time, as I have, knows that they issue conservative guidance. Yes, they do issue guidance that is lower than analyst expectations a lot. But so what? Apple does that. We know that in the end, they will beat, and they have.
I've updated a table, found below, that I've used in many of my LULU articles showing how this works. They issue guidance, then beat.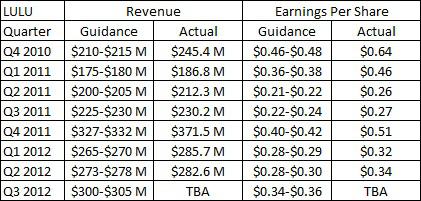 As you can see, Q2 was no different. They guided, they beat. As a side note, for earnings per share in both Q4 of 2010 and Q2 of 2012 I used the lower numbers, not including the tax benefits.
So here's where things get good. Go back to my preview article for LULU's earnings. I stated that with analyst estimates for Q3 (then) at $300 million and $0.33, I wouldn't be surprised if LULU guided to roughly $290 million and $0.31, which would figure into their normal pattern. But their guidance was much higher, as you can see in the table above. That means that Q3 should be exceptionally good, probably over $305 million in revenues and $0.37 in earnings per share. That's also well above current analyst expectations, noted above.
Additionally, the company raised its full year forecast, for the fiscal year ending in January. Here's how the guidance for the full year has changed throughout the year.
After Q4 of 2011 - Company gives fiscal 2012 guidance for revenues in a range of $1.3 billion to $1.325 billion. Earnings per share in a range of $1.50 to $1.57.
After Q1 of 2012 - Company raises revenue forecast to new range of $1.32 billion to $1.34 billion. Earnings range raised to $1.55 to $1.60.
After Q2 of 2012 - Company raises revenue forecast to new range of $1.345 to $1.36 billion. Earnings per share are now expected to be $1.76 to $1.81, including the 5 cents from the tax issue noted above.
So the company has now raised guidance two quarters in a row. The full year revenue and earnings guidance are now above analyst forecasts for $1.35 billion and $1.63, respectively. Plus, there are two quarters still to go. If the company continues to beat, we could be looking at revenues and earnings that are much higher than current expectations. They could easily raise again next quarter.
So let's look at valuation. Currently, lululemon trades at 37.4 times current expectations for next year (fiscal 2013 which ends in January 2014). But that's using current analyst expectations of $2.06. Analysts have not had time yet to raise their forecasts, and remember, the current analyst number for this year is $1.63. LULU just gave guidance well above that. The closest name to lululemon in terms of retailers and growth prospects is Under Armour (NYSE:UA). Currently, Under Armour trades at 38.7 times their next fiscal year's earnings. LULU is cheaper now, even with the current low forecast. Remember, in my preview article, I said that a good number for fiscal 2013 earnings right now is $2.25 for LULU, implying that a true forward P/E now is 34.3.
Now, let's analyze the whole "if growth is slowing, the valuation should come down argument". Let's go back one year, to when the company reported Q2 earnings. The day that LULU reported, it closed at $55.06, and the guidance it gave for that fiscal year was an earnings midpoint of $1.12. That gave a valuation of 49.2 times what the company was giving you for guidance. Now, if you use this Friday's close and the midpoint of this fiscal year's guidance, you get a current valuation of 43.2 times. Yes, growth is slowing, but the valuation has come down. LULU does trade at a high valuation, but it's cheaper than Under Armour, and the company continues to excel.
So now let's focus on inventories. Are they really a red flag? Well, here's the quote from the company's earnings transcript:
"Inventory at the end of the second quarter was $125.4 million, 41% higher than at the end of the second quarter of 2011. Our inventory growth is consistent with our expected forward sales and will support the anticipated growth for new stores, higher same-store sales and our e-commerce business."
Now, the author I am debating states that opening new stores does not necessarily mean a company will have more inventory. My feeling at this point is that if you do have 30% more stores, you will need more inventory. But let's ignore that fact for a minute. Lululemon has 41% more inventory than they did at this time a year ago. That's a fact. But they are also guiding revenues to be 30% to 33% higher than a year ago. If you expect revenues to increase 30% over last year, you are going to need more inventory.
It was about this time last year when LULU was criticized for having too much inventory. What happened? Well, they went out and sold it all, leading to them raise guidance for the quarter. Now the company also stated on its conference call that they were working on building out their online business. That will naturally lead to some excess inventory. In the end, lululemon is opening stores, building its e-commerce business, and revenues are expected to be much higher than last year. When that happens, you need product, and that means higher inventories. I'm not worried here, and you shouldn't be either.
I must make one last point about lululemon, and that is the exceptional condition of the balance sheet. The following table below shows some key financial ratios at the end of the second quarter over the last few years, and I added this year's Q1 in for an additional comparison. Dollar values in are thousands.

You won't find many other balance sheets in excellent shape like this. Does the name Apple come to mind? It should, as these two are very similar. Lululemon has no debt, and has more than $8 of assets for every dollar of liabilities. Lululemon added more than $40 million of working capital in the most recent quarter alone, and nearly $210 million in the past year. A very strong balance sheet, and that is an understatement, will allow this company to continue as an industry leader, and will allow the company to buy back shares and pay dividends down the road.
Lululemon proved its greatness again in Q2. While revenues were just under what analysts were expecting, it seems that some were lost to Q3, which is expected to be much stronger than originally expected. There really aren't any problems with inventory. Inventory is rising because the company is opening new stores and is selling more than it used to. The balance sheet got even greater in the quarter, and the company's valuation is down from last year's, to account for lower growth. Plus, the name is a bit cheaper than its main rival.
Now, lululemon shares are up $25 in recent weeks, so we could see some profit taking here. However, if this name does tick back down to $70, it would be an amazing opportunity; one to take advantage of. The average analyst price target was $75, but I expect that to be raised after the huge guidance boost. Lululemon is a name to be in for the long run, and it is not a smart idea to short a company with this kind of momentum behind it.
Disclosure: I have no positions in any stocks mentioned, but may initiate a long position in LULU over the next 72 hours. I wrote this article myself, and it expresses my own opinions. I am not receiving compensation for it (other than from Seeking Alpha). I have no business relationship with any company whose stock is mentioned in this article.