Just when you thought the yield lows in the REIT preferred stock market had been set - Kimco's (NYSE:KIM) 5.50% Series J - Public Storage (NYSE:PSA) comes to market trying to lower the preferred stock yield limbo bar.
Details of the issue are as follows: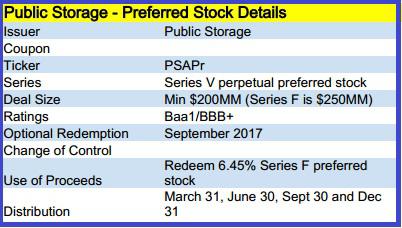 While the rate is not yet known, I would expect that we will see a rate around 5.375% as that is near where their Series U are trading (the most recent issue).
As I have noted in the past, many REITs are taking advantage of today's low rate environment and demand for income products to add cheap, long-term capital (perpetual) to their balance sheet. Public Storage has built their capital structure on preferred stock and common equity, ensuring that there are no maturities that require refinancing unless they opt to do so (the structure also makes the preferred stock the de facto senior part of the capital structure). This is their third preferred stock issuance this year, and each one has been to retire higher cost preferreds. I am somewhat confused as to why they do not exercise their optional redemption on the 6.45% Series X and/or the 6.25% Series Z. As rates do not appear to be rising significantly any time soon, I would expect these to be in the sights of the company for redemption and at $25.25 and $25.58 respectively, the YTC will be painful.
In order to put this new preferred stock into perspective, here is a comparison with their recently issued preferred stock as well as recently issued preferred stock of Kimco, PSBusiness Parks (NYSE:PSB) and Vornado Realty (NYSE:VNO):

Bottom Line: While Public Storage's balance sheet has tremendous flexibility due to their use of preferred stock and common equity, this new series of preferred stock is simply too low yield. The downside when rates rise is significant and is not justified by the income produced. There are plenty of alternative available and I believe that investors should look elsewhere. Finally, investors in the PSA Series X and Z should be aware that they are the next highest cost preferreds that are currently redeemable.
Disclosure: I have no positions in any stocks mentioned, and no plans to initiate any positions within the next 72 hours. I wrote this article myself, and it expresses my own opinions. I am not receiving compensation for it (other than from Seeking Alpha). I have no business relationship with any company whose stock is mentioned in this article.
Additional disclosure: This article is for informational purposes only, it is not a recommendation to buy or sell any security and is strictly the opinion of Rubicon Associates LLC. Every investor is strongly encouraged to do their own research prior to investing.