Commodity Chart Of The Day

Weekly Sugar
(click image to enlarge)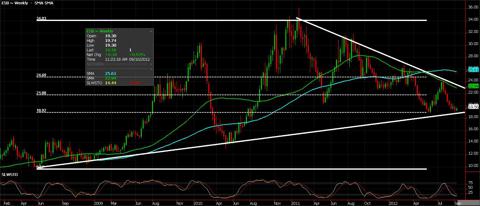 In the last six weeks, sugar prices have lost nearly 20%, dragging prices under 20 cents/lb. Looking at the big picture in a weekly chart, a 61.8% Fibonacci retracement has occurred and prices have traded very close to their trend line, which has held since mid 2008. In the chart above, I've drawn two solid white lines and I'm thinking before an apex forms in this triangle pattern, we see prices break out. The statistics are in our favor that the break out generally happens in the direction of the general trend, which since 2008 is up.
That being said, I like scaling into bullish trade into next year for swing trades. My favored play is having bullish exposure via futures with some sort of options protection. For instance, selling out of the money calls or buying at the money puts. The idea is the options will offset some of the gain when selling the calls, or limit some of the loss by buying the puts while the overall stance is a bullish trade.
In terms of strategy, if sugar starts moving north, one could add length on their futures or drop the options. On a trade south, either strategy would allow a trader to take some heat. Into 2013, I suspect prices could trade back closer to 24 cents/lb.
Risk Disclaimer: The opinions contained herein are for general information only and not tailored to any specific investor's needs or investment goals. Any opinions expressed in this article are as of the date indicated. Trading futures, options, and Forex involves substantial risk of loss and is not suitable for all investors. Past performance is not necessarily indicative of future results.
Disclosure: I have no positions in any stocks mentioned, and no plans to initiate any positions within the next 72 hours. I wrote this article myself, and it expresses my own opinions. I am not receiving compensation for it. I have no business relationship with any company whose stock is mentioned in this article.