This section continues the discussion of Cimarex Energy's (NYSE:XEC) assets and operating strategy, including the Company recent focus in the Permian Basin. Part I of this article provides a broader overview of the company and its key operating and valuation metrics. It also discusses Cimarex's Cana Woodford shale operations.
The Permian Basin Assets
In the Permian, Cimarex has over 400,000 net acres in the Delaware Basin. A big part of the acreage was obtained in the Magnum Hunter acquisition in 2005, which was further augmented by additional leasing and acquisitions in recent years.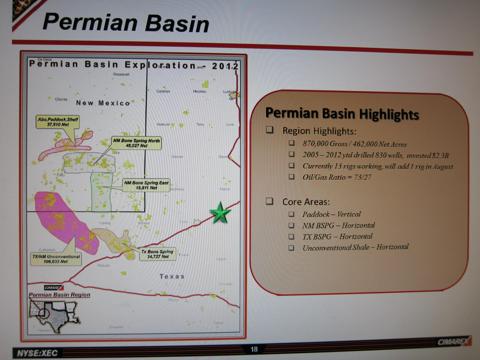 (Source: Cimarex July 12 2012 Presentation)
Prior to 2011, Cimarex had spent approximately $250 million a year on its Permian program. This year, the Permian took the top position in Cimarex's capital budget, with over $800 million or 55% of total spending. With 14 rigs currently running, Cimarex is among the three most active operators in the Delaware Basin, alongside Concho Resources (NYSE:CXO) and Occidental Petroleum (NYSE:OXY).
The Delaware Basin has a vast areal extent and is characterized by multiple stacked oil and natural gas bearing formations.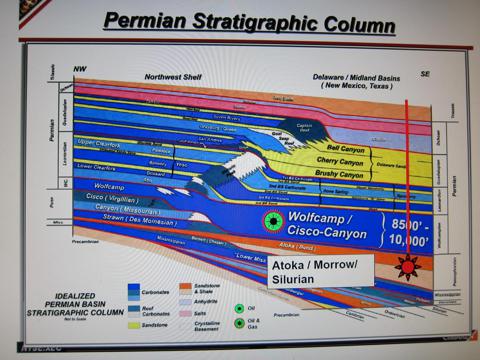 (Source: Cimarex July 12 2012 Presentation)
Currently, Cimarex is targeting four to six defined plays and is continuously working on generating additional opportunities and adding acreage. The company is active in both conventional horizontal and vertical oil plays and non-conventional resource plays. The Bone Spring horizontal oil play in both New Mexico and Texas is Cimarex's crown jewel in the Permian, with very high oil yields and excellent economics. Cimarex is also actively developing an emerging unconventional "combo" play in the Delaware Basin Wolfcamp shale which has a good promise. The company also has an attractive position in the Avo/Paddock vertical oil play. Cimarex sees ample additional opportunities in the Permian and believes capital spending should be sustainable at its current level for the foreseeable future.
The Bone Spring Play
Cimarex targets two Bones Spring plays in the Delaware Basin, one in New Mexico and one in Texas.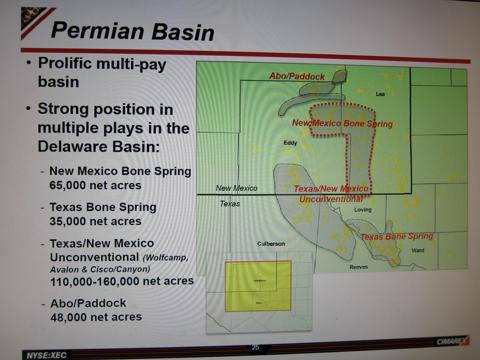 (Source: Cimarex July 12 2012 Presentation)
The Bone Spring is a group of oil bearing tight sandstones being developed with the horizontal drilling and fracking technology.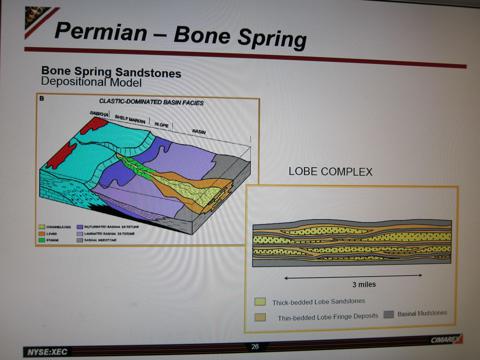 (Source: Cimarex July 12 2012 Presentation)
In the first half of this year, Cimarex drilled sixteen net wells in New Mexico and twelve in Texas, with excellent results. 30-day IPs averaged over 600 Boe/d (87% oil) in New Mexico and over 850 Boe/d (82% oil) in Texas. Well costs in New Mexico are in the $5.8-$6.5 million range. In Texas, where the target zone is deeper, they are $7.5-$8.5 million. The stronger IP rates have translated in higher estimated EURs. In New Mexico, EURs increased by 50% from the year ago and are now averaging 650 MBoe per well. Part of the improvement is attributable to well design improvements (reduced water cuts). In Texas, the EURs have increased from 450 MBoe to 730 MBoe, mostly due to upsized completions and wells being drilled in the higher productivity areas. Cimarex's Bone Spring results compare favorably to the Bakken and Eagle Ford once drilling costs are taken into account.
Both of these plays are generating excellent returns on investment. I estimate PV-10% per well in the $6-$8 million range making the Bone Spring the highest rate of return assets in the company's portfolio. Cimarex has 200 additional gross drilling locations across the two plays. Using a 60% working interest assumption, I estimate the undeveloped Bone Spring acreage may have a $600-$800 million PV-10% value to Cimarex. The company is running a very active 10-rig program across the two areas and plans to spend approximately $430 million in 2012. The well inventory is sufficient to support two-three years of drilling at the current run rate. The company is aggressively adding to its acreage position in the area.
Cimarex has also been testing the Avalon Shale which is present on a big part of its acreage, above the Bone Spring formations. Eight test wells have been drilled to date into the Avalon.
Delaware Basin Wolfcamp
Cimarex's horizontal Wolfcamp play is located in Southern Eddy County of New Mexico and Culberson County of Texas in the Delaware Basin. The company estimates it has between 80,000 and120,000 net acres prospective for the Wolfcamp.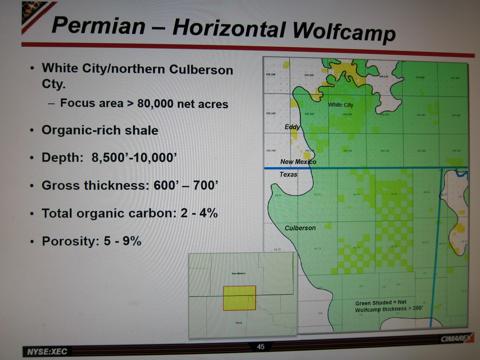 (Source: Cimarex July 12 2012 Presentation)
The Wolfcamp shale is a powerful source rock, 600-700 feet thick, with rich organic content and good porosity. Cimarex is actively testing the play (currently running three rigs) and is very encouraged by the results at this early stage. Cimarex has drilled and completed 24 horizontal wells with a 30-day average of 6.6 MMCfe/d. Management has emphasized that the average may understate the productive potential of the play as it includes all the wells (does not exclude wells with mechanical problems, poor completion techniques, short laterals, etc.). The production mix includes 47% gas, 23% oil and 30% NGLs (3.1 MMcf/d gas, 250 bbl/d oil and 340 bbl/d NGLs assuming full recovery).
The results are impressive given the very early stage of the play's assessment. Well cost is currently in the $8.0-$8.5 million for a 4,500 ft lateral (vertical depth of 8,000-10,000 ft). These results translate into a 20%-30% after-tax rates of return. Management expects well costs to be brought down through drilling and completion efficiencies, particularly in the development mode. The full development well density remains to be determined (thus far, the company has only tested with one well per section). Management sees the possibility that this play will be developed using stacked laterals because of the very thick pay section.
Cimarex has invested significant capital and effort into the area's infrastructure (has drilled salt water disposal wells and water source wells, brought electricity into the area, laid high and low pressure gathering systems, built roads, installed a 50 MMcf/d processing facility, etc.). Management believes the company now has the infrastructure it needs to drive operational efficiencies and support full scale development as this play moves forward. Cimarex's net production from the play averaged approximately 37 MMcfe/d in Q2 and should continue to grow fast. Speaking at an industry conference last week, Cimarex's Chairman and CEO Thomas Jorden said:
This early in the play it's nice to say that we are making money drilling these wells. We are very excited about our recent results. We are seeing oilier and oilier wells as we test different zones in the Wolfcamp. …The Wolfcamp looks to us like it will be a long-term legacy project for Cimarex. We don't know what the ultimate spacing will be. It could be 160-acre spacing, it could be 80-acre spacing. We could easily have 500 to 1000 future wells, based on our existing position. So [the Wolfcamp is] a very, very significant asset for Cimarex.
The upsides to the play include further improvement in well performance due to perfected well design and lateral positioning; reduced drilling & completion costs; longer laterals; stacked laterals; higher oil content in the "oil sweet spots;" and additional acreage to be acquired.
Disclosure: I have no positions in any stocks mentioned, and no plans to initiate any positions within the next 72 hours. I wrote this article myself, and it expresses my own opinions. I am not receiving compensation for it (other than from Seeking Alpha). I have no business relationship with any company whose stock is mentioned in this article.