It's been an interesting time for natural gas, which is now struggling to break its downtrend as we wait for winter to come. US natural gas (NYSEARCA:UNG) production continues to wreak havoc on prices due to the amazing availability of the resource, and it's been hitting major producers like Apache (NYSE:APA) and Chesapeake (NYSE:CHK) due to the shrinking profit margins that can't be fully protected by hedges. Supply shocks hurt all producers.
To visualize just how tough things have become for US producers, here is a chart showing a history of spot natural gas prices at the Henry Hub in Louisiana graphed by the Nebraska Energy Office.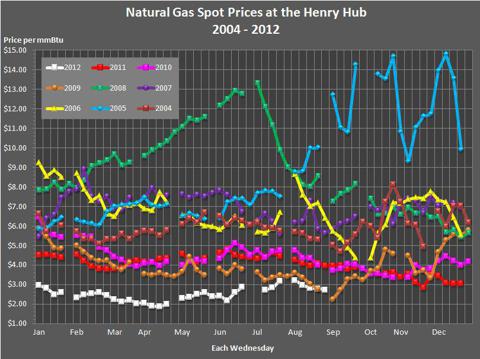 As you can see, since the start of 2005, prices have fallen about 50%
This seems like a lot for any one commodity, but the supply side explains the numbers quite well. Marketed natural gas production, graphed below (by the EIA) has risen about 40% since 2005. Given that demand has generally been quite stagnant despite the falling prices, natural gas is about where it should be at this point in time.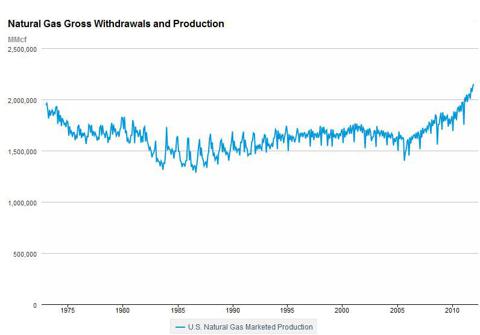 There are alternative plays that can take advantage of booming natural gas production though. Cheniere Energy (NYSEMKT:LNG) is one. This company is in the process of constructing three huge LNG (liquefied natural gas) exporting terminals that have already secured a handful of contracts for their future exports.
Contrary to the production side, Cheniere's profit margins will benefit from low domestic natural gas prices. Asia and Europe have much stronger demand for the commodity (Asian natural gas is about $17 per mmBtu).
Despite the fundamental factors that have the potential to suppress natural gas prices for quite some time, futures seem to suggest that next year will be different.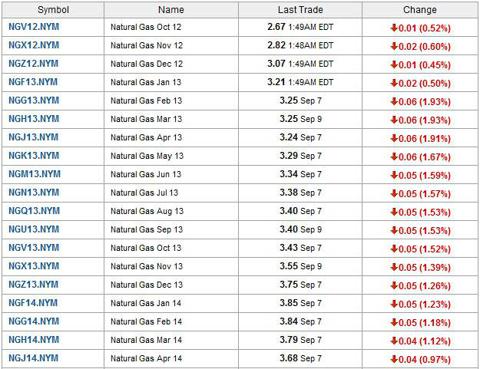 Diminishing dollar strength does play a factor too, although natural gas is far more sensitive to the fundamentals. If we have a very cold winter in the US, or if production begins to stagnate due to frustrated companies and thin margins, we could see prices jump quite quickly in the spot market.
In a much broader scope, we also want to infer that the prices of commodities in one region would gravitate towards the prices of another in due time from trade. The huge price differential between North American and Asian natural gas prices is bound to shrink eventually, as trade barriers are removed (and this is where Cheniere comes into play).
This particular argument will not come into play for quite a few years, but it's worth keeping in mind. Natural gas can't be pushed down much further without another enormous spike in production.
Disclosure: I have no positions in any stocks mentioned, and no plans to initiate any positions within the next 72 hours. I wrote this article myself, and it expresses my own opinions. I am not receiving compensation for it (other than from Seeking Alpha). I have no business relationship with any company whose stock is mentioned in this article.