Click-Clack … Click-Clack … Click-Clack … Click-Clack …
Do you know that sound? Any investor in SodaStream (NASDAQ:SODA) would recognize it as the sound of the stock rising up while fighting the shorts.
The worst part about that sound? The accompanying "Wheeee!!!!" and downward plunge that comes after the earnings announcement every quarter, almost without fail.
Despite beating projected earnings for the quarter and raising earnings estimates for the year, SODA is still treading the same water it entered two months ago. At the time it reported, the euro was seen as the problem de jour as it approached 1.20 with many calling for dollar parity or lower. Since SODA does the majority of its business in euros, this was said to be a justification for the sell off after a strong earnings report.
Now that the euro is back to 1.28 with room for higher based on short covering? Well, I'm sure the shorts would now point to the dollar weakness and the fact that their largest market with the highest growth rates, the U.S., will be overtaking their euro markets in a few years. To many holders of SODA, it sure seems like the company can't catch a break in the markets.
With the large institutional short position in the company, it appears that they will use whatever excuse, rumor or extrapolation to justify holding their short position as the company continues to successfully execute and grow, quarter after quarter.
Days of Future Past
The roller coaster nature of this stock is evident on the daily chart.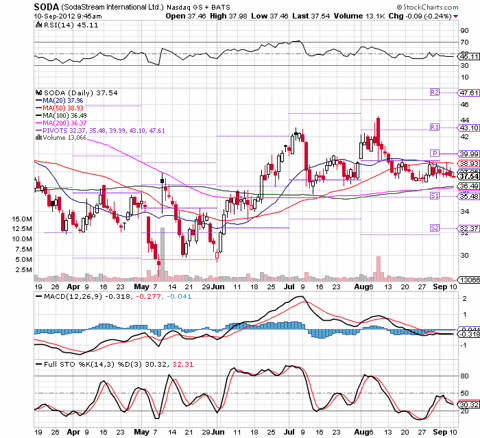 Using a few technical indicators, the chart is giving me mixed signals for the short term.
With the 50 SMA now trending downward, I fear any break of the resistance around $36.50 (100 SMA, 200 SMA) could lead to a revisit of the lows near 30 as the double death cross feeds the shorts. This would be another extreme buying opportunity of course, but it would be nice if the stock could sustain some semblance of support given the fundamentals.
The RSI and Full Stochastics are showing strength as we fight with $37. Every breach of $37 has been bought back up and the higher levels in each indicator leads me to believe that if we see a lower low below the $36.88 we saw on August 27, we should finally be cleared for some upward momentum.
Going by the technicals, it would seem that a revisit of sub $37 could be in the cards in the next few trading sessions, but that should provide a buying opportunity for another run upwards.
Can't Survive On Bread Alone
Just as you can't survive on water alone, you shouldn't trade solely on technicals. Luckily the fundamentals for SODA continue to improve every quarter and provide ample justification for a trade on the long side.
One of the key fundamentals that has long been a thorn in the side of SODA longs was the negative cash flow due to constant expansion into new markets and introduction of new products. As of the 2nd quarter of 2012, SodaStream is now cash flow positive ($11.82M) with the company projecting this to grow over time. While the sell off after the earnings report might not reflect it, the bears had another arrow removed from their quiver with this accomplishment.
On an earnings basis, SodaStream is suffering an inverse of the market reactions seen with other growth companies. With a TTM P/E of 21.88 vs. 55% Earnings growth in 2012 and Forward 2013 P/E of 13.22 vs. 30%+ projected growth rates, we see that the market has little faith in SodaStream's ability to grow and maintain their growth rates over time.
Contrast that with Amazon's (NASDAQ:AMZN) 300+ TTM P/E and Salesforce.com's (NYSE:CRM) non-existent GAAP earnings and you see who the market darlings are and who is currently being ignored. While P/E's are notoriously inaccurate in identifying good candidates for establishing new positions, they do provide another fundamental measure for traders to utilize.
Near Term Action
As strongly as I believe in the company and as much confidence I have that we have not yet seen the highs in SODA for the year, it all depends on a near term catalyst. Most of the near term catalysts from SODA come from conference announcements, earnings reports and press releases.
While we have seen some significant news from press releases (the initial Kraft deal was announced in this way), the fact is that they cannot be exactly predicted or timed. Every day as I scan the news feeds, I hope to see an announcement of a new partnership or expanded deal, but one cannot be sure when and if such announcement will take place.
The more predictable catalysts are the announcements that are made at the conferences that SODA executives attend on a semi-regular basis. As the company is doing a good job in announcing their attendance ahead of the event, we should have plenty of time to position ourselves for any possible jump in short covering or new money. Looking at the company calendar we do not have any such events coming up, but we should be prepared if an announcement comes out.
Lately, the company has been using their earnings report as an additional opportunity to announce new deals and arrangements. The tendency for shorts to cover in front of earnings is likely driven in some part by this practice and provides traders an opportunity to profit from the uncertainty of the shorts. As we discussed in the beginning of the article, SODA stock tends to rapidly leak lower after earnings but the run up before and spike on the day have provided many with significant profit making opportunities.
Reality Bites
SODA is being held down by a committed, well financed group of shorts. With 60%+ of the float being held short in a company with no debt, positive cash flow and a valuation well below its growth rates, these shorts are stubborn and will likely do whatever they can to maintain their position in what they see as a fad product on the same road as Heelys and Crocs.
The fact that the SodaStream business plan is much more robust and provides continued revenue from each adopter of their product can be cancelled out by simply pointing at the summer 2011 collapse from $80 to $27.
The company never missed an earnings projection, never revised a projection down, never missed on top or bottom line guidance since going public and has continued to grow their largest market in the middle of a recession/depression. Competitors have been dealt with, supply chains reinforced and their product lines strengthened through partnerships with larger companies and innovation.
Even with all this being the case, I believe that we will continue to see the same roller coaster action in SODA until the opinion of the institutional shorts can be changed.
What will it take for the institutional shorts to capitulate?
No one can say exactly, as I am sure they all have their own reasons to distrust the SODA growth story. Likely the only thing that would shake their short thesis fundamentally enough to close their position would be a partnership between SODA and Coca Cola (NYSE:KO) or Pepsi (NYSE:PEP).
After observing the price action in SodaStream for over a year, I am fairly confident that even if Dr. Pepper Snapple Group (NYSE:DPS) or Monster (NASDAQ:MNST) announced a partnership with SodaStream, the shorts would be back on the attack within a few days after an initial pop. As the company increases their exposure globally and in the U.S., the short thesis gets harder and harder to justify but that simply doesn't matter for an institutional investor. When you can have analysts justifying Amazon on their projected earnings growth, while at the same time shorting SodaStream, you have to realize that you aren't dealing with rational actors.
In the near term we seem to have found a base around $37, in the mid-term we are waiting for a catalyst to get us to any higher but in the long term I hope the market comes to reward the company with a valuation closer to the level of performance they have been able to achieve during these troubled economic times.
Disclosure: I am long SODA. I wrote this article myself, and it expresses my own opinions. I am not receiving compensation for it (other than from Seeking Alpha). I have no business relationship with any company whose stock is mentioned in this article.