States will likely need to step up their borrowing while the US economy remains weak, according to Standard & Poor's.
States have not been impervious to disruptions in the credit markets in the past year despite their generally solid credit profiles, S&P says in a new Public Finance Report Card. "Many states with auction-rate securities have had to reposition or restructure their outstanding debt as demand in that market evaporated. More than $10 billion of state-related debt has been restructured."
The use of derivatives continues to be part of the overall debt strategy for many states and the disruptions in the credit markets have also caused a handful of states to terminate a number of their swaps. Fortunately, most states were relatively conservative with the structuring of their variable-rate securities and had proactively developed plans to reposition their debt with minimal financial impact up to this point, S&P says.
Still, state debt managers face new challenges in the next year due to the economic slowdown. Already, many states are reeling from the housing-market decline and turbulent financial markets, with budgets likely to be strained by revenue.
This could ultimately lead to significantly higher debt issuance to meet budget requirements, a trend seen in prior downturns.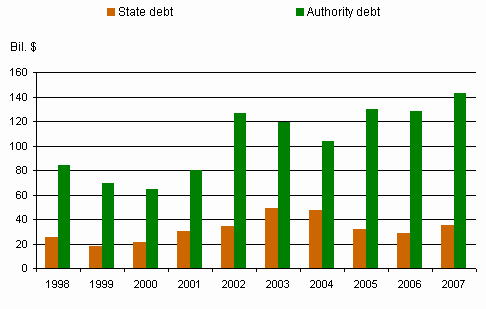 Following the 2001 recession, nearly $30 billion of debt was issued by states to meet budget requirements. As in past downturns, state revenues will probably continue to decline well after the economy begins to rebound. For instance, even though the 2001 recession was relatively short-lived, state revenue performance remained weak through fiscal 2004.
Other factors will also accelerate state debt issuance in the coming year. That's because discretionary resources to fund capital requirements have evaporated in many states, causing a shift to bonding for fiscal 2009. There continue to be proposals relating to asset sales and the use of public-private partnerships.
As the spotlight continues to shine on the cost of postretirement benefits, significant bonding initiatives have emerged to deal with unfunded pension liabilities and, to a lesser extent, other postemployment benefits [OPEBs]. A tight budget environment and the impact of financial-market volatility on pension funding could accelerate bonding proposals. A weak economy also tends to drive certain bond initiatives to stimulate economic activity, as seen in Pennsylvania, Ohio, Mississippi, and New York.
Finally, pressure on states to fund infrastructure improvements remains a high priority that has received heightened public attention following the I-35 bridge collapse in Minnesota.