The race to $700 per share is over. Winner, by $20, is Google, Inc. (NASDAQ:GOOG).
Well there really wasn't a race, per se, however, the point-and-figure (PNF) charts below clearly shows both GOOG (the week before Labor Day and going on this past week to exceed $700) and Apple, Inc. (NASDAQ:AAPL), breaking through its resistance levels that existed at $680.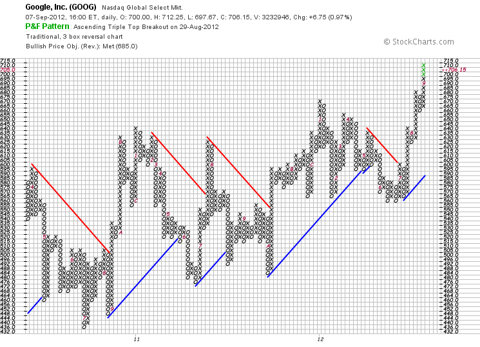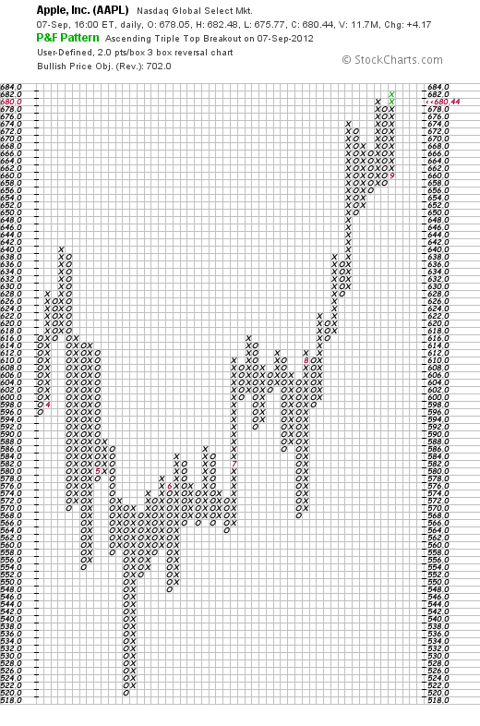 The question still remains as to how high is "high" for both GOOG and AAPL. And, for that matter the stock market in general as most indices are at, or have broken resistance levels.
Clearly there are more buyers than sellers as they (buyers) bought GOOG and AAPL through the resistance levels at $680 for both companies.
This article is not about which company is a better investment, it is simply looking at the pictorial evidence of where supply and demand exist for each of these investment choices.
As AAPL prints above $680 it will undoubtedly go to a higher resistance level. Whether it will be above $700, or not, will be decided by the buyers and the sellers - where there is supply and where there is demand.
These two major technology companies - AAPL and GOOG - have been in up-trends for four consecutive years as evidenced by the charts and are text-book examples of what up-trends look like on a point-and-figure chart - higher highs with the X columns and higher lows of the O columns.
OK, so if no one knows how high is"high", does anyone know how low is "low"?
Or perhaps another question: Where are all the sellers?
And: What can I buy to protect my investment in technology?
Let me show you with another PNF chart. This is an ETF (NYSEARCA:PSQ) that shorts (sells) the Nasdaq 100 Index.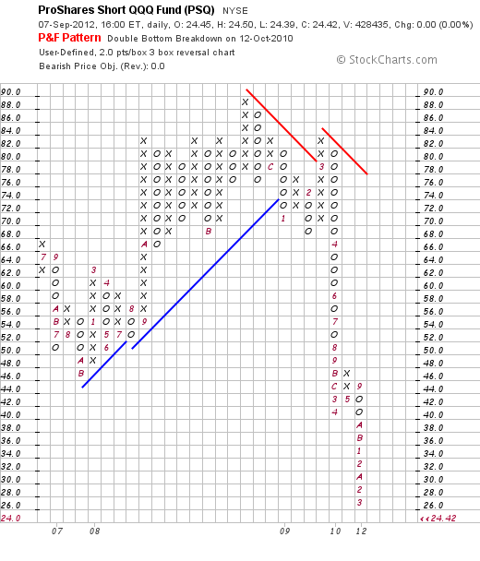 The big difference between the questions - How high is "high" and how low is "low"? - is that we don't know how high "high" is, however, we do know how low "low" is.
Zero.
This is not a projection; it is a fact (albeit unlikely).
So, yet another question: What could investors do to protect their profits in technology and still buy something that is "cheap"?
Another clear answer: PSQ
Be advised that PSQ has not found support just like GOOG and AAPL have not found resistance, yet.
Disclosure: I have no positions in any stocks mentioned, and no plans to initiate any positions within the next 72 hours. I wrote this article myself, and it expresses my own opinions. I am not receiving compensation for it. I have no business relationship with any company whose stock is mentioned in this article.