Edited By Kate Boehme
Verizon Communications Inc. (NYSE:VZ) is one of the largest integrated telecom companies in the world. The company functions through two primary segments: Verizon Wireless and Wireline. Verizon Wireless's products include wireless voice and data services as well as tool sales. These products and services are provided to individuals, businesses and government agencies across the United States. On the other hand, Wireline focuses on the provision of voice services, broadband video, Internet and network access, and a variety of other related services.
Verizon Communications documented a second successive quarter of double-digit growth in year-over-year earnings results. Furthermore, Verizon has had a considerable boost in its operating cash flows. In fact, the company produced $9.3 billion in cash flow from operating activities, constituting a boost of 20.1 percent in comparison with the second quarter of 2011. Of this, $7.8 billion was in free cash flow during the first half of 2012, more than double the amount of free cash flow produced in the first half of 2011.
Wireless Financial highlights
Recently, Verizon has experienced a massive improvement in its wireless sector. During the second quarter of 2012, Verizon had a 7.3 percent year-over-year rise in service revenues, as well as an 8.6 percent year-over-year rise in retail services revenue. Furthermore, data revenues improved by a full 18.5 percent year-over-year. In addition, Verizon experienced a 30.8 percent increase in its operational income margin and a 49 percent increase in the EBITDA margin on service revenues.
Meanwhile, Verizon is dominating the market through the provision of unique products. In the second quarter, the company had 1.2 million new retail net customers out of a total 94.2 million retail customers overall.
Wireline Financial highlights
Verizon is consistently showing an upward trend in its Wireline segment. It recently recorded a 2.5 percent year-over-year boost in customer revenues, the best in many years. The Average Revenue per User (ARPU) registered by Wireline now tops $100 per month, with 65 percent of customer revenues produced by FiOS. In fact, Wireline has had 134,000 FIOS Internet and 120,000 FIOS video net additions, as well as continually elevated sales penetration for both products.
Consolidated Results: Huge increase in Cash Flow
During the second quarter of 2012, Verizon's overall operating revenues were $28.6 billion on a consolidated basis. This represented an increase of 3.7 percent in relation to the second quarter of 2011. Meanwhile, consolidated operating income was $5.7 billion in Q2 2012, in comparison with $4.9 billion in Q2 2011. Consolidated EBITDA also experienced an incremental increase, with a recorded $9.8 billion in Q2 2012 compared to $9 billion during the same period last year.
Verizon produced $15.3 billion in cash flow from operating activities during the first half of 2012, in comparison with $12.8 billion for the first half of 2011. Verizon is also showing positive change in its total cash flows. For Q2 2012 alone, Verizon had cash flows from operations equaling $9.3 billion, a 20.1 percent increase compared to the same period cash flow in the last year. Furthermore, the capital expenditures trend downward. Capital expenditures are currently recorded at $7.4 billion for the first half of 2012. For 2012 overall, capital expenditures are predicted to be lower in comparison to the last year's expenditures of $16.2 billion.
Competitors
Verizon main competitors are AT&T (NYSE:T), Sprint Nextel (S), United States Cellular (NYSE:USM), and Deutsche Telekom. Verizon is growing rapidly thanks to its unique products. The company already has documented sales of 110,875 million for 2011 and 106,565 million for 2010, with a growth rate of 4.43 percent over the last three years. In the previous three years, Sprint Nextel grew at a rate of -1.86 percent, while United State Cellular and Deutsche Telekom recorded growth rates of 0.78 percent and -1.66 percent, respectively. AT&T's earnings history suggests an annualized growth rate of -20%. AT&T had a rough time due to the failure of T-Mobile takeover attempt. That failure had a cost of almost $4 billion to AT&T's shareholders. While I appreciate AT&T's aggressive growth through acquisitions, Verizon's organic growth is more stable.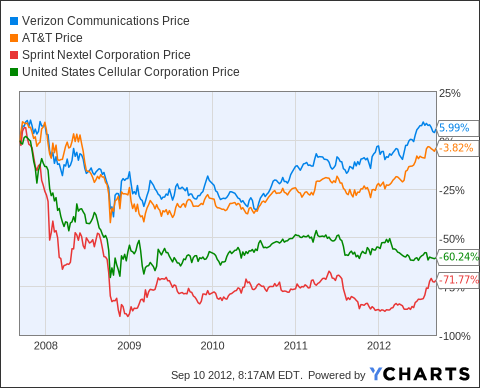 Overall, Verizon Enterprise is currently valued at $215.523 billion, whereas Sprint Nextel is valued at $30 billion. Meanwhile, Verizon recorded a net income for common shareholders at $2.4 billion in 2011, with a further $2.549 billion projected for 2012. Conversely, for 2011 Sprint Nextel and United States Cellular had net common shareholder incomes of $2.890 billion and $175 million, respectively.
Company Stock and Dividend Profile
At the moment, Verizon's market capitalization is $125 billion, which is about half of its largest competitor, AT&T. As of September 10, 2012, Verizon's price-to-earnings ratio stood at 43.5, compared to an industry average of 23.5. The return on equity is 7.5 percent, which is higher than the industry average of just 6.6 percent.
The fundamental ratios suggest that Verizon is one of the safest companies among its peers. In fact, the corporation is performing exceptionally, when compared with its direct industry rivals. Examination of both recent financial outcomes and future business prospects suggest that the company is likely keep growing in this year and beyond.
With a staggering annual dividend of $2.48, Verizon has been named as a Top 25 Dividend Giant by the ETF Channel. In 2011, Verizon's dividend expenses were $1.96 per share through out the year, while the corporation's quarterly dividend payment was $0.48 per share over 2010. The Board of Directors declared a cash dividend of $0.50 per share on June 6, 2012. Year-to-date, Verizon's dividend yield stands at 4.66 percent.
Summary
Verizon is a successful player in the telecom field, thanks to its diversified company strategy. The diversified customer base prevents the need for major strategy alterations, which can be disruptive and damage the company's long-term value. Furthermore, Verizon Wireless has improved its industry standing by gradually increasing its market share, regardless of the prices put forth by its major competitors. This company has also coordinated a number of advantageous proposals that, if accepted by regulators, will add wireless spectrum and additional marketing muscle, further enhancing its competitive position. Verizon's fixed-line business remains relatively less healthy due to industry trends. However, this segment provides regular cash flows which support the current dividend yield.
While, the current dividend payout ratio of 200% looks unsustainable, the cash flow analysis suggests that it is perfectly safe. The company generated a free cash flow of $17.5 billion, which is more than enough to support the trailing dividend payment of $9.8 billion. The strong free cash flow also leaves substantial room for dividend growth. I am expecting another dividend hike by next year.
Disclosure: I have no positions in any stocks mentioned, and no plans to initiate any positions within the next 72 hours. I wrote this article myself, and it expresses my own opinions. I am not receiving compensation for it (other than from Seeking Alpha). I have no business relationship with any company whose stock is mentioned in this article.