We believe that Visa (NYSE:V) has tremendous potential to not only ride the secular shift in the global payments industry, but also to lead and reshape the industry itself. The company is currently working on a number of deals and partnerships to bring in more-secure innovative payment solutions for customers and merchants. We believe the company has the financial muscle to support these innovations. Market sentiment, analyst estimates, and its attractive valuations all support our bullish stance on the stock. With an approximate upside potential of 50%, we recommend that our investors buy the stock.
Secular Shift in the Global Payments Industry
The industry is experiencing a tremendous secular shift from paper-based payments to plastic and mobile payments. Credit card spending has accelerated, as represented by credit card spending volumes for July, which surged by 7.4% while consumer spending growth increased by 5.7% when compared to the previous year. June's credit card spending growth of 10.7% was the highest figure in over a year.
Recent Developments
Visa, the world's largest debit and credit card network company, is considered to be a leading global payments technology player. Earlier, we concluded that the company's future was dependent on its technological integration and penetration into new markets. The company remains focused on the continuous introduction of innovative payment solutions for both consumers and merchants. In this regard, the company has recently made an announcement that it will make cards embedded with a chip, which will dramatically enhance security over the traditional magnetic strip technology. This technology will not only provide worldwide card interoperability, but also help in establishing the infrastructure required to handle mobile payments using Near Field Communication technology (NYSEMKT:NFC). The company has an enormous amount of cash (levered free cash flows of $5.3 billion, ttm) and no debt obligations to support its innovative payments systems.
Visa has also been working with a number of global retailers and banks. One such partnership that the company tested in the past was with Gap (NYSE:GPS). Through this partnership, Gap customers would be able to get SMS alerts about discounts in nearby stores. The company needs to actively pursue such deals and partnerships in order to increase its share.
Among other initiatives, Visa intends to target the 2 billion people living outside the U.S. who have mobile phones, but don't have access to a credit card. For these people, the company intends to introduce basic financial services on their smartphones.
Market Sentiment
The graph below shows the increased short interest for Visa. Currently, 9.76 million shares of Visa are short, which is only 1.5% of the free float. The short ratio for the stock is 3.9 days.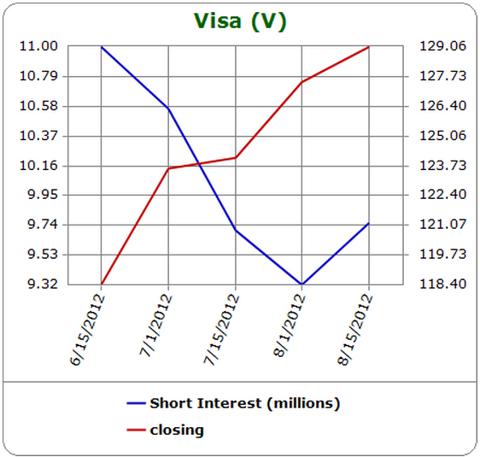 The following graph shows a decline in the put-call ratio (PC ratio), indicating bullish investor sentiment on the stock. On the other hand, the PC ratio for Discover Financial Services (NYSE:DFS) is on the rise. Discover Financial Services is another credit card company primarily operating in the U.S.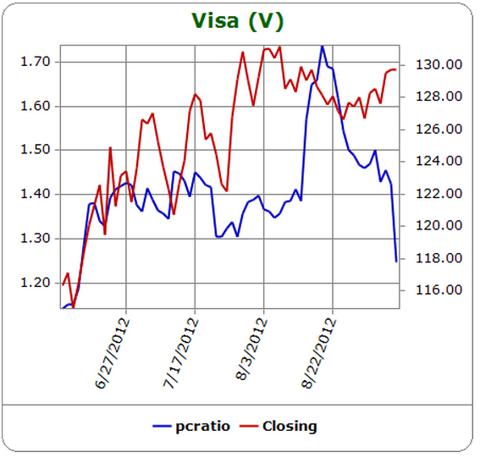 Analyst Estimates
Several analysts are supporting our bullish stance on the stock. Analysts at Wells Fargo (NYSE:WFC) reiterated their outperform rating for the stock. Likewise, Goldman Sachs (NYSE:GS) analysts reiterated their buy ratings with a target price of $154 per share. Separately, with a price target of $145 per share, Barclays Capital analysts reiterated their overweight rating for the company.
Valuations
The stocks of Visa and MasterCard (NYSE:MA) have seemingly benefited from the secular shift in global payments systems, as they have witnessed significant price appreciations since the beginning of the year with YTD performances at 28% and 17%, respectively. Currently, the stocks of both Visa and MasterCard are trading at their 52-week highs of $129.71 and $436.2. With a forward P/E multiple of 20 times and an earnings estimate of $8.2/share for 2014, the price comes out to be $164. With an average of last five-year P/E multiple of 27 times, the price comes out to be $221/share for Visa. Our mean price target for Visa is $192/share. This means an upside potential of approximately 50%. Analysts have a mean price target of $134.43 for the stock.

Disclosure: I have no positions in any stocks mentioned, and no plans to initiate any positions within the next 72 hours.
Business relationship disclosure: The article has been written by Qineqt's Financials Analyst. Qineqt is not receiving compensation for it (other than from Seeking Alpha). Qineqt has no business relationship with any company whose stock is mentioned in this article.