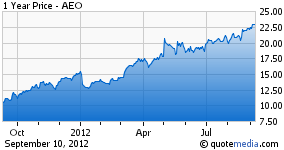 On Monday, September 10, analysts at Stern Agee upgraded shares of American Eagle Outfitters (NYSE:AEO). Stern Agee raised its rating on the stock from a Neutral to a Buy and set a $27.00/share price target. An analyst upgrade can mean great things for a stock, and in the wake of AEO's upgrade, which took place today, I wanted to highlight some of the positive catalysts behind my decision to establish a position in American Eagle Outfitters.
Overview
American Eagle Outfitters, which is based in Pittsburgh, Pennsylvania, together with its subsidiaries, operates as an apparel and accessories retailer in the United States and Canada. It operates a network of retail stores that offer denims, sweaters, graphic T-shirts, fleece, outerwear, and accessories for 15- to 25-year old men and women under the American Eagle Outfitters brand name; a collection of dorm wear, intimates, and personal care products for girls under the Aerie brand name; and clothing and accessories for kids aged between 2 to 14 under the 77kids brand name.
Margin Comparisons
In my opinion, the larger the profit or operating margin the more attractive the company and when those numbers outpace the competition, the company is certainly more attractive to potential investors. In the last 12 months, AEO has demonstrated a profit margin of 4.87% and an operating margin 9.12%, which clearly outpaced direct competitor Abercrombie & Fitch (NYSE:ANF) by a fairly wide margin. It should be noted that ANF posted a profit margin of 2.08% and an operating margin of 5.81% over the last 12 months. If we examine the numbers a bit closer, we see that AEO outpaces ANF in terms of profit margin nearly 2.35 to 1, and in terms of operating margin 1.56 to 1.
Comparable Returns on Assets & Equities
Over the last four quarters, AEO has demonstrated very respectable returns on both assets and equities and if such returns can continue, this catalyst will certainly contribute to the growth of the company's stock. In the last 12 months, AEO has demonstrated a return on assets of 9.89% and a return on equity of 12.77%, which when compared to other competitors clearly outpaces ANF, which demonstrated a return on assets of 5.36%% and a return on equity of 4.97%. If AEO can continue to demonstrate strong returns on both assets and equities, I see no reason why catalyst can't significantly attract potential shareholders over the next 12-18 months.
Final Analysis
AEO, in my opinion, is one of the better companies within the retail, and more specifically, the teen to young adult retail sector. If the company can continue to outpace the competition, and specifically direct competitor Abercrombie & Fitch, when it comes to both margins and returns, we could easily see AEO surpass the $29.00/share level. One of the key catalysts for AEO moving forward will be the performance (and notably the increase) of same store sales both domestically and internationally.
Disclosure: I am long AEO. I wrote this article myself, and it expresses my own opinions. I am not receiving compensation for it (other than from Seeking Alpha). I have no business relationship with any company whose stock is mentioned in this article.