With all the news coming out about Facebook (NASDAQ:FB) insider selling following their lock up expiration, which we wrote about here with a hypothesis on "How to make money shorting over-hyped tech IPOs", we thought we'd look at it in a little more detail.
Ignore the hype
To begin with, insider selling is not as big an indicator as insider purchases are. Additionally, the insiders that are selling have a very low basis and a need to take money off the table, for no other reason than that they have been invested in Facebook since 2005 and earlier. Lets take a look at the data.
April Showers bring May Flowers
With the flurry of attention garnered by the Facebook IPO earlier in the year, it wasn't surprising that in May, when certain investors were allowed to sell their shares along with the company shares (See Table 1), they made out like bandits. With FB at all time lows in the last couple of days, these guys certainly look smart right now.
Table 1: May 2012 Insider Open Market Sales of FB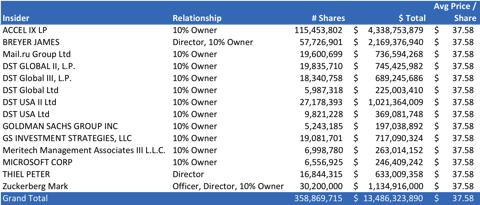 In 2005, Accel invested $12.7 million in Facebook, with partner James Breyer also investing $1 million of his own money. In 2007 Microsoft put in $240 million at a $15 billion valuation.
In 2009 the Mail.ru and DST group invested $200 million for a $10 billion valuation. And in 2011, they co-invested with Goldman Sachs for a total of $500 million at a $50 billion valuation. That $700 million investment resulted in a payday of over $4.7 billion for Mail.ru, DST and Goldman Sachs in May 2012. Goldman Sachs still owns 42 mm Class A shares. DST Global II and III funds collectively and directly or indirectly own 66 million Class A shares.
Along with Meritech Management Associates, Peter Thiel, and Facebook Founder and CEO Mark Zuckerberg, these investors took home a tidy $13.5 billion in May. Most of these investors and insiders still own a substantial number of shares.
With Facebook trading today at $18.70, you might be better off trying to give your money to Yuri Milner, James Breyer and the guys over at Meritech Management Associates and have them invest it for you. They can obviously get the timing right and into deals at an early stage and out at a nice return multiple.
Recent Trading Activity
More recently, after the first Facebook lockup period was lifted, Peter Thiel sold $396 million worth of shares at an average price of $19.73 per share (see Table 2) and Facebook co-founder Dustin Moskovitz, who is currently leading startup Asana, has been selling out his position in chunks of 150,000 shares at a time for a total of $35 million so far.
Table 2: August-September 2012 Insider Open Market Sales of $FB

Table 3: Dustin Moskovitz's Open Market Sales of $FB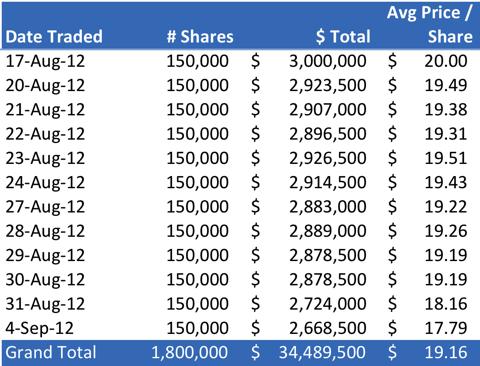 This is fairly interesting information, but directionally does not give retail investors in isolation any real direction. Thiel and Moskovitz have been long this investment for many years now and need to get some money off the table, presumably, which is a reasonable action for them to take and not indicative of a belief that the company is overpriced. Or maybe they believe it is overpriced and are taking their money off the table. But keep in mind that given their basis in the investment, they will make money even if the stock continues to fall.
Lone Insider Buying Not Enough to Go On
Also, as we have noted before paraphrasing Peter Lynch, while investors sell for many reasons, purchases are more interesting. Since its IPO the only open market purchase has been by Reed Hastings, a director of Facebook since July 2011 and founder and CEO of Netflix (NASDAQ:NFLX) and director of Microsoft (NASDAQ:MSFT). Hastings purchased 47,846 shares at $21.03 on August 8, 2012, an investment of about $1 million. Hastings is one of the newer members of the Board at Facebook, joining the board in July 2011 a few months before Erskine B. Bowles joined the board in September. Incidentally, Bowles is President Emeritus of the University of North Carolina, and Senior Advisor of BDT Capital Partners, a Chicago based investment firm run by former Goldman Sachs investment banker Byron Trott.
While it is reassuring to have a newer board member purchase shares in the open market, $1 million is not a significant purchase whether observed relative to the market cap of Facebook, or as an investment from Hastings.
Conclusion
For a retail investor, these insider sales combined with the one insider purchase do not give us enough information to act decisively. The insider actions that you need to watch* more closely are from management and more recent investors associated with the company, especially as the second lock out expiration comes up in late October. Additionally pay more attention to the open market purchases, versus sells by long-time investors in the company, especially those by funds that need to return monies to their investors.
Additionally, we would caution against reading too much into CEO Mark Zuckerberg's actions. He has declared that he will not sell stock for another year or so. Zuckerberg has over $1 billion cash in the bank from his May sales and is working at a company he loves and passionately believes in. If he sells it is incidental; if he buys it is because he is drinking the Kool-Aid.
Sometimes the best thing to do is nothing. We need more information.
Variant View
Keep in mind Facebook still continues to be ranked the #2 website (source: alexa.com) in the world, right behind Google (NASDAQ:GOOG). That means that most of the time when anyone in the world opens a web browser (or now, phone) they visit Facebook. That is an advantage, along with the big war-chest they have already garnered from their IPO. Keep in mind that with all the mis-management in the world Yahoo (NASDAQ:YHOO) continues to be alive and well and is the #4 website in the world. So, in a habit-driven world (any investors in Altria (NYSE:MO) or Lorillard (NYSE:LO) here?) Facebook has a clear advantage.
If you bought today, you would own a piece of that franchise. Something to think about.
Last Word
Our best idea from looking at this information is still to give our money to Milner or Breyer. What about it, gentlemen? A fund for retail investors?
*Note: If you want to keep track of insider transactions for Facebook, we'll keep a file available on our blog with insider transactions updated at the end of each day (if there is a relevant transaction) that you can download in excel.
Disclosure: I am long FB, LO, MO. I wrote this article myself, and it expresses my own opinions. I am not receiving compensation for it (other than from Seeking Alpha). I have no business relationship with any company whose stock is mentioned in this article.
Additional disclosure: SQBlueSky is a financial information and solutions provider. SQBlueSky is not a registered investment advisor and does not provide specific investment advice. The information contained herein is for informational and recreational purposes only, and is meant to serve as an example of the analysis that can be done with SQBlueSky data and tools. Nothing in this article should be taken as a solicitation to purchase or sell securities. Before buying or selling any stock you should do your own research and reach your own conclusion. It is up to investors to make the correct decision after necessary research. The information and data is provided as is and is believed to be accurate, but no guarantees or representations are made as to the accuracy or completeness of the data. The article has been written entirely by editors at SQBlueSky and the firm or its employees are not receiving compensation for it (other than any that may be received from Seeking Alpha). The company does not have any business relationship with any firm whose stock is mentioned in this article.