The 2012 European situation has caused extreme market volatility and has forced investors to seek safer stocks. With the economic and political climates becoming more tumultuous, I have been concentrating on high-yield opportunities. Blue-chip dividend companies are well known, but there are attractive equities with high yields going ex-dividend every week. This strategy can work in one of two ways: either you buy before the ex-date to receive the dividend or buy after if the stock declines far below the after-tax amount of the dividend. Regardless of your short-term strategy, these equities can be attractive longer-term investments depending on your individual circumstances.
Buying the stock to receive the dividend is intuitive, but many have contacted me requesting further details on the second strategy. Investopedia has a great example of how this works. To explain this, I will use AT&T (T) as an example. AT&T declared a $0.44 dividend to shareholders of record on July 10, 2012. On the ex-dividend date, the stock price should decline by the after-tax dividend amount, with an assumed tax rate of 15% because many dividends qualify for a preferential tax rate. It is true that you can personally avoid immediate taxation by owning the security in an account with beneficial tax treatment, but this serves as a benchmark.
As a result, an investor would expect the stock price to decline by $0.37 = [$0.44 * (1-.15)]. If AT&T declined by more than $0.37 in the absence of negative news, you might have an attractive opportunity. For the sake of added conservatism, you may consider ignoring the tax aspects and only trade if the stock price declines by the full dividend amount. Executing this strategy can generate returns over short periods of time but should only be performed on companies that you would be comfortable owning.
To focus on these opportunities, I ran a screen with a focus on relative safety for the investments, as the objective is to concentrate on liquid companies that are affordably priced. I began with a specification of a dividend yield greater than four percent and an ex-dividend date within the next week. To provide some layer of safety, I narrowed down the environment by looking at companies with market capitalizations greater than $1B, P/Es between zero and 20, and institutional holding percentage in excess of fifteen percent (except ADRs).
While not a precise requirement, I prefer companies that have underperformed the S&P 500 year-to-date, as it indicates reduced downside relative to peers. With the impending European crisis, I now avoid companies with significant European exposure. This is summarized below:
Dividend Yield ≥ 4.0%
Ex-Dividend Date = Next Week
Market Capitalization ≥ $1B
P/E Ratio: 0-20
Institutional Ownership ≥ 15%
Ideally Modest S&P 500 Underperformance
Minimal European Exposure
After applying this screen, I arrived at the equities discussed below. Although I envision these as short-term trading ideas, you still need to exercise caution. The information presented below should simply be a starting point for further research in consultation with your professional financial advisor before you make any investment decision. My goal is to present new companies to you and provide a brief overview of their recent developments, and this should not be considered a substitute for your own due diligence.
Ares Capital Corporation (ARCC): 8.73% Yield - Ex-Dividend 9/12
Ares Capital Corporation is a specialty finance company that provides services to diverse middle-market companies with unique financing needs. The underserved nature of the market makes this a highly lucrative segment but it is not without risk in this economic climate. This risk is mitigated by having a P/E of under eleven which provides a margin of safety. Please note that ARCC is one of the largest Business Development Companies ("BDC") under the Investment Company Act of 1940. A nice overview of BDC is provided by IndieResearch but the primary point is that BDCs must distribute 90% of their earnings as dividends. Ares is similar to a private equity that I have owned throughout 2012, Prospect Capital Corporation (PSEC).
The dividend history is a little volatile but the dividend appears to be safe for at least the near-term. There are signs that ARCC is planning on growing as it has been raising equal capital and expanding its revolving lending facility so the situation requires close monitoring. Lending additional support to this hypothesis is Ares' 19M share offering which should raise over $300M in additional equity. Ares declined on this dilutive news but has still appreciated 11% the quarter, which also pushed the yield down approximately eighty basis points. Note that this quarter includes a $.05 per share additional dividend above the quarterly $.38 per share dividend.
Altria Group (MO): 5.14% Yield - Ex-Dividend 9/12
Altria is one of the largest tobacco companies with major brands such as Marlboro and Virginia Slims. Tobacco companies make for great investments in all types of economies because tobacco users are always willing to buy the inelastic product. I have invested in both Altria and Philip Morris (PM) with tremendous capital gains and dividends over the years. US cigarette volume is declining, but tobacco is still a strong worldwide seller. Furthermore, declines in cigarettes are being partially offset by demand for smokeless tobacco and other products. Tobacco companies are both mature and safe, which presents the opportunity to return money to shareholders via dividends and share repurchases. The recent legal appeals ruling against graphic cigarette warning labels should act as a rare short-term catalyst for this subdued industry. For these reasons, I hold MO in my "Great Recession II" portfolio. Altria recently boosted the dividend by an above-average 7.3% and continues the company's tradition of generally increasing the dividend once per year.
United Bankshares (UBSI): 5.02% Yield - Ex-Dividend 9/12
United Bankshares is a commercial and retail bank with over one hundred locations in the Northeastern United States. UBSI looks like a standard regional bank, but the high P/E is alarming for the beaten down industry. Furthermore, the dividend has appreciated minimally since 2008. The big red flag for UBSI is that the company has trouble meeting earnings targets: the company missed in January, April, and July. In general I lack confidence in the bank and I would ideally like to see two consecutive quarters of earnings beats before considering a long position. I avoid UBSI because the yield is not spectacular for the risk assumed. Five percent yields can be eye-catching but there are better options this week. If you do consider United Bankshares there is some safety as the stock has trailed the S&P 500 by 24% year-to-date.
H&R Block (HRB): 4.90% Yield - Ex-Dividend 9/12
H&R Block is one of the world's largest tax providers with over 100,000 tax professionals that prepare over ten percent of US tax returns. H&R Block faces numerous business risks including lingering mortgage debt, changes to refund anticipation loans, and tax legislation. H&R has been under additional pressure since late 2011 when a Federal court blocked the company s proposed acquisition of TaxAct on antitrust grounds. The company's stock took a further beating in late April when it proposed a "strategic realignment" and tumbled more than ten percent. The stock has regained some of the losses but is currently flat in 2012.
H&R has shown increased focus on dividend growth since last year and the dividend was finally increased from $.15 to $.20 but I would not expect a similar increase in the future. Overall this is a very difficult company to assess as it is neither a pure value nor pure growth play and significant research would be necessary before making a definitive call. Making matters more challenging is that the company's operations are very cyclical and H&R Block reports losses for the majority of the year.
Shaw Communications (SJR): 4.75% Yield - Ex-Dividend 9/13
Shaw Communications offers diversified entertainment services, but focuses primarily on Canadian cable television. Cable companies have traditionally been able to distribute sufficient cash flows to investors but the tides are shifting with the rapidly rising cost of content. Sports programming is a double-edged sword because it is one of the biggest advantages over Internet streaming; however, it is the most expensive for cable companies to offer. This is still a 'cash cow' industry but it is changing too quickly for me to fully support investing in it.
Factor in the popularity of Internet connected televisions and other devices and I am not extremely bullish on the traditional entertainment content business model. I do not believe that investors are being adequately compensated for the level of risk assumed and the other companies mentioned offer comparable (or higher) yields for less risk. Five percent seems to be that magic yield number for this type of utility companies that draws support and that could occur again with Shaw. The stock has underperformed the S&P 500 by over eight percent this year despite surpassing earnings estimates in the past quarter as revenue continues to be a drag. Note that Shaw pays dividends on a monthly basis.
NYSE Euronext (NYX): 4.55% Yield - Ex-Dividend 9/12
NYSE Euronext operates securities exchanges including the New York Stock Exchange (NYSE), NYSE Arca, NYSE Amex, and Euronext N.V. Stock exchanges have been in the news a lot recently as Nasdaq (NDAQ) mishandled the high profile Facebook (FB) IPO. Shares are off nearly ten percent in 2012 which has driven the yield up to nearly five percent but I would avoid NYSE for dividend capturing due to the numerous unpredictable external factors. Things have calmed considerably over the past weeks and more scorn is placed on Facebook rather than NYSE but I am still cautious. It remains to be seen if NYSE will pickup any additional business from Nasdaq's debacle but I would not be optimistic. The latest defection for NYSE was that Kraft (KFT) will be moving its company to the Nasdaq.
Garmin (GRMN): 4.34% Yield - Ex-Dividend 9/12
Garmin is a company that specializes in global positioning systems ("GPS") technology, specifically stand-alone GPS receivers for automobiles. I have been bearish on Garmin for years as I cannot justify paying above a ten P/E for a company in a declining industry. Sales in the recent quarter surprisingly improved quarter-over-quarter but I believe the rise of smartphones is going to continually pressure the GPS industry. The greater quarter was fueled by eight percent higher margins and strong outdoor sales. The outdoor segment will continue to show strength as Garmin still has competitive advantages in that space but it is largely a niche market. The dividend is respectable and was just recently increased but I cannot recommend Garmin for either an investment or dividend capture.
DTE Energy Company (DTE): 4.17% Yield - Ex-Dividend 9/13
NorthWestern Company (NWE): 4.12% Yield - Ex-Dividend 9/12
I recently wrote a detailed explanation of how I analyze utility companies and in brief I focus on the number of customers and geographic location. Larger companies enjoy scale benefits and are able to profit more from smaller rate increases. While geographical differences exist for regional utilities, the underlying business is essentially the same: a stable, cash-cow business that returns most profits to investors via dividends and share repurchases.
NorthWestern services .7 million customers in the Northwest while DTE provides energy to 3.3 million customers in Michigan. DTE operates in a more difficult geographic environment but has more customers. Both companies are very average utility companies with yields in the low fours and P/Es in the teens.
The information presented has been summarized below. Yellow and red represent "avoid" and "consider" classifications, respectively. All utility companies are represented with blue and have been analyzed in a separate article.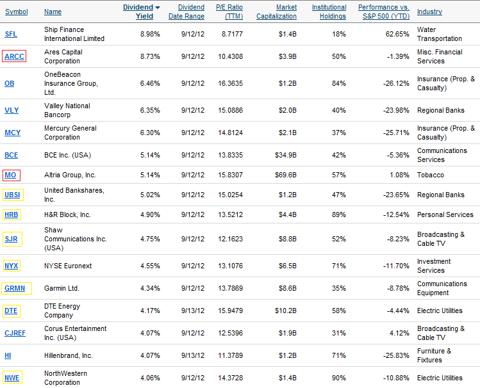 Disclosure: I am long MO, PM, T. I wrote this article myself, and it expresses my own opinions. I am not receiving compensation for it (other than from Seeking Alpha). I have no business relationship with any company whose stock is mentioned in this article.