The rally feels very long in the tooth here. The situation in Europe still has not been "solved," nor is it likely to be for quite some time given the continent's structural issues. Growth in the BRICs has decelerating sharply over the last six months, and domestically we seem to be stuck in a 2% or less growth mode, absurdly low for coming out of such a deep recession. As much as I would like to increase my short positions, so many money managers have been creamed by their benchmarks this year that any dip is being bought as they desperately try to make up lost ground. Staying in cash pays absolutely nothing, thanks to Bernanke & Company. All of this provides a dilemma to the prudent investor.
One way I am trying to stay in the game given my outlook is by selling slightly out of the money puts on stocks with low betas, with reasonable valuations, and ones I would not mind owning at a slightly lower entry point should my option get exercised. In the meantime, I can make a decent premium. One ideal stock for this strategy right now is Microsoft (NASDAQ:MSFT).
Option Strategy

Sell the April 13 "30" puts on Microsoft for $2.15 a contract. If Microsoft is at $30 or better at expiration, you pick up $2.15 a share for an effective annual yield of a little over 12% (which sure beats a money market fund). If the stock drops below $30, you get the stock put to you for an average cost of $27.85 a share, a nice entry point given its current price of $30.75.
Here are recent positives and possible catalysts for Microsoft:
The Windows 8 launch is some six weeks away and should generate some buzz as the launch date gets closer.
Microsoft is benefiting from the escalating war between Amazon (NASDAQ:AMZN) and Google (NASDAQ:GOOG) that was profiled in a front-page business piece in the the New York Times today. Bing will be the default search engine on the new Kindle.
The company also is benefiting from Google's entry into smartphone manufacturing with its purchase of Motorola Mobility (NYSE:MMI). Nokia (NYSE:NOK) has already committed to transitioning all of its smartphones to the Windows platform, and now some Asian manufacturers are rolling out Windows-enabled smartphones over the next three to nine months as it is now wary that Google is competing in its space.
Rick Sherlund (the "Ax" on Microsoft) came out with a positive piece on the company today on Bloomberg.
According to the business description from Yahoo Finance, "Microsoft Corporation develops, licenses, and supports a range of software products and services; and designs and sells hardware worldwide."
Here are four reasons why Microsoft is still undervalued at under $31 share:
The company sports one of four AAA-rated balance sheets in S&P 500 and has over $50 billion in net cash on the balance sheet.
Microsoft yields 2.6%, a low payout ratio, and has raised its dividend payout in the double digits over the last five years.
The stock is cheap at just over 9 times forward earnings (7.5 subtracting net cash) and 8 times operating cash flow.
The stock looks to have good technical support at the $29 level and is solidly above its 200-day moving average (see chart below).
Click to enlarge image.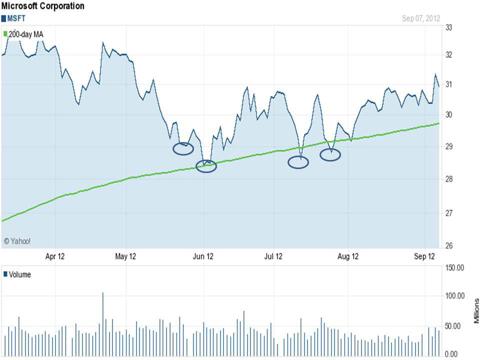 Disclosure: I am long MSFT, NOK. I am also short AMZN through options. I wrote this article myself, and it expresses my own opinions. I am not receiving compensation for it (other than from Seeking Alpha). I have no business relationship with any company whose stock is mentioned in this article.