The company of focus in this article is Clearone Communications, Inc (NASDAQ:CLRO), which I discovered through an equity screen using the following constraints: market value between $3 and $10 per share, trading below book value, and 30 day RSI indication between 20 and 30 RSI.
Overview
"CLRO provides an integrated suite of voice, video, and Web conferencing products and services for distributed and global business environments. The Company manufactures products for conferencing, sound reinforcement, and assisted listening applications. ClearOne also offers conference calling, Web conferencing, and audio and video streaming." Business Description from Bloomberg Market Data
For further information regarding CLRO's business model, products, and services please visit itscompany website: Clearone Communication Inc. Company Website. I highly recommend this source. On September 4th CLRO announced the final updates and changes it made in efforts to improve its current site.
In addition, CLRO is scheduled to premiere at many technology trade shows in the upcoming months, where it will have the opportunity to display and market their products, here are just two of them in popular locations:
September 25 - 26, 2012 New York, NY
October 3, 4, 2012 Washington DC
Company & Valuation Highlights
Right above a 52 week low of $3.70, CLRO is currently trading at right around $4.00 per share
There are approximately 9.13 Million shares outstanding, which puts the market cap at right around 36.5 Million dollars
The P/E and Forward P/E ratios are 6.4x and 8.3x
The beta value specific to this security is extremely low, only 0.44. Its

reasonably low amount of debt outstanding explains this low level of risk
CLRO has solid levels of profitability and are continuing to improve in this area with increasing levels of revenue over the past few quarters
Another positive aspect, is that this company is extremely liquid. It has a current ratio of 2.4, which definitely speaks for its ability to cover any short-term cash needs
Improvements in profitability have prompted analysts to take a further look at its valuation. Several analysts who have initiated coverage on CLRO have placed one

-

year price targets ranging from $7 to $10 per share
The ownership break down of this company is fairly reasonable and customary for a small cap company in this industry. There are no notably large holdings by any one institution that deserve attention. Just note that insiders have been accumulating more of this stock. Within the last month, insiders purchased additional amounts bringing their total ownership to roughly 33.5%. The holdings of institutional investors is 20% and has remained unchanged in the last month. This leaves slightly less than 50% of the remaining shares outstanding divided among smaller scale investors.
Figure 1: Cash Flow Multiples

The analysis of cash flow multiples is a widely-used valuation measure that tends to be more accurate in developing intuition behind the companies well-being and for developing forecasts. Also cash flows are much harder to manipulate than, for instance, revenues are. These calculations provide evidence in support of CLRO being undervalued with its low Cash Flow Multiple.
Figure 2: Price to Book

This is a graphical representation of price to book value of CLRO as well as some of its peers. CLRO price to book value is 0.8812 and is represented by the blue line.
Figure 3: Earnings Forecast

Earnings Regression Forecast from TDAmeritrade
This figure represents an earnings per share regression forecast for CLRO, dated back to 2011 forecast through YE 2013. The earnings per share approximations above are calculated by approximating the regression equation for the most recent year-ended data. Next, the equation is then used to approximate the earnings per share for YE 2012 as well as the quarters for 2013. Notice higher levels of EPS in 2011 compared to earlier quarters in 2012. This supports the idea that CLRO may have just reached its low in the last month and is beginning its upward trend.
One Acquisition After the Next
Another key factor to consider is CLRO's history of acquisitions. The first acquisition was made towards the end of 2009 and the most recent one took place earlier this year in February. The three companies CLRO acquired were:
NetStreams Inc. in November 2009
MagicBox Inc. in September 2011
VCON Video Conferencing in February 2012
Figure 4: CLRO's Price Graph with Acquisitions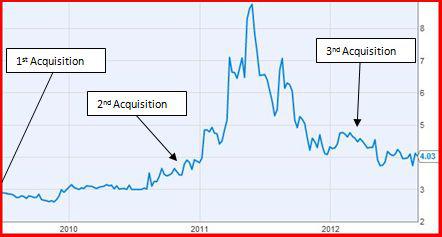 Another interesting approach is analyzing patterns and relationships between the dollar amount of cash recorded on CLRO's balance sheet in comparison to when CLRO acquired a new company. Once CLRO reached a cash surplus of greater than nine million dollars it displayed a pattern of acquiring a new company each year, with the last two acquisitions taking place less than five months apart. This is something to consider watching out for as it maintains a high cash balance entering FY 2013. Here are the following amounts of cash on hand at the respective quarter or YE prior to when the acquisition was made:
Acquisition 1 = 9.8 Million dollars
Acquisition 2 = 11.43 Million dollars
Acquisition 3 = 16.68 Million dollars
After CLRO's YE 2012 financials are released it will be much easier to determine where the company is from a financial standpoint and specifically to estimate whether a potential acquisition will be made in FY 2013. With its competitive product line and peer companies on the rise, all that is needed is a high cash surplus at YE 2012.
Conclusion
Overall CLRO is a speculative buy that may provide a potential high upside for investors that are intrigued with taking on additional risk. From an investment standpoint, valuation and Relative Strength Indications are supporting this upside. In addition, its strong business model and products/services are going to be major drivers in increasing its earnings over the next FY. With the strong track record CLRO has in consistently acquiring new companies, it is highly possible we may see CLRO acquire multiple companies in FY 2013. This would augment valuation as well as add an appeal to it for investors and help maintain competitiveness in the market place in which CLRO operates.
Sources: All information regarding the business overview, highlights, and valuation criteria were retrieved from Google Finance, Yahoo Finance, YCharts, and TD Ameritrade. Clearone.com was referenced to provide readers with an additional source for further information.
Disclosure: I am long CLRO. I wrote this article myself, and it expresses my own opinions. I am not receiving compensation for it (other than from Seeking Alpha). I have no business relationship with any company whose stock is mentioned in this article.