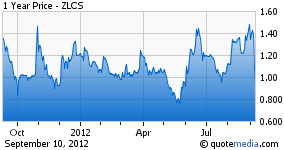 On Friday I wrote an article discussing Zalicus ("ZLCS") and the reasons I believed it was a solid investment. The article focused on Zalicus' multiple ion channel compounds undergoing clinical and preclinical safety and efficacy evaluation.
Specifically, I was encouraged by the news of the initiation of a Phase II clinical trial for Z160, a novel, oral, N-type calcium channel blocker in clinical development for chronic inflammatory and neuropathic pain. Not mentioned in the article was Z944, a novel, oral, T-type calcium channel blocker, in clinical development for the treatment of acute and inflammatory pain. Also highlighted was the increase in revenue the company can expect from increased sales of Exalgo based on a newly approved 32 mg. dose that is expected to be greeted by prescribing physicians with enthusiasm as it was the median effective dose in Exalgo's pivotal clinical trials.
So what has happened since Friday? Earlier today the company announced Top Line Phase IIb Trial Results with Synavive in Rheumatoid Arthritis. The long and short of it is that the company is discontinuing development of Synavive due to its failure to reach a key secondary endpoint.
This is causing the stock to get crushed. Currently the stock is down 38%. So, the question is what to do now? I was never as high on Synavive as others. If you look at my previous article, it was an afterthought mentioned at the end of the article. I believed it would provide a near term catalyst, which I had expected and certainly would have been preferable to the current beating the stock is taking, but it was not the future of the company.
The future was and still is Zalicus' ion channel candidates. Nothing has changed on that front. What has changed is the short term prospect and the current share price. If you believe in the ion channel candidates, Zalicus still has a place in your portfolio. In fact, given the beating the stock is taking today, if you have not already sold, I would be looking for opportunities to average down and pick up some cheap shares. Lucky pre-market speculators were able to pick up shares in the .70 cent range. The stock price may eventually fall to those levels during regular trading hours.
A negative clinical trial is always a risk associated with trading biotech stocks. Clinical trials have binary outcomes. They either succeed or fail and the stock price of a biotech stock at the time the outcome is disclosed is often significantly impacted.
What I have always liked about Zalicus is that it has multiple candidates with high upside in the pipeline, a revenue stream, cash on hand and access to cash when needed. That has not changed. I added to my position during the pre-market and will continue to monitor the stock going forward. With results from the Z160 not due until the end of next year, there is plenty of time to trade in and out of Zalicus while still maintaining a core position.
Disclosure: I am long ZLCS. I wrote this article myself, and it expresses my own opinions. I am not receiving compensation for it (other than from Seeking Alpha). I have no business relationship with any company whose stock is mentioned in this article.