Last week, U.S. equities rocketed more than 2 percentage points on an enthusiastic embrace of potential progress in alleviating Europe's debt woes. Nevertheless, money managers and "mom-n-poppers" yanked $4.6 billion from U.S. Stock ETFs.
Fund flows may provide insight into what institutional investors are thinking. In this instance, some may be thinking about locking in a portion of their gains for 2012.
On the other hand, the fund flow data can be deceiving. For one thing, how significant is $4.6 billion when it may only represent 1% or 2% of the assets under management for domestic stock ETFs? Additionally, can anyone know with certainty whether the smart money or "stupid money" is exiting the door?
At the same time, there are equally confounding data points. For example, the net exodus form U.S. stock ETFs primarily came from large caps. However, the iShares S&P 400 Mid Cap Fund (NYSEARCA:IJH) and iShares Russell 2000 (NYSEARCA:IWM) witnessed impressive dollar inflows. The former raked in nearly $1 billion for 8.7% off its total asset base, while the latter collected a bit more than $500 million for 3.4% of its assets.
It is certainly conceivable that the market believes that worldwide central bank easing - European Central Bank (ECB), Bank of England (BOE), People's Bank of China (PBOC), U.S. Federal Reserve - will be stepped up to revive the global economy. Indeed, small caps and mid-caps tend to outperform their large-cap counterparts when there is an expectation of increasing demand and smaller company growth, not when participating investors fear that stimulus measures will fail.
Since ECB president Draghi first uttered "whatever it takes" to protect the euro back on July 26, smaller stocks have rocketed ahead. In fact, their plight seems to have gotten lost in the Dow and Nasdaq hoopla.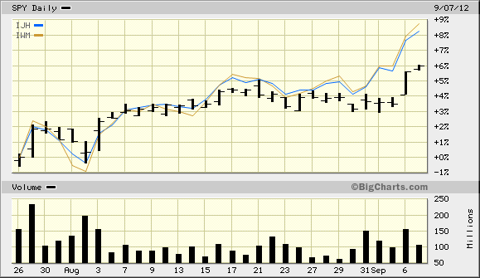 In spite of the impressive run-up, the rally appears based more on fear of missing out on the upswing than on rationality. At the same time last week that Draghi unveiled a desire for buying unlimited sovereign debt with electronically printed euros, he also presented economic projections of deepening recession in the eurozone. It's one thing to see the 44th economy in the world (Greece) bob like a wine cork in the Mediterranean Sea, yet quite another to witness the economies of Spain and Italy crack. (Note: An ETF enthusiast must know how to implement stop-limit orders and hedges to protect his/her portfolio from a recession-based bear.)
Like Greece, Spain and Italy will have to ask for ECB bond support as well as negotiate some measure of austerity. From my vantage point, these are risks that do not bode well for smaller company stock ETFs.
Rather than chase, it seems exceptionally more prudent to stick with the established companies with the strongest balance sheets and long histories of paying out dividends. I am sticking with many of the very same assets that have defined my client portfolios in 2012. They include dividend ETFs like Vanguard High Yield Dividend (NYSEARCA:VYM) and Vanguard Dividend Growth (NYSEARCA:VIG). They also include income producing exchange-traded funds like Guggenheim Multi-Asset Income CVY), iShares Preferred (NYSEARCA:PFF), iShares High Yield Corporate Bond (NYSEARCA:HYG) and the more recent Market Vectors Preferred Ex Financials (NYSEARCA:PFXF).
Click here for Gary's latest podcast.
Disclosure: Gary Gordon, MS, CFP is the president of Pacific Park Financial, Inc., a Registered Investment Adviser with the SEC. Gary Gordon, Pacific Park Financial, Inc, and/or its clients may hold positions in the ETFs, mutual funds, and/or any investment asset mentioned above. The commentary does not constitute individualized investment advice. The opinions offered herein are not personalized recommendations to buy, sell or hold securities. At times, issuers of exchange-traded products compensate Pacific Park Financial, Inc. or its subsidiaries for advertising at the ETF Expert web site. ETF Expert content is created independently of any advertising relationships.