This article, the first of a two-part series, will provide in-depth analysis on the solar industry. Despite the economic turmoil in Europe and thin margins in crystalline PV modules, the U.S. solar industry has shown a 120% YTD growth in 1H2012. PV modules, which convert sunlight into electricity, will prove to be a cheaper source of energy. In this piece, we are discussing industry dynamics, suppliers, and the competitive positioning of the solar industry; the second part will comprise the winning stocks of the industry.
The average selling price of solar panels has fallen by 15% YTD. The price of PV modules declined from 95 cents to 80 cents per watt from FY2011 till now. The industry is compromising on its profit margins to enhance sales growth in order to reduce its dependence on government subsidies. The decline in solar prices is more pronounced in Europe than in America. According to solar industry consulting firm, Solarbuzz, 80% of the demand for photovoltaic is coming from European markets. The major growth is coming from Germany, Italy and Spain, but this growth is in its maturity stage. Solar companies, to sustain such vibrant sales, are planning to focus on emerging solar markets like India, China and the U.S.
China is the world's largest producer of solar energy, with a power generation capacity of 2.75GW. According to Solarbuzz, China's solar-installed capacity will increase up to 5GW by the end of this year. Chinese companies have become competitive due to their cost efficiencies and low prices. But the U.S. government protects its domestic companies by imposing anti-dumping duties on imports of Chinese solar panels. The anti-dumping impact has hit Chinese companies like Trina Solar (NYSE:TSL), which missed its earnings estimates and further decreased its guidance for the next quarter. The world's largest PV module producer, Yingli Green Energy Holding Company Limited (NYSE:YGE), missed its EPS by $0.22. Moreover, the Canadian company, Canadian Solar Inc. (NASDAQ:CSIQ), has also missed its revenue by $45 million. The recent fluctuations in oil prices hamake solar energy more competitive.
The declining trend in solar stock prices has been witnessed due to companies financing their activities through heavy debts. They then have to pay high interest rates on these debts to aid their large capital expenditure needs. There is significant research and development expenditure needed in this sector to enhance the scope of a company's business.
The U.S. Photovoltaic (PV) Industry showed a growth of 120% in 1H2012, making the country the third largest solar power producer. According to a recent survey by IMS Research, the PV market has doubled in the first half of the year, and reached its new high of 1.7GW; it aims to reach 4.3GW by the end of 2012. The growth in 1H2012 led the global PV market to grow by 3GW in the same time period. The country's installation reached 1.7GW this year as compared to 750MW in the first half of 2011. Despite the poor financial performance of some industry suppliers, the U.S. market has witnessed a significant increase in demand. First Solar (First Solar) beat earnings estimates by $0.75 in the last quarter. Its revenue grew by 80% over the last one year, and the company's focus on new projects will substantially increase its revenues in the coming years. GT Advanced Technologies, Inc. (GTAT) shares price increased by 16% in the last one month, as its earnings result matched the management's expectations.
Gross profits of crystalline PV module manufacturers will decrease up to $0.09 in the 1Q of this year. As Figure 1 depicts below, the gap between price and cost has contracted over the last few years, primarily because of suppliers being unable to reduce their cost in response to module prices. The price of polysilicon, the basic raw material in module manufacturing, declined by about 90% since 2008, as showed in Figure 2. However, this decline was not as drastic as the decline in module prices. Due to the threat of low-cost Chinese solar panels, companies have been forced to reduce their prices to sustain their competitive positioning. So, going forward, the industry will maintain its competitive position, and its gross margins will further decrease to $0.07/W by the end of 2012, as revealed by IMS Research in the PV Modules, Cells, Wafers & Polysilicon - Supply & Demand Quarterly Report of 2012.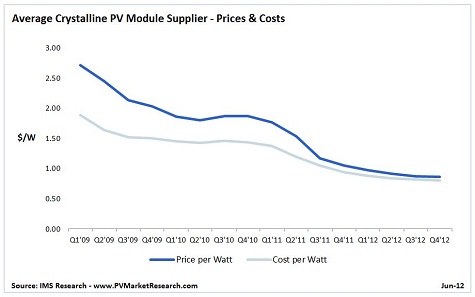 Figure Source: IMS Research- solarnovus.com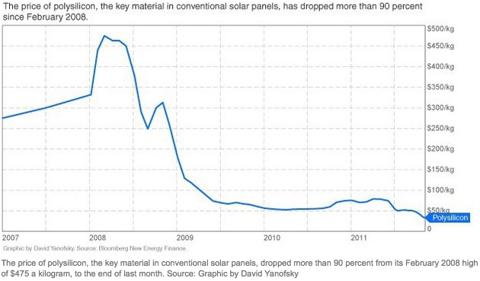 Figure Source: Bloomberg new energy finance
Despite the continuous decline in prices over the last few years, polysilicon showed an increase of 3% in the last month. The escalation in polysilicon prices will further depress the profit margins of solar companies. This increase came from the sudden rise in demand from Germany; suppliers capitalized on the rising demand by increasing price.
Regardless of the European turmoil, we believe that global solar demand will increase in 2H2012. Development projects like Japanese new FiT have already started working, while others like China Golden Sun project, worth 1.73GW, will be completed by the end of this year. The recent SunShot initiative by the U.S. Energy Department focuses on research and development of solar modules, aims to improve efficiency and grid integration, and bring new innovations in solar panels. The SunShot project will cut down solar electricity costs by 6% per kilowatt/hour, and contribute 15%-18% of U.S. electricity generation by 2030. The U.S. had generated around 13% of its electricity from renewable energy sources last year.
In our last article on First Solar, we discussed our bullish stance on FSLR as the company has been able to grow revenues in the first half of 2012. In the next article, we will discuss in detail the other beneficiaries of a solar rebound: MEMC Electronic (WFR), SunPower Corporation (NASDAQ:SPWR) and TSL of the Solar Industry.
Disclosure: I have no positions in any stocks mentioned, and no plans to initiate any positions within the next 72 hours.
Business relationship disclosure: The article has been written by Qineqt's Technology Analyst. Qineqt is not receiving compensation for it (other than from Seeking Alpha). Qineqt has no business relationship with any company whose stock is mentioned in this article.