Lately, global stock markets have rallied on hopes that Europe is close to finding some relief to the economic situation there, and that the Federal Reserve will provide more help to the lackluster U.S. economy. The Fed has a two-day meeting this Wednesday and Thursday, and after a disappointing August jobs report last Friday, many believe that QE3 is coming this week. But the real question is, does the U.S. economy need more stimulus right now, or should the Fed possibly wait for when things are truly bad? It could be quite possible that if the Fed uses its bullets now, it may be too early with the upcoming fiscal cliff. Q3 now could easily mean QE4 sometime next year.
So does the Fed really need to act? Well, Friday's jobs report was not good, with only 96,000 non-farm payrolls added in August. But the weekly claims numbers haven't been terrible, lingering under the 375,000 level for a number of weeks. We haven't seen any spikes back above 380,000 lately, and we certainly haven't made any runs at the 400,000 level either. Plus, the ISM services report came in at a 53.7, well above expectations, meaning the service sector (the larger part of the U.S. economy) is doing better than people thought. Yes, the manufacturing sector is contracting slightly, with the ISM manufacturing number coming in at 49.6 this past week, but that is close to the neutral line of 50. For every bad report out there, you can find one that is equally good. Yes, things aren't great right now, but they are not terrible.
There tends to be a huge debate over the fiscal cliff and what will happen at the end of the year when tax cuts are scheduled to expire. If tax rates go back up, it could easily take a chunk out of spending, and some say this could push the U.S. back into recession. Investors do need to watch closely, because if the capital gains rates rises from 15% to 20% on long-term gains, they may want to adjust their portfolios before the year ends (I'll discuss that impact in future articles). If the economy tanks in early 2013, wouldn't it be better to use QE3 then? It's certainly something to think about.
Consumers may already be feeling a pinch, as the national average for regular gas is back above $3.80. We have heard rumors of a Strategic Petroleum Reserve release, and it might be a definite if the gas price average gets closer to $4. Gas prices are about 15 cents higher (on average) than this time last year, and that makes a difference, especially going into the holiday spending season.
On the other hand, if we inject more stimulus into the economy and just try to spend our way out of it, there will be some short-term progress, or so is the hope. The problem is that the Fed can only keep rates low for so long, as they will eventually start rising again. If the deficit continues to expand at rapid rates, increasing rates will cause the cost to service the country's debt to soar, and that will create problems of its own.
It seems like the markets are really expecting QE3 this week, with the S&P 500 (NYSEARCA:SPY) rallying to new 52-week and multi-year highs this past week. In fact, the S&P 500 is now up 100 points since July 25. Equities have rallied strongly, despite the fact that Q2 earnings were not great. Also, the markets recently shrugged off a revenue warning from Intel (NASDAQ:INTC), which implied the entire computer sector could be in for a weak second half of the year. That dents the hope that Microsoft's (NASDAQ:MSFT) Windows 8 launch would help out struggling PC makers. Dell (DELL) and Hewlett-Packard (NYSE:HPQ) recently hit 52-week lows after bad earnings reports.
We also have seen similar moves in Gold, which has rallied quite strongly in recent days on the hopes of QE3. In mid-August, Gold was as low as $1,590, and is now trading in the high $1,730s. I've provided a chart below of the SPDR Gold Trust ETF (NYSEARCA:GLD) to show the recent rally in gold. The following chart is from Yahoo! Finance:
(click image to enlarge)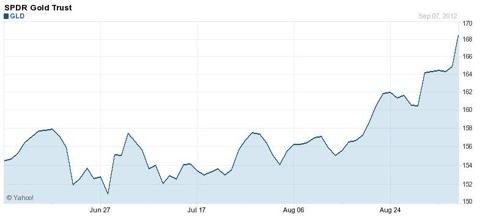 As you can see from the chart, especially in the past few weeks, gold has rallied rather strongly. That has also boosted the gold miners, with the Market Vectors Gold Miners ETF (NYSEARCA:GDX) rallying from $41 on August 1 to Friday's close of $50.46.
If you believe that QE3 is coming, you probably want to be long the gold trade. A very good option for that is to be long the Direxion Daily Gold Miners Bull 3x Shares (NYSEARCA:NUGT), which is a triple levered long exchange traded fund. This ETF aims to track the gold miners, but on a three times scale, in terms of daily movements. So basically, if the gold miners rally 1%, NUGT should rise an estimated 3%. Now, this ETF will not replicate a three times performance over a longer time period, because of compounding and simple math. However, if gold keeps rallying each day, this ETF will provide impressive returns. Since August 1, NUGT shares have risen from below $8 at their low to Friday's close of $15. That's quite a move.
Now, for those thinking that QE3 is not coming this week, the best way to play it would be the short version of the three times gold ETF, which is the Direxion Daily Gold Miners Bear 3x Shares (NYSEARCA:DUST). DUST does the opposite of NUGT, basically, meaning that if miners were to go down 1%, this ETF should rise 3%. Likewise, if gold continues to rise, this ETF will fall. DUST was over $55 in early August, and it now trades for just under $30. Both of these ETFs are extremely risky, and I would only recommend them for experienced investors and traders. Long-term investors should not try to play these. For long-term investors that want to play the gold trade in either direction, stick with the GLD or GDX.
Personally, I am of the opinion that things aren't terrible enough to warrant a formal announcement of QE3 this week. A fair amount of economic data is coming in all right, not terrible. The Fed will meet again in late October, so I'd personally wait another six weeks to see how the data comes in. Should the Fed decide then that QE3 is necessary, it would start to work around the end of the year and early 2013, when the fiscal cliff issue could come into play. A QE3 announcement in late October would be approximately two weeks before the election. I just feel that if we start QE3 too early, since many have argued that the more QE the Fed does, the less effective it becomes, QE4 could be necessary before too long in 2013.
While it appears that markets believe QE3 is coming, we still have some major economic reports this week, like PPI, CPI, and retail sales, that I'm sure the Fed will consider when making its decision. QE3 may be necessary at some point, but if it occurs too soon, I have a feeling that QE4 will be needed down the road.
Disclosure: I am long DUST, but may exit this position at any time. I wrote this article myself, and it expresses my own opinions. I am not receiving compensation for it (other than from Seeking Alpha). I have no business relationship with any company whose stock is mentioned in this article.