With US Coal Stocks having put in what looks to be a fairly stable bottom over the last three months, and with the first macro catalyst for a met coal rally already in, I believe the time has come for value investors to begin to consider accumulating equity positions in the coal space. I have been analyzing the coal industry for some time, and I have come to the conclusion that there are a number of both value plays and value traps. Both may be interesting, because I believe that the value plays represent long-term buying opportunities now, while the value traps represent shorting opportunities after they have risen up along with the value plays.
Why do I think the market will move the traps up along with the plays? As a simple example, look at the +4.19% gain Cloud Peak Energy (NYSE:CLD) made yesterday on news that was entirely focused on seaborne met coal exports, when Cloud's coal is neither seaborne nor metallurgical. Even though CLD is essentially entirely institutionally owned, the name moved up quite a bit in response to the general sector news. This type of mindless market behavior can create a money-making opportunity for people who would like to short some of the value trap coal names.
Of course, most of the coal produced in the United States is thermal, not metallurgical. And as many of you undoubtedly know, the big elephant in the room threatening to crush Old King Coal (at least in the US) is the young upstart, Prince Shale Gas. Much has been said about shale gas on this site and on many others. The conclusion seems to be that the marginal cost of production of shale gas is around $4.00 per mmBTU or so. In the medium term, the supply must balance with demand so that the price of natural gas allows its producers to make a profit. The chart below, which was created by Peabody Energy (NYSE:BTU) using futures data from Bloomberg and the CME group, predicts that the price of natural gas will slowly move up to $4.50/mmBTU by 2017. This is the price around which thermal CAPP coal is thought to become competitive with natural gas as a fuel. This is what the mainstream, base case thinking says - and it is perfectly in line with the idea that pricing of natural gas cannot stay divorced from the cost of production forever.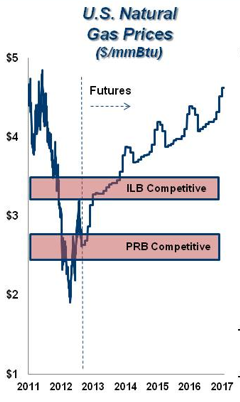 Of course, not every producer is created equal. I have created a succinct yet highly informative chart, which was primarily constructed from 10K, 10Q, and other SEC reports, that illustrates how all of the different coal producers performed in 2011 on a per ton basis, what their market share was, and so on. It then compares those numbers to today's spot pricing to give a sense of how things are shaking out. Here it is:

The numbers in red are losses per ton back in 2011. The spot pricing regime has been significantly worse in 2012, by and large. There are a few numbers in gray, and those are numbers that I estimated or calculated from the SEC reports rather than reading them explicitly. All of these companies get at least 75%+ of their revenue (most are 100%) from Coal except for Nacco Industries (NYSE:NC) which gets only about 17% of revenue from mining low quality lignite.
We can see that the reasonably current spot prices of coal are below the 2011 breakeven prices for almost all of the coal producers. Now, most coal is sold on contracts, but the spot pricing does provide a pretty good guideline for what is going on. Of the significant producers, the one that stands out the most as still being in the money is Alliance Resource Partners (NASDAQ:ARLP), with a breakeven cost per ton still $7 below the ILB spot price in March. Perhaps that is why ARLP has held up as well as it has.
To reinforce why Appalachian coal is in trouble, I would like to share a chart created by Nomura research that compares the relative cost of generating electricity among the different fuels: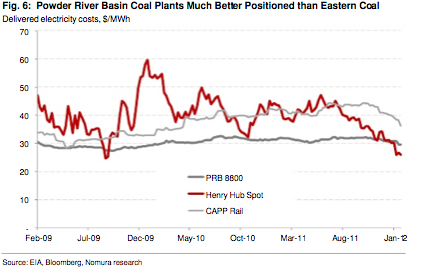 However, this does not necessarily mean that all Appalachian coal is doomed and all PRB coal is good. Every basin has its own cost curve. Consol Energy (NYSE:CNX) occupies the lowest spot in the cost curve for Appalachian coal, and thus appears to be pretty well positioned. Some charts of the cost curves are posted below. Since we are fundamentally expecting coal prices to be hemmed down by shale gas until 2017, I believe that in general, the players that occupy the lowest positions on their respective cost curves present the biggest value opportunity, even though the higher cost players' stocks are beaten down a lot more. In a powerful coal rally, with natural gas out of the picture somehow, the best values to buy now would be the highest cost curve position and most leveraged names, but I do not believe that will happen. Below I present the various cost curves for the basins. These charts were done by Nomura Research.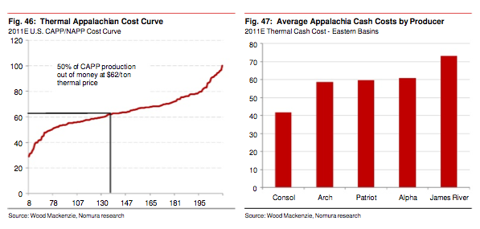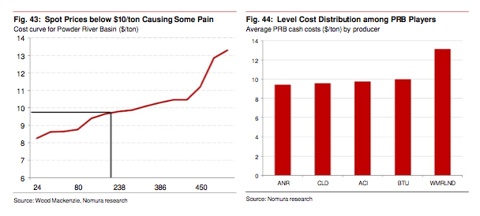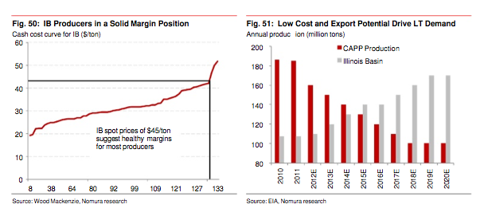 As you can see, the ILB has held up the best over the course of 2012. This actually means that less of a bargain has been created in ILB names like ALRP. The ideal value play in general has been beaten down to nothing in stock price but is still fundamentally strong and poised for a strong earnings future a year or two out.
Now that I have presented a reasonably complete picture of the coal industry as a whole, let's take a look at some company specific data, in order of my data chart.
Walter Energy (NYSE:WLT) - As you can see from the chart, WLT is almost entirely a met coal producer, and it happens to produce the best of the best of met coals, but at an extremely high cost. Because WLT is so leveraged to the steel market, the US thermal story is essentially irrelevant to them. Although they have been beaten down quite a bit, their earnings have dropped a lot too. Since March, the swap futures for low vol HCC has dropped to about $160 a ton, which is below WLT's breakeven price for 2011. However, if WLT responds to the latest round of Chinese infrastructure stimulus the way it did to the last one, very large gains seem possible. It is interesting that WLT rallied less than BTU last Friday, despite WLT being made up far more of met coal production, while BTU is diversified... in response to a met coal catalyst. This may be some kind of warning sign, but I am not sure. At 9.54 trailing P/E, and 6.9 projected 2013 P/E, and trading at just 1.02 times book value, WLT looks like an excellent value. I expect them to perform well and approximately in sync with the iron ore industry in 2013. I consider WLT a value play.
James River Coal Company (JRCC) - As the highest cash cost coal producer in the worst basin, JRCC is doomed. Since emerging from bankruptcy in 2004 to 2011, their average net income has been -$12 million a year. So even in better times they haven't done well enough to balance out the bad years. Their last earnings conference call had a lot of the CEO talking about going golfing and attending conferences. I mean, that's cool and all, but I think that's also a clear signal to investors. The stock is trading at just 0.25 price to book, the bonds are trading for a fraction of their face value, and things look generally terrible. It would take an absolutely Ice Age winter or some other big game changing event to give JRCC a chance of surviving. There is not a lot they can do in their position. I consider JRCC a value trap, and believe they will represent a good shorting opportunity after a general coal market rally, as the market mindlessly carries them upward.
Alpha Natural Resources (ANR) - ANR has a slightly higher thermal cash cost in the Appalachian basin than Patriot Coal did. They are losing dramatic amounts of money and taking multibillion dollar writedowns. I believe their thermal business is basically toast for the next five years. That leaves their met coal business, which represents about 25% of their tonnage. There are two big problems with this. One of these is debt. Yes, ANR has just 18% debt to assets, but if 75% of their assets are effectively worthless (assuming there is a correspondence between asset type and amount of tonnage shipped in 2011 of each coal type), then that means that their ratio is more like 72% debt to assets. That isn't healthy even in the coal industry. The other is that they are on a higher part of the cost curve for supplying met coal to China, and are not quite ramped up with the exporting. They are projected by analysts to lose money every year... amounting to a loss of about $1 billion by 2015. The price to book ratio is 0.20, but since a large % of their assets are worthless for 5 years, in some ways we could consider it being closer to 0.80... and the book is going to be losing value for a long time by all indications. ANR does have some liquidity though, so perhaps they can think of something more creative to do with it than burn $1 billion by 2015. Whether they are a value trap or value play may depend on their actions from here on out. If they massively downsize, shut down their thermal assets and sell or restart them when CAPP thermal prices recover, and keep operating PRB and met coal assets, perhaps they can pull through and be a good long-term bet. However... ANR has had some bad habits. Their EPS trend is downward since they went public in 2005 even if you throw out 2011 and 2012. They have gone from having under 50 million shares to over 200 million since they went public, without having really ended up creating much new "real" book value. The story so far is not inspiring, and just because shares are cheap now doesn't mean they will ever be worth much more, although of course a general coal rally can carry ANR higher.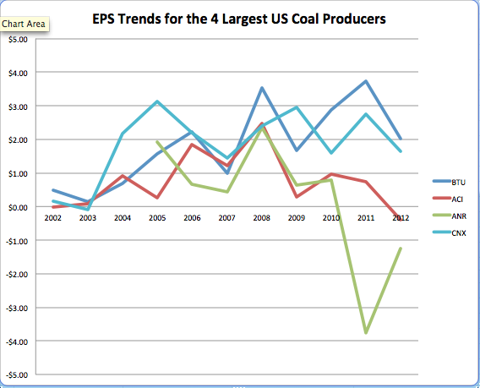 Consol Energy - Consol Energy, as you can see above, has a solid history of delivering earnings per share. However, these earnings have been in a downtrend since 2005. What exactly this implies I am not sure, but I don't like it very much. Perhaps their assets are slowly getting tired? With a cash cost of around $40 a ton for CAPP assets but a breakeven cost of almost $70 a ton, it implies that they are spending a whole lot on something. Their dilution-adjusted book value+dividend payout over time (shown in the chart below) is also not very inspiring. I do think they will do just fine with such a low cash cost of production, especially as other CAPP coal producers shutter thermal production. Consol Energy looks like a decent value play to me, if not a spectacular one.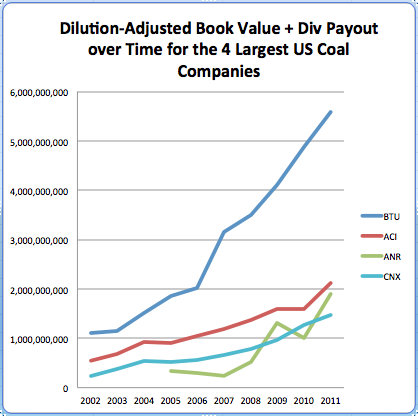 Alliance Resource Partners - ARLP has been beaten down the least but is currently in good shape based on their cash cost relative to the spot price. I consider them a value play, but only to a relatively small degree, as their stock price hasn't been depressed much in the first place. They should do well in the future, as they are well positioned in the cost curve in a good basin to be in but other coal producers that are on solid ground but have been beat down more should outperform them in the future.
Peabody Energy - With global diversification into the best markets, trading at 9.8 projected 2013 EPS, 6.6 projected 2014 EPS, and 4.7 projected 2015 EPS, having shown the foresight to get out of Appalachia just in time, the very best record of growing shareholder equity + dividend payout over the past 10 years, and a strong 10 year trailing EPS growth trend, I am extremely impressed by Peabody. They are my favorite value play. Also, unlike every other coal company I have looked at closely, they also have not diluted their share count much at all since their IPO. While it is possible to build shareholder equity even in the face of dilutions, the dilution-adjusted book value growth chart I made seems to suggest that that is not usually what ends up happening, at least not to nearly as great an extent as is possible otherwise.
Arch Coal (ACI) - Arch is another huge diversified producer in the vein of BTU. Their Appalachian assets are a drag on them, as I believe their lack of exposure to Australia will be in the future. Their EPS and dilution adjusted book value growth are much weaker than BTU. However, they are also a lot cheaper. They are projected to lose money until 2014 but recently did deliver a Q2 earnings beat. However, the amount they are projected to lose is only around 150 million, and they are expected to be earning income when their debts mature. Trading at a price to book of just 0.39, I consider them a value play, although a riskier one than BTU.. and their projected 2015 P/E is only 5.5, so a bit higher than BTU's.
Cloud Peak - Cloud seems has a lower cash cost for the PRB than BTU, so on the surface seem like a long-term value play, and unlike many of the others are projected to be earning money in 2013 and on. However their earnings are projected to slowly decline on into 2014. Even though CLD is trading trailing at a P/E of 8.92, the forward P/E for 2013 is 11.3. A company with shrinking earnings and a P/E of 11.3 is overvalued. Also trading at a price to book of 1.53, I consider CLD a value trap, although I am not sure how shortable it will be.
I have no opinion as yet on the few other coal companies listed in my chart. Remember to do your own due diligence and not make any investment decision without it, as the conclusions in this article represent the results of my research into this situation, and my and others future projections. For your consideration only, and not to be acted on alone.
Disclosure: I am long BTU. I wrote this article myself, and it expresses my own opinions. I am not receiving compensation for it (other than from Seeking Alpha). I have no business relationship with any company whose stock is mentioned in this article.