By Jason Napodano, CFA
We believe investors should be buying shares of Durect Corp. (NASDAQ:DRRX) ahead of improving visibility on the status of Remoxy at Pfizer, Inc. (NYSE:PFE). Below we outline our case that Remoxy is a blockbuster drug, and how the royalty stream alone from Pfizer could send Durect shares up 100 to 200% from where they trade today.
Pfizer, Inc. (through a partnership with Durect) is developing ORADUR-Oxycodone, known as Remoxy, for the treatment of chronic pain. Chronic pain is usually the result of an ongoing condition or significant problem associated with chronic diseases, including cancer, various neurological and skeletal disorders and other ailments such as severe arthritis or a debilitating back injury. According to a 2011 survey of U.S. adults conducted by the Institute of Medicine, roughly 116 million Americans report having had pain in the past three months. Americans spent over $600 billion on medications for the treatment of both acute and chronic pain in 2011.
Chronic pain usually worsens over time, and once severe can affect the nervous system to the point where pain persists even if the underlying condition that originally caused the pain is stabilized or improved. In order to effectively treat chronic pain, patients often need stronger medications the longer the pain persists. Once chronic pain develops to the severity where OTC or prescription non-steroidal anti-inflammatory drugs (NSAID), cyclooxygenase-2 (Cox-2) inhibitors, or muscle relaxants are no longer effective, physicians may begin prescribing stronger and more effective opioids.
An opioid is a chemical that works by binding to opioid receptors, found principally in the body's central and peripheral nervous system and the gastrointestinal tract. Opioids delivery powerful analgesic effects, driven by decreased perception of pain, decreased reaction to pain as well as increased pain tolerance.
Common opioids include morphine, hydromorphone, codeine, hydrocodone, oxycodone, and oxymorphone, as well as synthetic opioids such as fentanyl and sufentanil. The most commonly used opioid for moderate to severe chronic pain is oxycodone. Oxycodone offers superior absorption and metabolism, and a wide therapeutic window for the treatment of chronic pain when compared to morphine.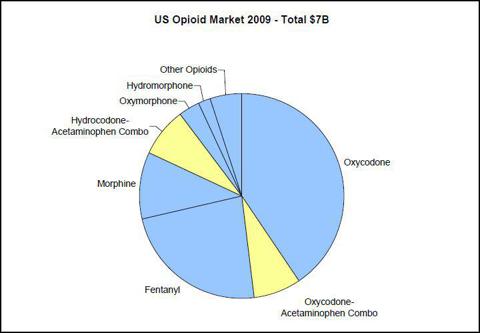 Over the past decade pharmaceutical companies have been developing long-acting release formulations of opioids to reduce dosing frequency and improve the therapeutic index when compared to short-acting or immediate-release formulations. Long-acting or extended release formulations provide fewer interruptions in sleep, reduced dependence on caregivers, improved compliance and enhanced quality of life outcomes.
According to the Office of National Drug Control Policy, opioids are the most commonly prescribed drugs in the U.S. IMS Health data from 2011 suggests the U.S. market for opioid analgesics was $8.5 billion. Of this, extended release opioids accounted for approximately $4.8 billion. Over 4 million Americans were prescribed long-acting opioids in 2011. Purdue Pharma LP has developed the market leading long-acting release formulation of oxycodone called OxyContin. Prescription tracking data (IMS Health) suggests Purdue sold over $3.3 billion in OxyContin in the U.S. in 2011. Another $700 million was sold outside the U.S.
U.S. OxyContin Sales at Purdue Pharma L.P.
Unfortunately, beside the powerful analgesic effects of drugs like morphine and oxycodone, opioids bring about significant side effects including sedation, respiratory depression, and constipation. Long-acting dose formulations were designed to provide a more constant plasma concentration and clinical effect, resulting in less frequent peak to trough fluctuations and fewer side effects. However, these long-acting formulations typically contain two to three times the active drug per dose as short-acting or immediate-release formulations. This leads to the major concern with respect to widespread opioid use - the potential for misuse and abuse.
Opioids have high potential for physical dependence that can develop with ongoing administration. This dependence can lead to withdrawal syndrome. Opioids produce a feeling of euphoria, and this effect, coupled with physical dependence, can lead to recreational use and abuse by individuals. Opioids are Schedule 2 drugs under the Controlled Substance Act. The listing includes risk of high potential for abuse, and severe psychological or physical dependence.
Opioid abuse is a significant problem in the U.S. A 2011 survey by the Institute of Medicine notes that opioid abuse is the 2nd leading cause of accidental death in the U.S. (after car crashes). The U.S. Department of Health and Human Services estimates the burden at nearly $10 billion, which includes workplace costs, healthcare costs, and criminal justice costs associated with illicit prescription opioid use.
The Institute of Addiction Medicine estimates that over 23 million people in the U.S. aged 12 or older require treatment for a substance use disorder, the majority of which is for prescription opioids. From 1992 to 2003, misuse of opioid prescription painkillers increased by 140%. Americans consume 80% of the world's supply of opioids. The use of legitimate opioids has been paralleled by a rise in abuse of these drugs, with a 63% increase in opioid deaths during the 5-year period from 1999 to 2004. Over 2.7 million Americans are opioid dependent, and nearly a third of Americans report having used opioid prescription painkillers for nonmedical purposes at least once in their lives.
The statistics for young Americans are astonishing: Approximately 2.5 million teenagers have reported using opioid painkillers for nonmedical purposes. Approximately 6% of high school seniors report non-medical use of OxyContin. Roughly 25% of teenagers will try prescription painkillers at least once for non-medical purposes.
The most common way to abuse a prescription opioid, such as OxyContin, and obtain a euphoric high is to crush the tablet and inhale (snort or sniff) the powder. The tablet can also be dissolved in alcohol and swallowed or injected as a way to extract the oxycodone. These methods allow for immediate release of the oxycodone from the long-acting release formulation tablet.
To combat crushing or dissolving the tablet, Purdue Pharma has developed a tamper resistant formulation of OxyContin. Data suggests that this tamper resistant formulation is only somewhat more effective in reducing the abuse of oxycodone. That being said, during our research for this report we found an almost endless supply of websites designed to teach people how to abuse OxyContin. It is clear that oxycodone abuse is a major problem in the U.S. and an alternative product is needed.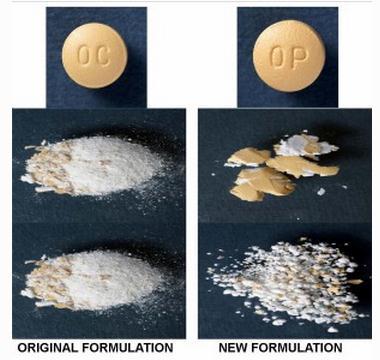 Remoxy is an oral, long-acting oxycodone gelatin capsule that utilizes Durect's ORADUR controlled release technology. Remoxy cannot be crushed for inhalation or injection. Human pharmacokinetic data demonstrates that dissolving in ethanol and other common drinks / solvents does not cause a rapid release of the drug. Durect has cleverly designed Remoxy to be resistant to freezing or heating. Remoxy also has a foul taste when chewed.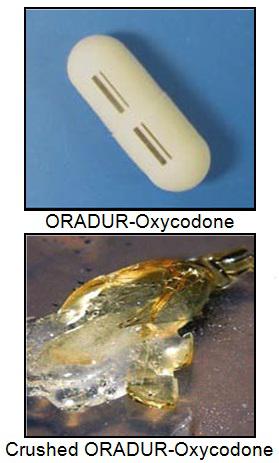 In December 2002, Durect Corp. entered into an exclusive worldwide licensing, development and commercialization agreement with Pain Therapeutics, Inc. (NASDAQ:PTIE) Under the terms of this agreement, Pain Therapeutics paid Durect an upfront license fee of $1.0 million, with the potential for an additional $9.3 million in performance milestone payments based on the successful development and approval of the four ORADUR-based opioids. Of these potential milestones, $9.3 million are development-based milestones (of which $1.7 million had been achieved as of June 30, 2012). We note there are no sales-based milestones under the agreement; however, Durect is entitled to receive between 6.0% and 11.5% of net sales of Remoxy depending on sales volume.
In March 2009, Pain Therapeutics sublicensed the right to Remoxy to King Pharmaceuticals. Durect continues to perform related activities in accordance with the terms and conditions of its original agreement with Pain Therapeutics. In February 2011, Pfizer acquired King and thereby assumed the rights and obligations of King with respect to Remoxy. Remoxy is now in the hands of one of the world's largest pharmaceutical companies. One of Pfizer's drivers for the King acquisition was widely believed to be the potential for Remoxy.
..Clinical Data...
Prior to the acquisition by Pfizer, King, Pain Therapeutics, and Durect generated solid clinical data on Remoxy with respect to the drugs pharmacokinetic profile and abuse resistance. The table to the right shows the results from a small (n=10) cross-over clinical study comparing Remoxy to OxyContin on abuse potential. Both drugs were pulverized and consumed with either water or high proof alcohol. Blood levels of oxycodone were monitored. AUC results show a statistically significantly lower concentration for Remoxy than OxyContin (p<0.05).
An additional robust phase 1 study in healthy volunteers (n = 37) assessed the effects of co-ingestion of alcohol on Remoxy. The chart to the right depicts the plasma concentration time curve. Plasma concentration was not affected by the co-ingestion of Remoxy with ethanol and showed a typical controlled release profile for all treatments. Oxycodone Cmax after Remoxy was 45.3 ng/ml with water alone, versus 45.0 ng/ml with 4% ethanol, 39.0 ng/ml with 20% ethanol, and 49.7 ng/ml with 40% ethanol. The lack of dose-dumping prevents the quick, powerful euphoric high sought by recreational drug abusers. These data suggest Remoxy represents a safer alternative to current formulations of controlled-release oxycodone.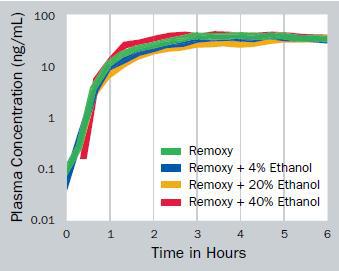 The most poignant anti-abuse data generated are below. It shows the extraction potential of oxycodone as a percent of the full dose when dissolved in common household liquids, when frozen, crushed or ground. In total, seven in vitro studies were performed to gauge the ability of Remoxy to resist different abuse practices.
In September 2005, Pain Therapeutics announced results from the first phase 3 trial with Remoxy. The trial was a randomized, double-blinded study designed to compare the safety and efficacy of Remoxy against placebo in osteoarthritic patients with moderate-to-severe chronic pain. The trial enrolled 209 patients at over 20 U.S. clinical sites. Patients were treated with Remoxy 20 mg or matching placebo twice daily over a 4-week study period. The results demonstrated a statistically significant (p<0.05) percent decrease in pain scores for patients using Remoxy as compared to placebo, as measured by a standard Likert Pain Scale. Patients also reported a statistically significant difference in quality of life using Remoxy as compared to placebo, as measured by a standard SF-12 Health Survey and in patients' self- reported Quality of Analgesia. No drug-related safety issues were noted in the study, and as expected opioid-related adverse events (including nausea/vomiting, dizziness, pruritis (itching) and somnolence/sedation) and drop-out rates were higher in the Remoxy arm compared to placebo.
In February 2006, Pain Therapeutics initiated a second phase 3 trial with Remoxy. The trial was run under a U.S. FDA special protocol assessment (SPA) and was designed to evaluate the analgesic efficacy of twice-daily Remoxy (10 to 80mg) versus placebo over a 12-week treatment period. The study randomized 412 male and female patients. All patients were diagnosed with osteoarthritis of the knee or hip, as evidenced by x-ray and clinical criteria of the American College of Rheumatology. Pain intensity scores were assessed on a Likert pain scale. In December 2007, top-line data indicated that the study achieved a statistically significant result in its primary endpoint (p=0.007). In addition, the study achieved statistically significant results in secondary endpoints such as Quality of Analgesia (p<0.01) and Global Assessment (p<0.01). No drug-related safety issues were noted in this study.
A long-term safety study was also initiated in April 2006. By February 2008, Pain Therapeutics had amassed the required safety database at over 400 patients on drug for six months and 300 for twelve months. As a result of the two positive phase 3 trials and the long-term safety data, over 1,822 unique subjects were exposed in total, Pain Therapeutics filed the new drug application (NDA) in June 2008. The application was granted priority review by the FDA, and the Anesthetic Life Support Drugs Advisory Committee held a meeting to discuss the application in November 2008.
…First CRL…
On November 13, 2008, the U.S. FDA Advisory Committee voted 11 - 8 in favor of Remoxy, signifying the drug did have abuse-resistant properties superior to other oxycodone formulations already on the market. However, the panel did seem to raise the question about the lack of "likeability" data in Remoxy in the NDA. On December 1, 2008, the U.S. FDA issued a Complete Response Letter (CRL) on the NDA for Remoxy. The CRL expressed the need for additional non-clinical data on the Chemistry, Manufacturing, and Controls (CMC). In July 2009, King met with the U.S. FDA to discuss the CRL. In August 2009, King filed its form 10Q with the SEC outlining its plans to conduct a "likeability" study on Remoxy. Inclusion on this type of data was done to enhance the perception of the product as having lower potential for abuse.
On October 12, 2010, Pfizer announced its intent to acquire King Pharmaceuticals for approximately $3.6 billion in cash, a 40% premium over the closing price the day before. The impetus for the deal was King's portfolio of pain medications, including its focus on abuse-resistant opioids, and the fact that pain is a core franchise for Pfizer.
On December 23, 2010, King announced it had re-filed the NDA on Remoxy. King, Pain Therapeutics, and Durect chose not to disclose the data from the likeability study, only noting in investor presentations that the study met all pre-specified primary endpoints.
In April 2011, data from the likeability study (The Abuse Potential of Remoxy, an Extended-Release Formulation of Oxycodone, Compared with Immediate-and Extended-Release Oxycodone) was published in Pain Medicine (2011;12:618-631). The data show Remoxy's likeability was significantly lower (p<0.05) than OxyContin when both swallowed whole and chewed or crushed. The time to peak drug liking was significantly delayed for Remoxy (p<0.05) when chewed vs. OxyContin or oxycodone immediate release. Data show no patient could chew Remoxy (due to foul taste and texture) for more than 1.5 minutes (mean = 45 seconds).
…Second CRL…
Despite what looks like solid data in support of Remoxy's approval, the U.S. FDA issued a second CRL to Pfizer in June 2011. In the CRL, the FDA focused on the CMC section of the application. The issue seemed to center around inconsistent release performance during in vitro testing of certain Remoxy lots. It is not known if the underlying problem was manufacturing or an artifact of the testing method. Nevertheless, Pfizer stated publicly following the second CRL that it was committed to resolving the issues with Remoxy. Separately, Pain Therapeutics stated it would likely take longer than twelve months before another NDA could be filed.
Since that time, additional information on the second CRL has been made available. Pfizer has stated that they will conduct two phase 1 bioavailability studies designed to optimize the formulation composition and analytic methods for Remoxy. Put simply, Pfizer is looking at lot to lot consistency and the reasons for potential variation in the in vitro release assay, which may stem from the oxycodone API, the excipients used in the ORADUR technology, the manufacturing process, or the analytical testing method used to determine lot specifications.
The first of these two studies was initiated in March 2012 and completed in June 2012 (Clinialtrials.gov Identifier: NCT01552850). The study designed to estimate the pharmacokinetics and relative bioavailability of oxycodone after administration of 40 mg doses of four Remoxy formulations and oxycodone in solution. The second study was also initiated in March 2012 and completed in August 2012 (Clinialtrials.gov Identifier: NCT01552863). The trial was an open-label, single-dose, 6-dosing period study to characterize the pharmacokinetics of oxycodone (process by which oxycodone is absorbed, distributed, metabolized, and eliminated by the body). Preliminary data from both trials are being analyzed by Pfizer, along with data from experiments to optimize the formulation.
…Re-File 2013…
As of now, all investors have to go on are comments from Pfizer with respect to the status of these programs. Management at Pfizer stated recently that it hopes to meet with the U.S. FDA in the fourth quarter 2012 (Type-A meeting). Depending on the outcome of the meeting, we believe that Pfizer could be in position to re-file the NDA during the first half of 2013.
We admit that investors are essentially flying blind with respect to the data and timeline for re-filing. Worst case scenario is that Pfizer is unable to resolve the CMC issues in a timely manner and the Remoxy NDA remains in limbo potentially into 2014. However, Pfizer is not talking publicly like that is what they are expecting. In fact, Pfizer management is making comments that would seem to suggest progress.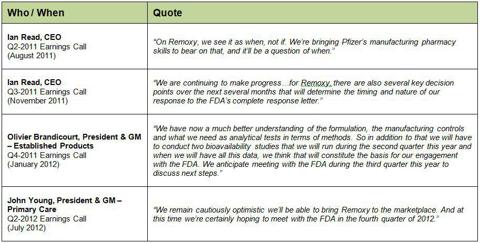 …Market Opportunity & Sales…
The market opportunity for an abuse-resistant oxycodone is enormous in our view. Quite simply, the market for oxycodone-ER (OxyContin) is enormous in itself, with Purdue booking over $3 billion in sales in the U.S. in 2011. The growth of prescription opioid use over the past decade is astonishing. From 1997 to 2007, the milligram per person use of prescription opioids in the U.S. increased from 74 milligrams to 369 milligrams, an increase of 402%.
A survey conducted by the Substance Abuse and Mental Health Services Administration found that 21 million prescriptions for long-acting opioids were dispensed to about 3.7 million unique patients in 2007. This number is up over 50% since 2000, but perhaps of more concern is the fact that 5.2 million people age 12 and older reported using prescription pain relievers for a nonmedical purpose in the past month.
A 2011 National Survey on Drug Use and Health (NSDUH) showed that nearly one-third of people aged 12 and over who used drugs for the first time began by using a prescription drug non-medically. The same survey found that over 70% of people who abused prescription pain relievers got them from friends or relatives. Only 5% obtained the drug from dealers.
According to the Centers for Disease Control and Prevention (NASDAQ:CDC), the number of unintentional deaths resulting from opioids overdose has increased over 300% from 1999 (2,901 deaths) to 2008 (11,882 deaths). However, the aforementioned mortality data do not portray the morbidity associated with prescription drug overdoses. Data on emergency room (ER) visits between 2004 and 2009 show a 111% increase resulting in nonmedical use of opioids analgesics. The highest percent of ER visits was associated with oxycodone and hydrocodone. Estimated ER visits specifically involving oxycodone increased from 14.2 per 100,000 in 2004 to 34.6 per 100,000 in 2009, an increase of 144%.
The truth is, it is far too easy to obtain a prescription for OxyContin, and OxyContin is far too easy a drug to abuse. Therein lies the problem. It is no surprise, therefore, that the soaring increase prescriptions for OxyContin closely correlates to the increase in drug-induced deaths, unintentional overdoses, and ER visits.

Accordingly, illicit use of OxyContin is on the forefront of the FDA / DEA's concern. Since May 2008, when a U.S. FDA advisory committee met and recommended the development of new abuse-resistant formulations of oxycodone-ER, fingers have been pointed squarely at Purdue's OxyContin as the root cause of the spike in overdoses and deaths. FDA data from that meeting shows that 79% of the time (90 of 114 instances noted in the FDA presentation) OxyContin was crushed as the method of preparation and then injected (72%) or snorted (28%). Remoxy has the potential to significantly reduce these methods of abuse.
The FDA has taken steps in the past to attempt to curve the problem. In April 2001, on recommendation from the FDA, Purdue discontinued the 160mg dose of OxyContin. In July 2001, Purdue expanded the warnings section of the label, and then updated the package insert in January 2002. Between 2003 and 2007 Purdue and the FDA met several times to discuss reformulation of OxyContin. Purdue submitted a Risk Management Plan (NYSE:RMP) to the FDA in January 2004, and then updated it in May 2007 and again in February 2008. All this while OxyContin sales continued to soar, up to $2.5 billion in 2008. Citizen's Petitions have been filed to pull OxyContin from the market, and in July 2007, Purdue went in front of a U.S. Congressional hearing to defend the product. Purdue eventually plead guilty in a U.S. Federal Court to misleading the public. Fines and penalties totaled over $634 million.
A CDC analysis published in November 2011 examined overdose deaths involving opioid pain relievers (OPR) between 1999 and 2008. During 1999 to 2008, overdose death rates, sales, and substance abuse treatment admissions related to OPR all increased substantially. The epidemic of overdoses of OPR has continued to worsen. The CDC concluded that the nonmedical use of OPR and overdose rates cannot be explained by underlying demographics but is related to wide variations in OPR prescribing.
In 2011, The Obama administration published a policy paper outlining some aggressive goals with respect to reducing the prescription drug epidemic. The National Drug Control Strategy calls for a 15% reduction in non-medical use of prescription psychotherapeutic drugs over the next five years. All drugs must have an approved and implemented Risk Evaluation and Mitigation Strategy (REMS). The paper recommends the FDA issue guidance on developing abuse deterrent formulations of prescription pain killers, with an overall goal of a 15% reduction in unintentional overdose deaths within the next five years. The approval of Remoxy would seem to be a meaningful step in the right direction.
We believe if approved, Remoxy could take 30% of the oxycodone-ER market share away from Purdue's OxyContin within a few years of launch. Pfizer will hold a marketing advantage against Purdue in both reputation (note the previous guilty plea by Purdue in 2007) and in sales and marketing budget. Plus, Pfizer's pain franchise with blockbusters Lyrica and Celebrex is world class. In the hands of Pfizer, we see Remoxy as having peak sales of $1.5 billion. The product is protected by four patents around the ORADUR technology, three composition of matter patents and one method for use patent that should protect Remoxy out to at least 2025. New FDA guidelines on opioid REMS, issued in July 2012, seem to raise the bar for generic manufacturers as well. Notwithstanding the obvious challenge that remains to gaining approval, Remoxy is poised to be a very big drug in our view. We expect Pfizer to seek regulatory approval in Europe following resolution in the U.S.
…What's It Worth…
Durect is entitled to 6.0% to 11.5% royalties on worldwide sales of Remoxy. The royalty rate resets each year, but escalates as sales ramp. Management has not disclosed the actual royalty schedule, but has given guidance (through company presentations) on what investors can expect based on end-user sales at Pfizer. Below is a table we put together noting some of the guidance by Durect:

Durect will also supply the excipients used to produce Remoxy. Similar to the royalty rate, the company has not disclosed the actual "cost-plus" transfer price that it will receive on sales of these excipients, only commenting at investor presentations that the initial benefit could amount to as much as a 0.5% royalty payment. We think that once sales of Remoxy increase, the net excipient payment after costs to Durect will be worth around an additional 0.2% royalty.
Below we have modeled the ramp we expect in sales of Remoxy at Pfizer. Our assumptions assume that Pfizer will re-file the NDA during the first half of 2013 and launch the product January 1, 2014. We model Pfizer taking 30% of the OxyContin market. Using a 15% discount rate, and then a 50% reduction based on probability of approval, we see the potential royalty stream from Remoxy alone worth nearly $2 per share. We believe the potential for Remoxy alone makes Durect a very attractive investment.

(click to enlarge)
Disclosure: I have no positions in any stocks mentioned, and no plans to initiate any positions within the next 72 hours. I wrote this article myself, and it expresses my own opinions. I am not receiving compensation for it (other than from Seeking Alpha). I have no business relationship with any company whose stock is mentioned in this article.
Additional disclosure: I am an employee of Zacks Investment Research. This article is a section of my initiation of coverage of DURECT Corp. To obtain a copy of the full 26 page report, please contact me directly.