If there's one pharma stock that's been attracting a lot of attention lately, it's Abbott Laboratories (NYSE:ABT). If you take a look at the charts, it's easy to see why Abbott's been so popular; its share price has been constantly going up since April. As you can see below, Abbott has suffered none of the steep price drops that have hit competitors, such as AstraZeneca (NYSE:AZN).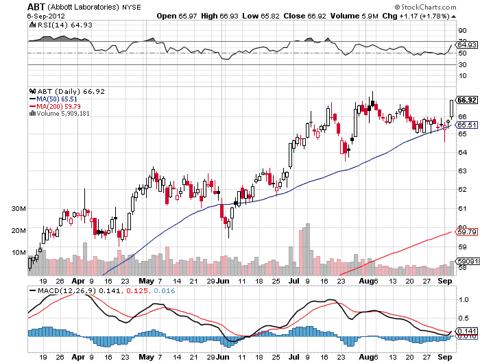 So is Abbott really worth $66.99, or is this just another case of irrational exuberance?
Humira Market Might Be Growing
Maybe not. An advisory panel to the Food and Drug Administration (FDA) has voted 15-2 to recommend the use of Abbott's Humira to treat moderate to severe ulcerative colitis. The FDA has not yet ruled on the panel's recommendations, but company spokeswoman Elizabeth Hoff told Bloomberg that she thinks this authorization might lead to $1 billion in additional Humira sales. There is certainly a huge potential market for this drug since as many as 700,000 people may suffer from ulcerative colitis in the United States.
This isn't the only good news about Humira that Abbott has received in recent weeks. The European Commission has approved the use of the drug in more cases of Crohn's disease. It is unclear how many new sales this will lead to because the commission has only approved the use of Humira in cases where other therapies have failed.
Although all is not well in the world of Humira, FDA staff have questioned Humira's effectiveness in some colitis cases. A report issued on August 24 noted that the staff had not found much difference between the effect of Humira and placebos in some colitis cases. Interestingly enough, the FDA advisory panel that recommended the expansion of Humira use was aware of the staff report's findings. The report did find that 17% of 248 colitis patients studied achieved remission when treated with Humira. Around 8.5% of the people treated with the placebo achieved remission. So the report did find that Humira is effective, just not as effective as Abbott had hoped.
The same report did find that Humira is more convenient than Johnson & Johnson's (NYSE:JNJ) Remicade. The safety risks from Humira were about the same as those from Remicade. That means Humira is just as safe as Remicade and easier to use.
Humira is used to treat a wide variety of autoimmune diseases in addition to colitis. Other conditions it can be used to treat include rheumatoid psoriasis and psoriatic arthritis. The potential market is huge; around 1.3 million Americans suffer from rheumatoid arthritis, and another 7.5 million are estimated to have psoriasis.
The number of people diagnosed with autoimmune diseases is constantly increasing according to some authorities. There is also evidence that the modern lifestyle, including sanitation, is making autoimmune diseases worse.
So it is easy to see why Abbott was able to sell $2.3 billion worth of Humira in the second quarter of 2012. Total sales of drugs for autoimmune diseases might grow to $34 billion a year by 2016 BCC research reported.
Humira also competes with Pfizer and Amgen's (NASDAQ:AMGN) Embrel, but it will face stiff competition from a host of new autoimmune drugs that will come on the market in the near future. Pfizer Inc is reportedly testing an experimental drug called tofactinib, which is supposed to treat both rheumatoid arthritis and colitis. Coronado Biosciences (CNDO) is testing an unusual treatment that involves parasites found in pigs.
Humira Patent Cliff Four Years Away
Yet the biggest threat to Abbott's Humira profits is the patent cliff. Humira's patent is scheduled to expire in December 2016. So Humira investors still have a little over four years of Humira revenues to look forward to before generics hit the market.
This also means that generic drug makers like Teva Pharmaceutical Industries (NYSE:TEVA) and Mylan (NASDAQ:MYL) have plenty of time to develop a generic version of Humira. They may need the time because Humira is a biologic drug that will be harder to copy than a simple pill but not impossible to replicate. The huge revenues that Abbott is making from Humira will give them a strong incentive to try. Teva in particular seems to have the resources to make a Humira copy; the FDA just approved its version of Amgen's Neupogen.
What this means for investors is that Abbott will be a growth stock for the next three or four years, but at the end of that time it faces a very steep drop off the patent cliff. That means that Abbott, like every other pharmaceutical company, is not immune to generics. It simply has a few more years before they become a serious threat to its blockbuster drug.
Abbott is a value buy for now, but like most pharmaceutical companies, it faces a very uncertain future. Just as patients must be aware of the potential side effects from drugs, pharmaceutical investors must learn the potential risks from drug companies, in particular, the patent cliff, which is a destroyer of long term value.
Disclosure: I have no positions in any stocks mentioned, and no plans to initiate any positions within the next 72 hours. I wrote this article myself, and it expresses my own opinions. I am not receiving compensation for it (other than from Seeking Alpha). I have no business relationship with any company whose stock is mentioned in this article.